The most delicious warm lobster roll recipe, Connecticut Lobster Rolls! These easy lobster rolls are served WARM and have just six ingredients including tons of melty butter. These are the perfect recipe for all summer long! Make this for a summer party; these are especially delicious with some jalapeno corn dip as an appetizer!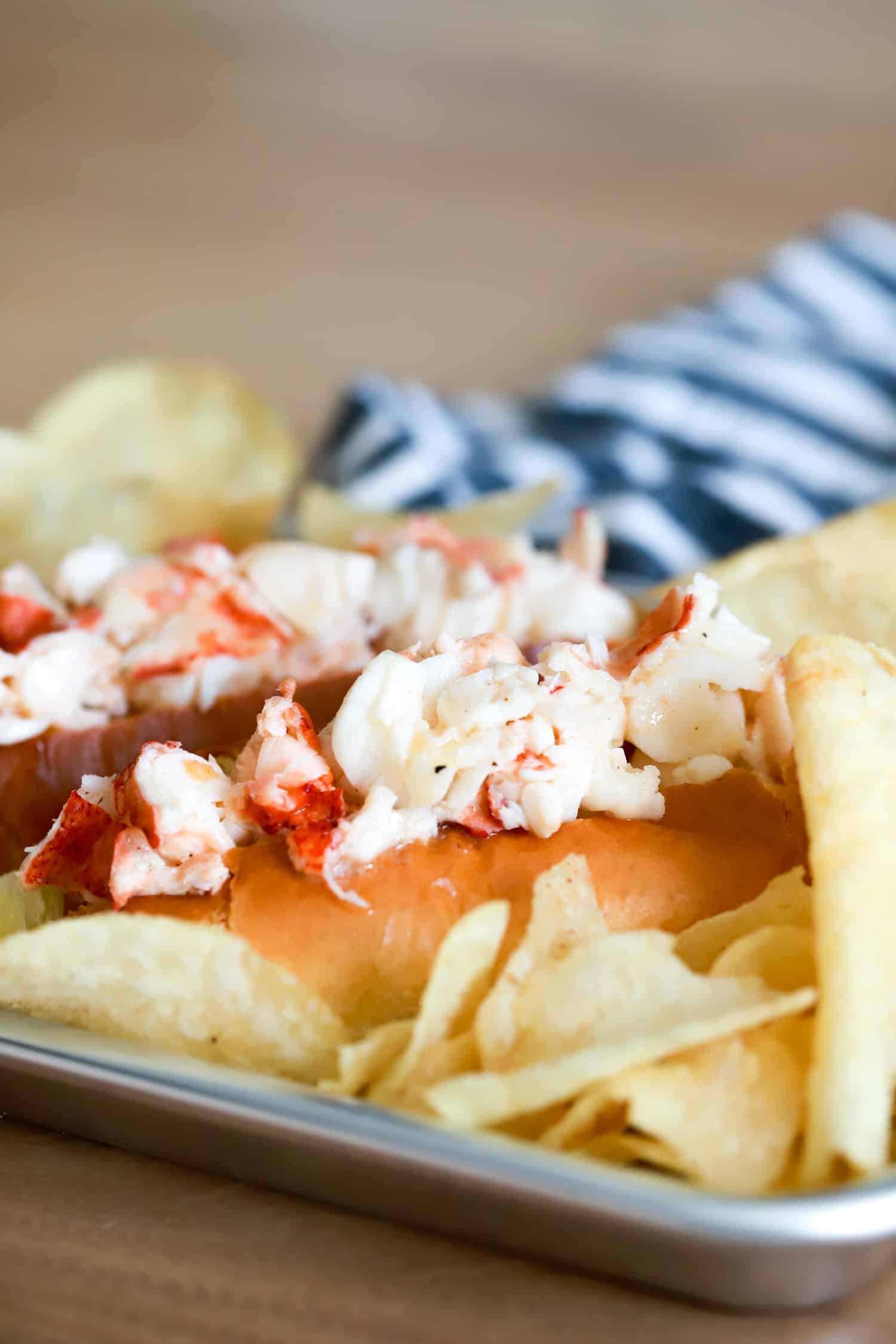 Hello and HI, welcome to our summer of all the lobster.
I think in this post-but-still-kinda pandemic era, it's gotten more meaningful to make really fun foods at home. We still maybe aren't traveling or eating out as much, but we still want our favorite restaurant-style foods, right?
RIGHT.
Enter, Connecticut lobster rolls, or the deliciously-named butter lobster roll. SERIOUSLY, friends, how does one even choose a favorite type of lobster roll? There's the New England style, cold with flavors of celery, lemon and mayo, or these warm lobster rolls that are drenched in butter, lemon juice, and served in buttery toasted buns.
Probably both types of lobster rolls is what we need to make this summer count.
What is the difference between a Main lobster roll and a Connecticut lobster roll?
First things first, there are a gazillion opinions on style of lobster roll, what makes it the best, what type of lobster is best to use, who invented it, etc.

In general, though, Main and New England lobster rolls are served cold and feature a creamy lobster salad, while Connecticut lobster rolls are served hot or warm with a butter dressing on the lobster. There is seriously no wrong way to do this.
Ingredients
What I adore about this warm lobster roll recipe is that it is super simple in the best possible way. Lobster, butter, lemon juice, salt and pepper are all you need.
Ingredient Notes
I use lobster tails because I find them easier to deal with. I buy them on sale and keep them for special occasions, and boil them from frozen - no need to thaw in advance. I use 2 lobster tails for a generous lobster roll, or one per person for more moderate portions or if they're really large.
Brioche buns are really excellent for these lobster rolls if you can find them. If not, your favorite hot dog bun will be perfect.
Some versions of Connecticut Lobster Roll Mastermind Magic (I made that up) feature a little bit of green stuff. Chives, finely chopped celery, parsley, etc. Honestly all of those things would be delicious, so if you'd liked to green this up I'd suggest a tablespoon or so of one or two green ingredients. Dill would be delicious!
How to Prepare Frozen Lobster Tails
When I'm using lobster tail meat in something (like this lemon lobster pasta), I always boil the lobster tails first, for 3-5 minutes (3 for thawed, 5 for frozen) until the meat is just barely cooked through. In this case, it doesn't matter if the lobster is cooked or not since it will finish cooking in the butter mixture.
When the lobster is boiled and cooled slightly, use kitchen shears or scissors to cut through the top AND bottom of the shell lengthwise. Then, use your fingers to pull out the lobster meat, keeping the pieces as large as you can.
Roughly chop the lobster tail meat, and onto the buttery lobster rolls!
How to Make Warm Lobster Rolls
Once the lobster meat is prepared, preheat a skillet (doesn't have to be huge) to medium heat with the butter. I always use salted butter, but any butter you have is just fine.
While the butter is gently warming, prepare the rest of your ingredients and toast your lobster roll buns if you'd like. These were soft but super fresh so I didn't bother toasting them and they were WONDERFUL untoasted.
When the butter melts, turn the heat OFF the skillet and add the lemon juice, lobster, salt, and some grinds of pepper. Stir everything together and let the lobster heat up and finish cooking, but just barely.
Now, now, now. We are absolutely for sure going to use the lemon butter mixture here, so get everything else ready that you need for your butter lobster rolls. Chips, extra lemon wedges, beer, all of it.
Right before serving, spoon the buttery lobster mixture into the brioche buns and drizzle any pan juices over YOUR WHOLE LIFE.
Extra salt, pepper, lemon wedges? Sure.
Other than that, though, this is really so perfect on its own. Drippy, buttery, lemony, and the Connecticut lobster roll has a special place in my heart.
2 lobster tails per person definitely makes for a generous lobster roll, but honestly these are so amazing that you'll want a big portion. You can of course use any lobster that you like (go for it with whole lobsters if you're into it!), just portion about 6 ounces of lobster meat per person out of the shell.
Summer plan: find a good lobster sale, fill the fridge, lotsa lobster. You in?
Enjoy these! They're such a lovely treat.
Connecticut Lobster Rolls
Connecticut lobster roll recipe with just 6 ingredients! Buttery, lemony, warm lobster rolls that will make your heart SING.
Ingredients
4

frozen or fresh lobster tails

no need to thaw

½

stick butter

salted if you've got it

1

tablespoon

lemon juice

plus lemon wedges for serving

½

teaspoon

kosher salt

Black pepper

2-3

split top brioche buns

or nice hot dog buns
Instructions
Bring a medium pot of water to a boil. Add the lobster tails and boil for 3-5 minutes (shorter for fresh, longer for frozen), until the lobster shells are bright pink. The lobster may not be cooked all the way through; that's OK.

Let the lobster tails cool until you can handle them, then use scissors to cut through the top and bottom of the shell. Use your fingers to remove as much of the lobster meat as you can, and roughly chop any very large pieces of lobster.

Preheat a skillet to medium heat with the butter. When the butter melts and foams, add the lemon juice, lobster, salt, and several grinds of pepper. Turn the heat OFF, and toss the lobster in the butter mixture for about a minute to warm through and finish cooking if necessary.

Spoon the lobster mixture into rolls and serve with extra lemon wedges. YUM.
Notes
I portion about 1.5 lobster tails per person for generous lobster rolls. One lobster tail per person can certainly get you by, though.
Optional add-ins: 1 tablespoon or so of finely chopped celery and/or fresh herbs would be lovely here, although the plain lemon butter version is really special in its simplicity.
Don't fuss about the buns, even regular hot dog buns are delicious here! I toast mine about half the time; totally depends on your preference.
More Easy Summer Recipes