These deviled eggs with relish have filling made right in the food processor for the lightest, fluffiest deviled egg filling ever. I like to make the filling in advance and pipe it in right before serving to avoid any mess.
Happy July!
True life, I don't like eggs all that much. It's a texture thing, and the overwhelming smell is just...not enough to negate the idea of a cheap+sustainable+healthy protein. BUT, because everyone else likes eggs, and I know how good they are for us, I really want to like them.
So, imagine my sadclown surprise when my magazine editor assigned me deviled eggs for our July feature. It was surprising because mainly I choose my own topics, but I'm always asking for direction because I'm eager to please and insecure.
Deviled Eggs Recipe
So, the irony of being told to write one recipe in over a year (and I supply 1-3 recipes per month) and have it be an egg recipe was not lost on me. I probably deserved it. It turned out to be a fun challenge, though, and I have a fun trick to offset the mealy texture of boiled egg yolks, something I find particularly not awesome.
We make the entire filling in a food processor which is 1. easy and 2. produces a filling that is creamy, not mealy, and delicious. The rest of the ingredients are things you'd find in deviled eggs or egg salad, with lots of spices for flavor and some juice from the pickle jar for flavor. Flavor wins.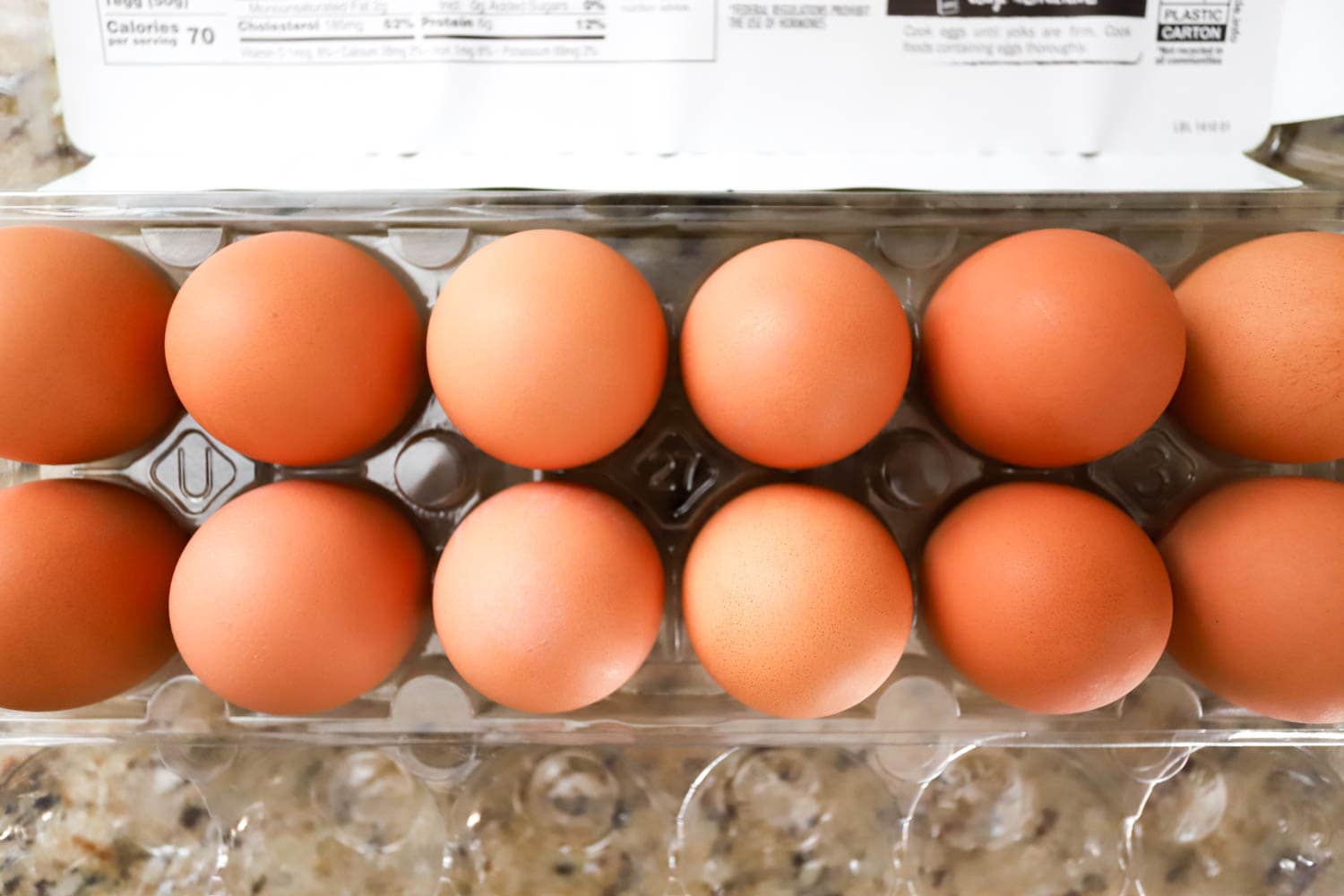 Deviled Eggs Ingredients
Eggs come first! They need to be hard boiled and peeled. To do that, place the eggs in a pot covered with cold water. Cover the pot and bring the water to a boil for one minute, then turn the heat off, let the eggs sit in the hot water for 15 minutes, then drain cool, and peel them.
Once the eggs are peeled, cut them in half and scoop out the yolks for the deviled egg filling. The filling also uses mayo, sour cream, ground mustard, hot paprika, onion, and sweet AND dill relish. You can use just one, but the combination of sweet + tangy pickles is delicious.
Throw all of the filling ingredients in the food processor.
Then blend the filling until it's super creamy, almost like chocolate mousse. Taste it, and add more of the relish, pickle juice, or salt. Anything you think it needs!
Now, to fill these I put all of the filling into a baggie and cut off the tip, then pipe the filling into the egg halves. You can also just spoon the filling into the eggs; whatever you prefer. I top the deviled eggs with fresh dill, extra pickles, and smoked paprika for flavor and texture.
Summer! Potluck! Nostalgia!
These are of course perfect for anytime of year because...they're eggs...but they're so much fun for a gathering with grilled foods and tons of other side dishes.
How far ahead can I make deviled eggs?
This depends on which steps you are doing in advance! Eggs can be boiled and peeled, then kept in the fridge for at least 4 days.

The filling can be made in advance and kept separately as well - I often boil the eggs, peel and slice them, then make the filling.

Store the filling and egg white halves for up to 3 days in the fridge, and assemble the deviled eggs up to 24 hours before serving.
For a cheap, gluten free, make-ahead vegetarian appetizer, these are pretty delicious, even for the non-egg lover in me.
Enjoy!
Classic Deviled Eggs
Perfect deviled eggs with relish + a few tips and tricks to make these exceptionally beautiful!
Ingredients
12

eggs

1

teaspoon

kosher salt

¼

teaspoon

cayenne pepper

more if you like things spicy!

1

teaspoon

ground mustard

1-

inch

piece onion

peeled

¼

cup

sour cream

¼

cup

mayonnaise

2

tablespoons

pickle juice from dill pickles

1

tablespoon

sweet pickle relish

Garnish: chopped pickles

fresh dill, smoked paprika
Instructions
Boil the eggs: place eggs in a pot and cover with cold water. Cover the pot and bring to a boil over high heat. Boil for one minute, then turn the heat off and let sit for 15 minutes in the hot water.

Drain the eggs and let cool to the touch, then peel.

Cut the eggs in half and gently remove the yolks.

In a food processor, combine the egg yolks and remaining ingredients (except garnishes) until smooth and mousse-like. Taste, and add more salt or pickle juice to your preference.

Spoon or pipe the egg yolk mixture into the egg white halves. Garnish as desired and chill for at least 30 minutes before serving.
Notes
To Pipe In The Filling: Scoop all of the filling into a sandwich-sized baggie when you make it. Zip the bag shut, pressing out any air, and store the egg white halves and the deviled egg filling separately.
To fill, arrange the egg white halves cut-side up on a platter, then snip the tip off a corner of the filling baggie. Use the ziplock baggie as a disposable piping bag, squeezing in enough filling to fill each egg half. Top with extra relish or fresh herbs, if you'd like.
More Delicious Egg Recipes