This Thai chicken larb recipe (sometimes seen as chicken laarb on menus!) is so quick and easy thanks to the use of ground chicken. We love making this for meal prep with extra dressing and using it on salads or in rice bowls all week. It's gluten free and wildly delicious thanks to a fish sauce lime vinaigrette.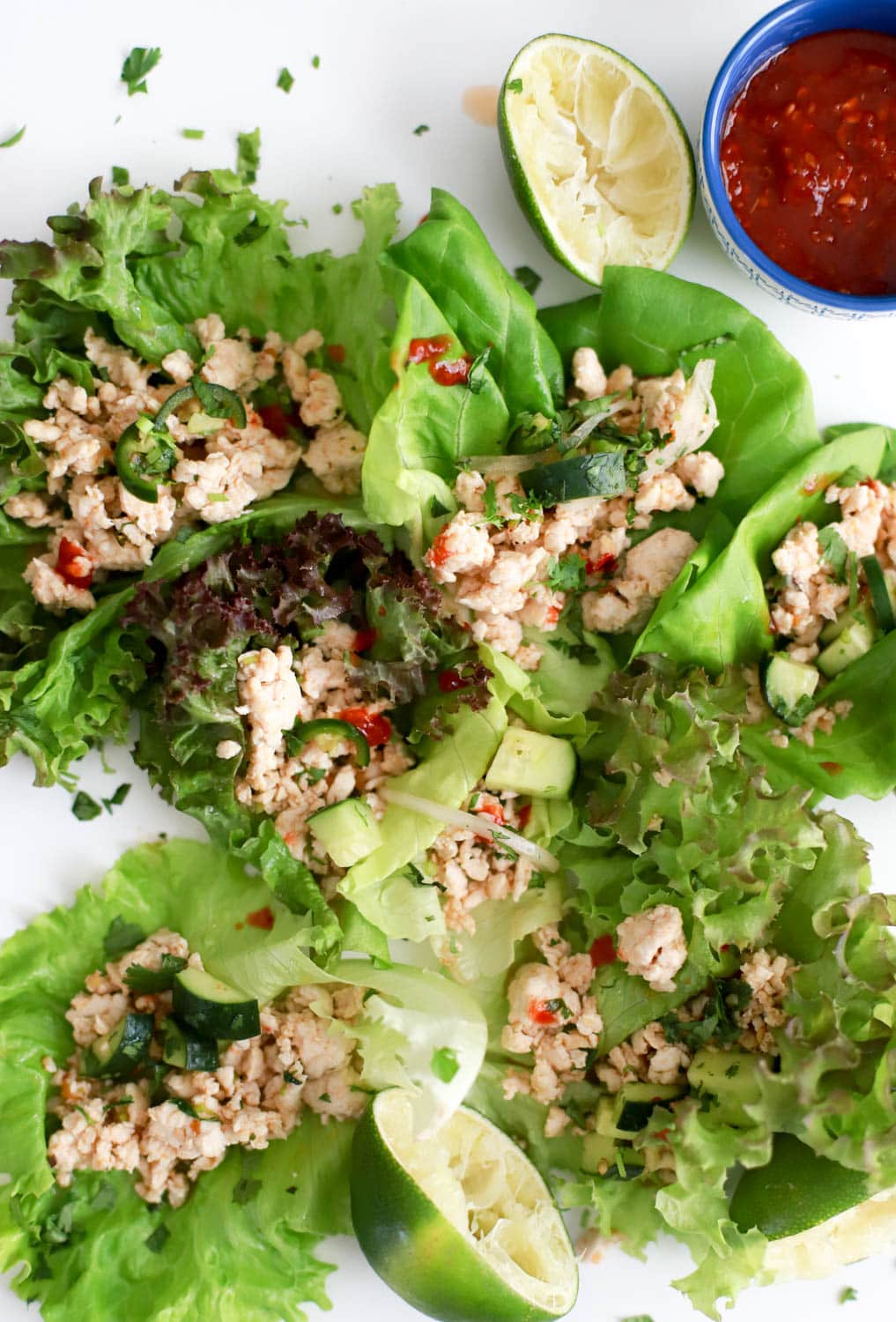 IknowIknowIknow.
Maybe not the most inspired thing to do for our first 2020 recipe, but inspired is not what we're attempting here. Delicious is. Chicken larb is delicious.
Jay usually does some kind of January ... eating thing ... which, is fine. I could go on and on about how I don't do things like that for a variety of reasons that I feel strongly about, but I'm also happy to support people in my life that try to make healthier choices.
My thing with healthy stuff, though, is this: I want food to taste like it was designed to taste. I like spaghetti squash on its own, not because "you totally don't miss the noodles!" I like tofu (this marinated baked version is my favorite), not because when ground up and dehydrated and covered in salt it's just.this.close to a meaty texture.
Swaps like that work really well for some people, I just like healthy foods that are already healthy. Laarb (spelled larb or laarb depending on the interwebs' mood) is alllllways on my list of things to try at Thai restaurants. In its natural state it's super light, ground chicken with fresh herbs and lime + fish sauce.
A note on how to use fish sauce, what is fish sauce, do I really need to use fish sauce. Fish sauce is suuuuper salty and imparts an umami flavor similar to soy sauce. It smells super fishy and doesn't taste super fishy is the only way I can describe it.
Really often when we have fish sauce brussels sprouts or this ground chicken laarb Jay will smell the dressing/sauce and immediately say "I don't want a ton of that, no thanks," and then will taste it and love the taste, just not the smell.
I tell you that to tell you this: give fish sauce a try, and yes you should buy it and learn to use it. It's a really unique ingredient that goes really well in lots of already-healthy dishes.
Chicken Laarb Recipe
So! There are two components to this chicken larb recipe: the ground chicken mixture and the cucumber salad/relish/topping situation. Both components use the same dressing, hello multitasking, but the dressing takes on a slightly different taste both ways because it cooks slightly with the chicken and is raw/cold in the salad.
Step By Step Instructions
Dressing! Spicy stuff, fish sauce, limes.
Whisk the dressing together (no oil!), and taste it, love it. Adjust the seasonings if you'd like it to taste more spicy, lime-y, or salty!
Then, prep the other ingredients. Slice onion, chop jalapeno and cucumber, pick leaves of fresh mint and cilantro. Save some of the herbs for the chicken and use most of them in the dressing.
Toss the salad ingredients together with about ⅓ of the dressing - just enough to coat the ingredients. Let that sit while you cook the ground chicken laarb.
For the chicken, preheat a skillet to medium-high heat with some olive oil - a few good drizzles since ground chicken is so lean. I usually use ground chicken with some fat, but ground chicken breast works well here too!
Cook the chicken, crumbling it as you go. It won't get super brown, but a little color is nice! When the chicken is cooked through, add the rest of the herbs and about ⅓ more of the dressing. Turn the heat off and stir everything together.
Now, taste the salad and chicken. Both should taste great; add more of the dressing to the chicken or veggies if either seem bland. I ended up using all but a few tablespoons of the dressing on my chicken to really coat it and add tons of flavor. The dressing should absorb into the chicken and sizzle a little in the hot pan - turn the heat back on if the chicken gets cold while you're arranging everything.
Next, build lettuce wraps! I often serve all of the components separately in bowls with a stack of leaves so everyone can build their own.
Chicken, veggies, extra spicy stuff and lime squeezes.
Gang's all here! For meal prep, make the dressing in advance, then cook the chicken and add dressing. Chop the veggies and store them separately from their portion of the dressing, then toss together right before serving. I love this easy ground chicken laarb recipe in a bowl too with extra greens, quinoa, or rice.
Healthy, delicious, easy. Getting into January my favorite way. Enjoy this!
PS: these crispy tofu bowls with brussels and brown rice are a great way to use fish sauce another way!
Chicken Laarb Lettuce Wraps + Minty Cucumber Salad
These easy ground chicken laarb lettuce wraps are delicious, healthy, gluten free, and feature a lime dressing that will wake up any bored taste buds!
Ingredients
2

lime

juiced

¼

cup

fish sauce

1

tablespoon

sambal oelek

2

teaspoons

sugar

1

small cucumber

diced

1

jalapeno

sliced (remove seeds for less spicy)

¼

small onion

thinly sliced

⅓

cup

chopped cilantro

¼

cup

chopped mint

1

pound

ground chicken + oil for cooking

lettuce leaves for serving
Instructions
Make the dressing. Whisk together the lime juice, fish sauce, spicy stuff, and sugar. Taste and adjust the seasonings. The dressing should be very limey; the sugar is used to balance the flavors but not make the dressing sweet.

Combine the jalapeno, cucumber, onion, and half the herbs in a bowl. Drizzle over about ⅓ of the dressing and toss to combine. Set aside the relish while you cook the chicken.

Preheat a large skillet to medium high heat with a glug of oil - enough to coat the bottom of the pan since the chicken is so lean.

Cook the chicken in the hot skillet for 5-10 minutes until cooked through and lightly browned, breaking it up with a spoon as you go. When the chicken is cooked, turn the heat off the skillet and add most of the remaining dressing and the rest of the herbs. Stir to combine.

Taste the salad and chicken and add the rest of the dressing wherever you'd like, or save it for drizzling.

Use the ground chicken laarb and cucumber salad in lettuce wraps. Serve with extra lime wedges and extra chili garlic sauce. Enjoy!
Notes
Fish sauce smells very fishy but tastes mostly salty and earthy. If you've never use it, I strongly urge you to give it a try! Red Boat Fish Sauce is a brand that I love. It's a great ingredient to add gluten free umami flavor to dishes, and learning to use it well can yield some really wonderful Thai food at home.
Ground chicken is traditional in this dish, but ground turkey or pork work really well!
More Easy Gluten Free Recipes