Fun food alert!
This is such weekend food I just can't even take it.
I love a taco, I just can't deal. I especially love non-Mexican-flavored tacos, isn't that strange? There's a Mexican food truck in town that sells a Korean-style pork belly taco and I almost die of happiness every time I eat one, not even joking. It's SO good. I don't mind "regular" tacos, obviously, because I'm not a communist, but I prefer my Mexican food to be in some kind of bowl form, like the rice bowls I make at least once a week without fail.
So I made this taco! Which has nice classic chicken club ingredients + avocado + a chipotle sauce, which never hurt anything, I'll tell you that much right now. You don't wanna miss this.
The tacos just have chicken, cheese, avocado, tomato, lettuce, and bacon. I think that flour tortillas are so much happier and more pliable than corn, but if you're gluten free or love the flavor of corn tortillas obviously you need to live your best life and take choices and OPRAH that ish.
Then for the sauce we have chipotle peppers (from a can, I just keep leftovers in the fridge), sundried tomato pesto, cream, and mayo. BECAUSE YUM.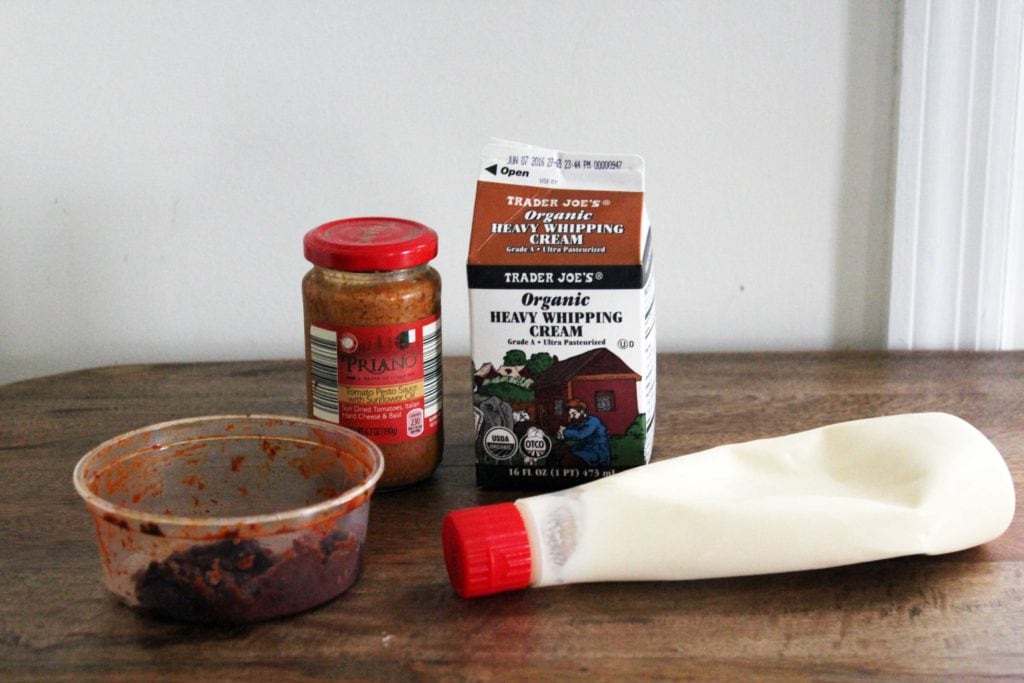 Make the sauce first! Add all the ingredients to a bowl.
Stir together, and taste! Add more of whatever you'd like, or a pinch of salt if it tastes bland.
Now, the "cooking" is the bacon and the chicken, which we do in the same pan for cleanup and bacon-flavored reasons. Bacon first! I cut the strips in half to make them easier to work with, then put them in a cold pan. Turn the pan to medium-high, then flip the bacon after 5 minutes or so.
When the bacon is as crispy as you like it, remove it to paper towels to drain.
Now, in the same skillet over medium-high, add the chicken and sprinkle it with pepper - it'll get salty from the bacon grease, so don't add salt.
Cook the chicken for about 7 minutes on each side until IT'S done, then take it out of the skillet to cool enough to touch.
While the chicken cools, prepare the other taco ingredients! Give the bacon a rough chop to break it up a little bit.
Then dice the tomato, shred the lettuce, and grate the cheese. We'll deal with the avocado at the very last second so it doesn't get brown. I don't always do something with my tortillas, but if your taco shells don't feel very soft wrap them in a kitchen towel and microwave them for 15 seconds or so to soften them.
When the chicken is cool enough to touch, use 2 forks or your fingers to shred it up.
"Prep" the avocado by cutting it in half and dicing it right in the shell (carefully, duh, don't kill yourself), and we're ready to make tacos!
Build the tacos any way you like, drizzle them with the sauce, and go. to. town.
We made these last Saturday after a 7 mile walk in the heat, and they were just SO delicious. Light but hugely flavorful, portable because duh, works for lunch or dinner....all the best things about a taco.
Just add margs.

Chicken Club Tacos
Ingredients
TACOS

4

slices

bacon

pepper

2

boneless

skinless chicken breasts

1

cup

shredded cheddar

1

medium diced tomato

4

leaves

shredded romaine lettuce

1

avocado

8

small taco-sized flour tortillas

SAUCE

1

tablespoon

mashed chipotle in adobo sauce

¼

cup

sundried tomato pesto

¼

cup

heavy cream

2

tablespoons

mayo

1

pinch

salt
Instructions
Make the sauce: Combine all ingredients and set aside.

In a large skillet, add the bacon in one layer. Turn to medium-high heat, and cook for 5-7 minutes, flip, then keep cooking until the bacon is cooked to your preference. Remove to paper towels to drain, then chop.

In the same skillet (in the bacon grease!), add the chicken (still over medium-high heat), and sprinkle with pepper. Cook for 5-7 minutes on each side until the chicken is browned and cooked through, then remove to a plate to cool.

When the chicken is cool, use your fingers or 2 forks to shred into bite-sized pieces. Cut the avocado in half, remove the pit, and dice it for serving.

Build tacos! Fill each tortilla with lettuce, chicken, bacon, cheese, tomato, and avocado. Drizzle with the chipotle sauce. Inhale. Enjoy!
Nutrition