It's rainy and it's Monday! Excellent.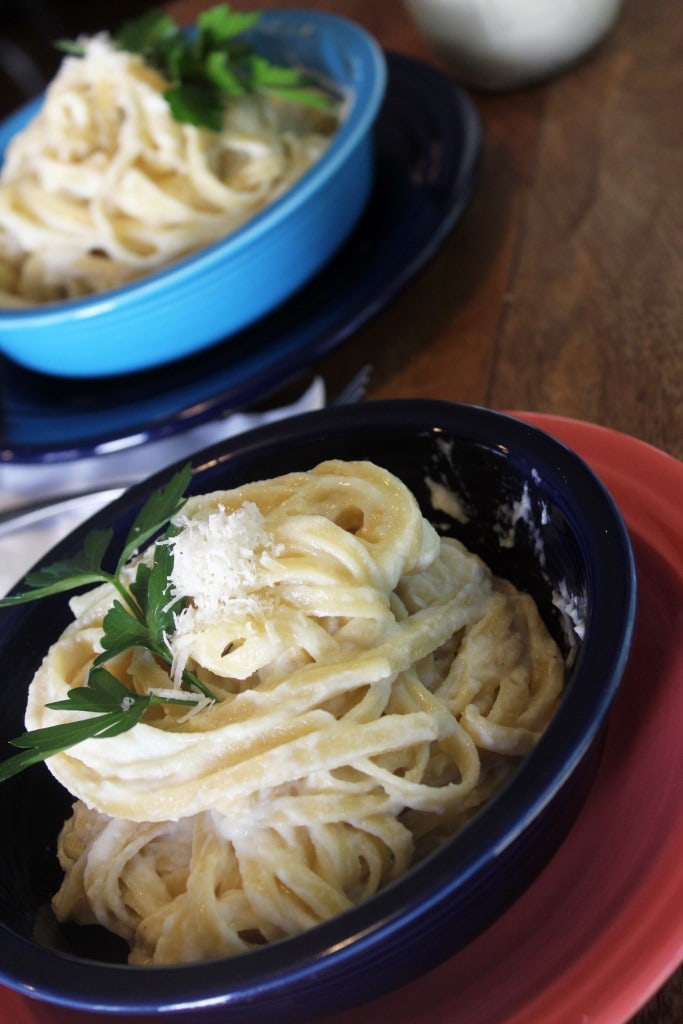 Instead of giving you something supremely unhealthy, which of course is always my go-to on a rainy Monday, I'm giving you a fun fakeout that's actually seriously delicious. HEALTHY FAKEOUT!
Let's not waste any time. I got this idea from googling cauliflower and APPARENTLY people use cauliflower to make things creamy without adding lots of fat? Genius. Enter....cauliflower alfredo.
Ok now, to be fair, this isn't one of those fake outs where you can't tell the difference. You can, so don't freak out about that. This just tastes like a nice light cream sauce. I think it kinda tastes like cauliflower, but my sister Emily said no so....maybe a tiny bit of cauliflower flavor? The good news is that cauliflower has a super mild taste, so try not to worry and just TRY THIS SOON.
For the sauce, you need a head of cauliflower, cream, parmesan cheese, garlic, and some butter. Easy stuff!
First, let's prep the cauliflower. Remove the leaves and cut the stem out carefully with a sharp knife, then cut the rest of the cauliflower into large chunks.
Place the cauliflower with a sprinkle of salt in a pan with a lid, and add a few inches of water - the cauliflower should be about half covered with water. Cover the pot, and turn the heat to medium-high. Let the water boil, then reduce it to medium or medium low and let the cauliflower cook covered for 15-20 minutes or so until it's very soft.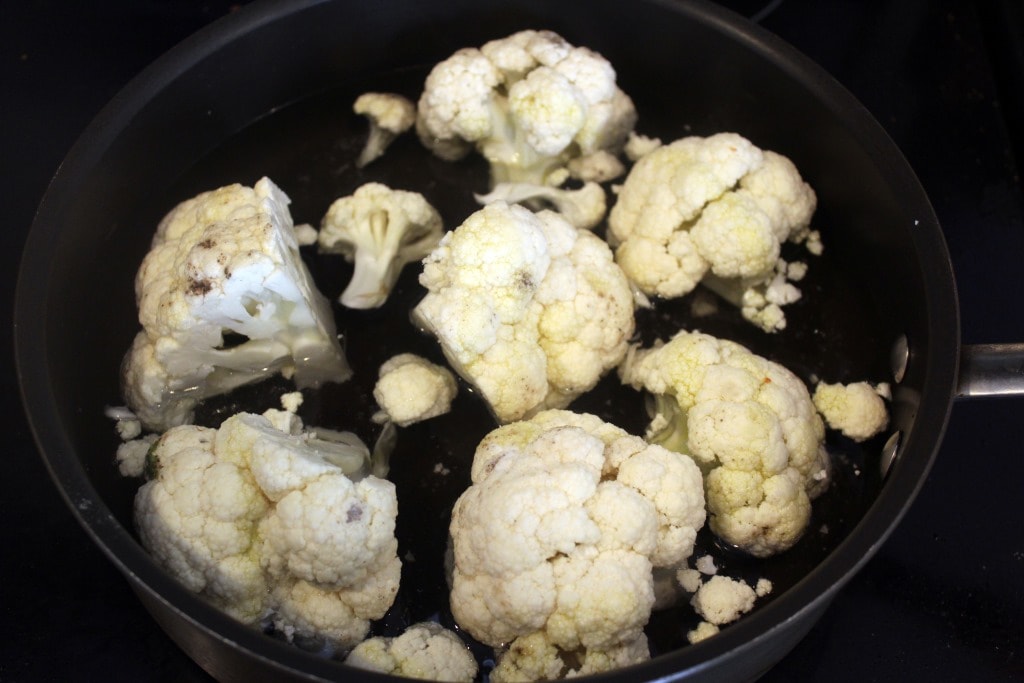 When the cauliflower is cooked, remove it from the water (save the water, you might need it), and add the cauliflower, garlic, butter, cream, and parmesan to a food processor or blender.
Blend the sauce together for a minute or two until it's very smooth. If the sauce seems thick, add some of the cauliflower cooking water to thin it out. Taste the sauce, and add salt or pepper to your taste.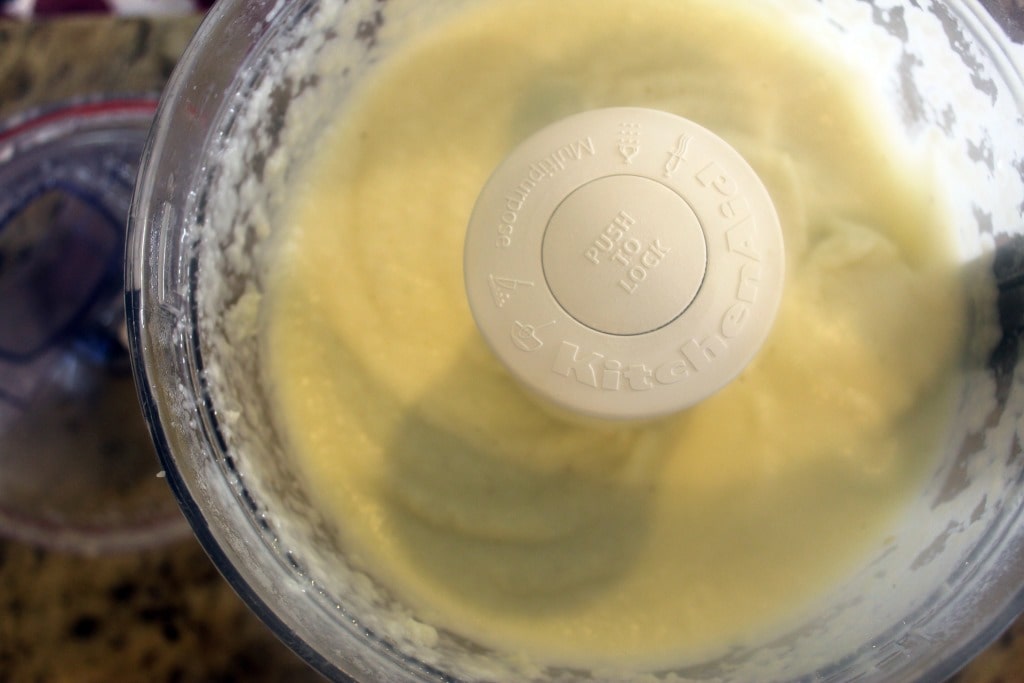 That's IT, kids! You can make this a few days in advance, then toss it with some pasta whenever you'd like to eat.
When you'd like to serve this, just pour it over some hot pasta and toss it all together!
I like garnishing this with fresh parsley and extra parm, but crushed red pepper, good olive oil, or any other herbs would be delicious!
I loved this, guys. It's nice and creamy but not nearly as heavy as traditional alfredo. Plus, it has hidden veggies! I'm thinking stirring in some spinach and maybe provolone would be a nice way to amp it up, too. NOM.
Happy pasta eating! You'll like this one.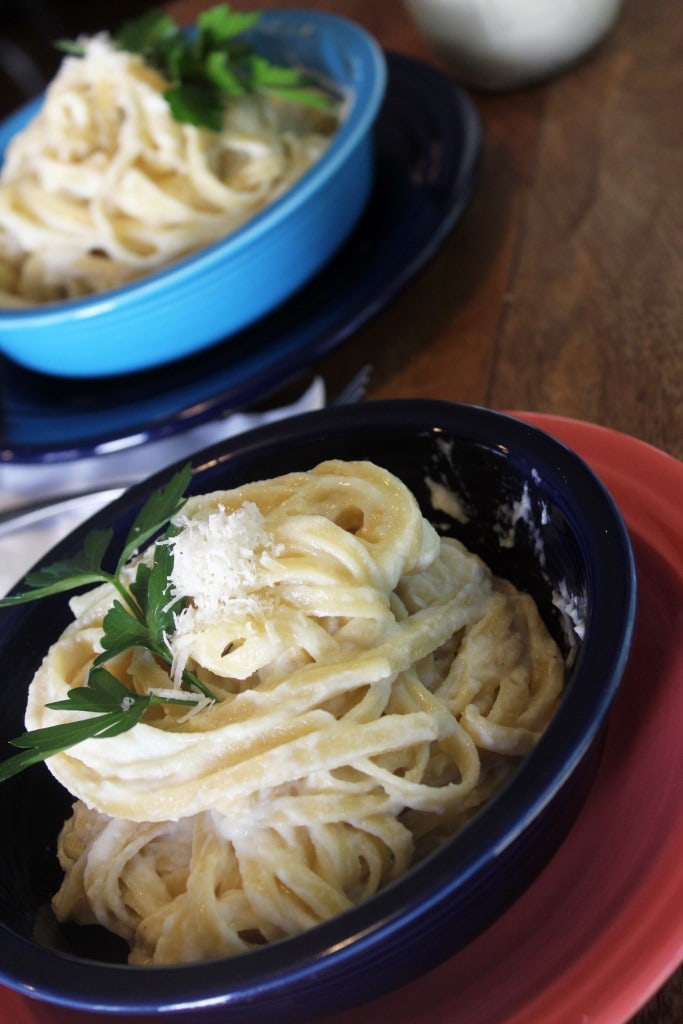 Cauliflower Alfredo
Ingredients
1

small head cauliflower

cut into large chunks

1

tablespoon

butter

2

tablespoons

grated parmesan cheese

1

clove

garlic

½

cup

heavy cream or half and half
Instructions
Add the cauliflower pieces with a sprinkle of salt to a pot with enough water to cover the cauliflower by half. Cover the pot, and cook on medium to medium high (water heavily simmering) for 15 - 20 minutes until the cauliflower is very soft.

When the cauliflower is cooked, add it with the other ingredients to a blender or food processor, reserving the cooking water. Blend the sauce for 1 - 2 minutes until very smooth. Add cooking water as needed to achieve a sauce consistency. Taste, and add salt and pepper to taste.

Store in the fridge for a few days, or serve immediately with hot cooked pasta. Garnish with fresh herbs or extra parm if desired.
Nutrition
Shared with
Weekend Potluck
– the best
time suck
start to a weekend!