Well.
I got something in my eye.
I'm not sure at this point if it's pinkeye, irritation due to contact wearing, something really cool that I don't even know about yet, or just mutiny of every blood vessel in one eye for staring at a computer all day every day.
I am sure, that it hurts. In a way that has me swearing every 5 minutes. In a way that requires REST from getting dressed, doing work, or looking at anything that isn't, well, black.
It's a good day, is what I mean.
On good days like this one, I need comfort food. For me, cheese is comforting. Is it for you too? It's also moderately cold here, which means that it's already sunshiny (eff my eye, that sh*t hurts) and will reach 60 in a matter of hours. Not that I can enjoy it, but this morning it was, like, 43. So we need soup. With cheese.
Wanna see a fun way to make it?
Cheddar Carrot Soup
Here's what you need:
3 tablespoons olive oil
salt and pepper

3 large carrots

1 stalk celery
½ medium onion
2 cloves garlic
1 tablespoon flour
½ cup tomato juice or puree (I used the juices from 1 13 oz can diced tomatoes)
2 - 3 cups vegetable or chicken stock - see how I make my own here!
4 oz mascarpone cheese
4 oz sharp cheddar cheese
½ to 1 cup milk
1 scallion, optional, for serving
½ cup mixed fresh herbs, optional, for topping
crusty bread, for serving
These ingredients are totally affordable minus the mascarpone. Sorry about that. Do you know what mascarpone is? It's like cream cheese mixed with butter. Seriously. It's DELICIOUS, and you can add it to anything you'd like to make creamy, spread it on bread...eat it with a spoon....you get the picture.
So. Let's make soup! First, scrub the carrots and cut off the ends. Cut them into large chunks - ⅔ inch or so.
Add the carrots, olive oil, and a sprinkle of salt and pepper to a large soup pot. Turn the pot to medium heat.
While the carrots and pot are warming up together, cut the celery stalk into chunks about the same size as the carrots.
Same with the onion! No need to be precise about it, we're going to blend the soup all together later. Mince the garlic too.
When the carrots have just started to soften, after about 7 minutes, add the celery and onion and stir the veggies together for 2 minutes.
Then add the garlic, and stir for one more minute, just until you can smell the garlic.
Now, sprinkle the flour over all the veggies and stir again, so the veggies get coated with the flour. We're adding the flour to slightly thicken the liquids so we don't have to add TOO much dairy later on to thicken the soup. Smart, huh?
When the flour has cooked for a minute or two, pour in the tomato juice...
...and the stock! You want enough stock so that it comes about ½ inch above the veggies.
Now, let's cook the soup. Cover the pot and let the soup simmer (you'll need to lower the heat, likely) for 20 - 30 minutes until the carrots are very tender. Test them with a fork.
While the soup is cooking, grate the cheddar - I used white, but yellow is just fine!
Grab any topping ingredients you'd like, too. I used 1 scallion and a handful of parsley and fresh dill.
When the veggies are cooked, use an immersion blender or regular blender to puree the soup until it's very smooth.
Then, add in the dairy! Two cheeses and milk - start with half a cup and add more if you'd like a thinner soup.
Now, stir everything together to melt the cheese and taste - add more salt and pepper if you'd like.
That's it! This is really simple and SO delicious. We loved it for lunches for several days after I made this! You can of course make this way ahead and serve it whenever you'd like - it kept really well in the fridge for 4 days and might have lasted longer if we hadn't gobbled it all up!
And....I served this with toasted bread smeared with mascarpone cheese. I think I ate more bread than actual soup. That still makes the meal healthy, right?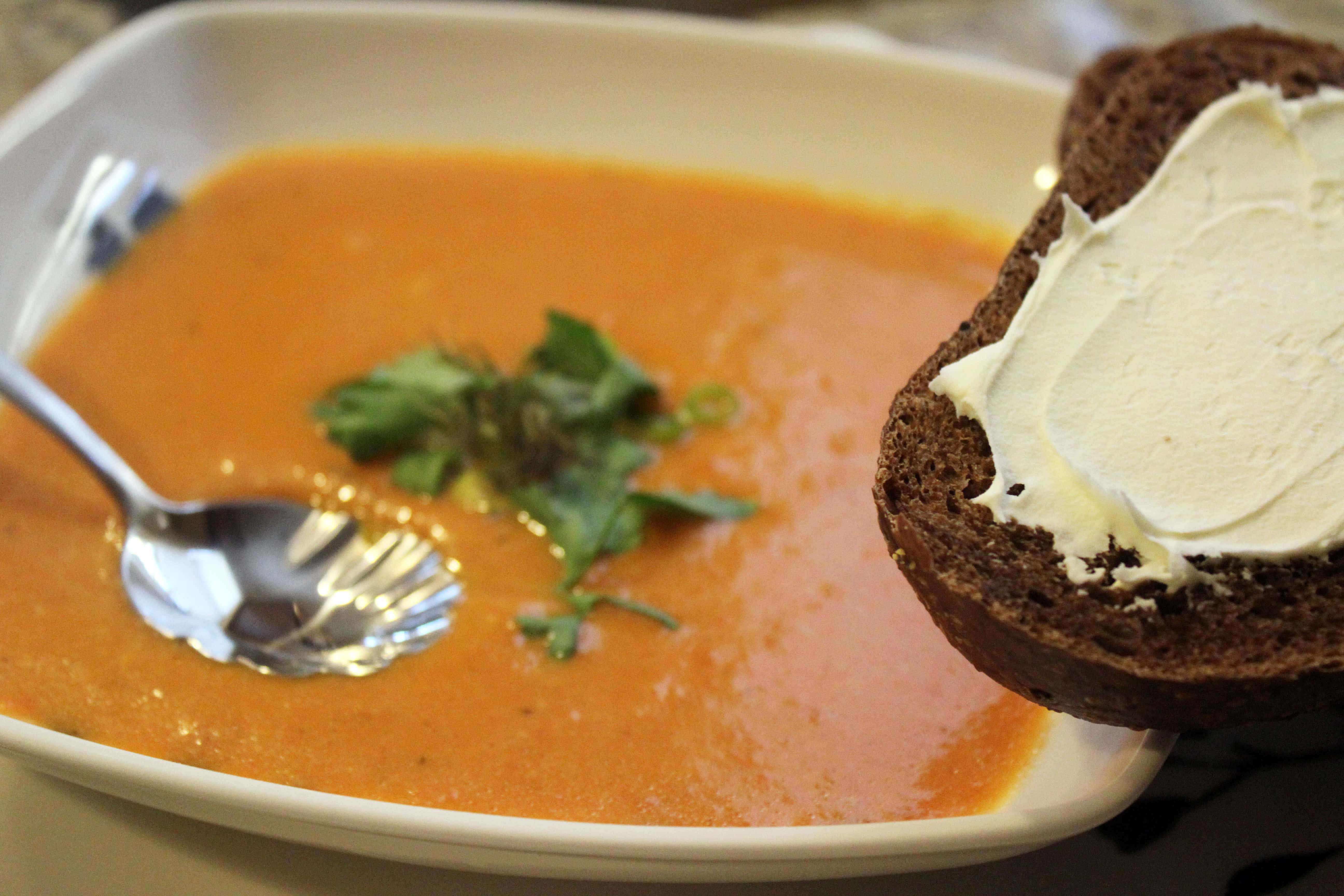 I need an intervention.
Carrot Cheddar Soup
Ingredients
3

tablespoons

olive oil

salt and pepper

3

large carrots

scrubbed and cut into bite-sized chunks

1

stalk celery

cut into bite-sized chunks,

½

medium onion

roughly chopped

2

cloves

garlic

roughly minced

1

tablespoon

flour

½

cup

tomato juice or puree

2 - 3

cups

vegetable or chicken stock

4

oz

mascarpone cheese

4

oz

grated sharp cheddar

½

cup

milk or half and half

1

sliced scallion and fresh herbs

your choice, for topping

bread and extra mascarpone for serving
Instructions
In a large soup pot, add the olive oil and carrots with a sprinkle of salt and pepper over medium heat. Stir the carrots to coat with the olive oil for 5 minutes until starting to sizzle.

Add the celery and onion and stir to combine for 5 more minutes, until the veggies have started to soften.

Add the garlic and stir for 1 minute, then sprinkle the flour over the vegetable mixture. Stir the flour into the veggies for 2 minutes to cook it slightly.

Add the tomato juice and 2 cups of stock to the veggie/flour mixture. Stir to combine, and increase the heat slightly so the mixture comes to a bubble and thickens. Cover the pot and reduce the heat to medium – simmer the vegetables for 15 – 20 minutes until the carrots are very soft.

When the veggies are cooked, use an immersion blender or regular blender to puree the soup, then return to the pot if you used a regular blender.

Over medium-low heat, add the cheddar, mascarpone, and milk to the soup. Stir to combine and melt the cheeses, then taste. Add more salt and pepper to your taste.

If the soup is very thick, add additional stock 2 tablespoons at a time until the soup is a consistency that you enjoy.

Serve soup topped with fresh herbs and scallion alongside crusty bread smeared with extra mascarpone.

Enjoy!
Nutrition
This is so perfect that I included it in this week's Weekend Potluck. It's this cute thing where blogs from EVERYWHERE can submit recipes to share with others – it's so fun to check out new things!
It's run by: