Cabbage roll soup is a low carb soup version of traditional cabbage rolls; ground meat, cabbage, sweet, tangy tomato sauce. This recipe has just a few ingredients and comes together in half an hour or so. It's a great soup for freezing or meal prep - leftovers are delicious!
It's time for a super easy new cabbage and beef soup recipe.
One of those recipes that is comforting, cozy, filling (with bread dunked into it obviously), but requires no last minute rushing around to get food hot + crispy. It's 2021 on the last day of DJT's presidency in the middle of a pandemic and honestly we need food that just stays, you know? No emotional fortitude necessary, just an easy soup recipe.
This is one of those very easy and basic beef and cabbage soup recipes with a few extra flavors to lend a traditional cabbage roll flavor. I kept things super simple, and the main cabbage roll flavor components here are sugar and vinegar added to the tomato soup base.
Often cabbage rolls are stuffed with a beef and rice mixture, which is super delicious, but I wanted to keep this soup low carb and gluten free so I nixed a carb altogether. You could certainly stir in some rice right before serving OR please don't forget the no-knead bread.
Side note on the bread - the Staub 4qt pot in these pictures is the pot I use the most often to make the no-knead bread. I like to save dishes by using the pot twice since it's almost totally clean after cooking the bread. SO, if you think in advance, make the bread early in the day and then the soup in the same pot while the bread cools, no washing the pot in between necessary.
Side note part TWO on that pot, they usually retail for $150-200 depending on color and where you get them, but a few places put them on sale for $99 a few times a year, and that's, like, a really nice gift for yourself. Keep an eye out! It's a super great soup pot and a really perfect size.
Ingredients
This soup is so simple, especially if you buy pre-shredded cabbage. Ingredients are: ground beef (or wild game of your choice, see below), onion, garlic, cabbage, canned tomatoes, stock, salt, sugar, and red wine vinegar. Some parsley for topping? Sure, but don't hurt yourself. This is a simple beef and cabbage soup.
Step by Step Instructions
Start with a little bit of oil in the bottom of your soup pot, and turn the heat to medium-high. Add the ground beef and cook the beef while crumbling it and letting it brown. Then, add the onion and garlic.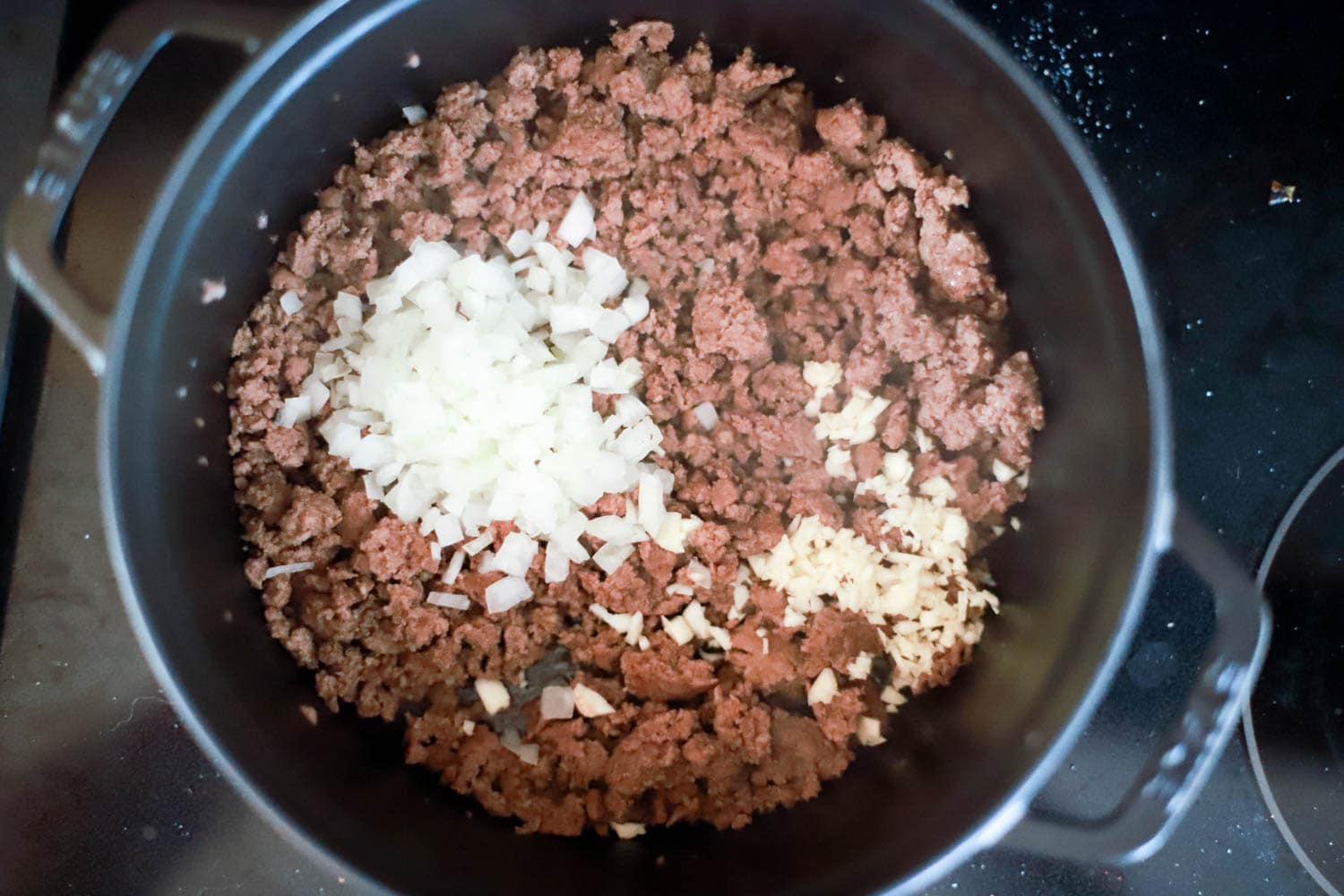 Stir the garlic and onion into the beef with a sprinkle of salt for just a minute or two to slightly soften the onion, then add the cabbage - about 4 cups shredded cabbage total, but don't obsess about that measurement. Stir the cabbage into the beef mixture for about 5 minutes to cook down and soften slightly.
Next, add crushed tomatoes (fire roasted is a nice choice here, but whatever you have, seriously), stock (beef, chicken, whatever), salt, brown sugar, and red vinegar.
Once the liquids are added, simmer the cabbage roll soup uncovered for about 15 minutes, stirring once or twice. The soup is done when the cabbage has softened.
At this point taste the beef and cabbage soup and add more salt or vinegar if you like some extra tang. The soup is ready to be serve but will also patiently sit on the stove (covered and turned off) for several hours if you aren't ready to eat yet.
What About Ground Venison?
Not to forget my geographical notes, this is absolutely one of those recipes that is great with ground venison or elk. We live in a hunting-heavy area, and while we aren't hunters ourselves we do see the value in hunting for food. We receive Gifts of Game (jk I don't actually call it that) a few times a year, and any recipe that I write with ground beef has also for sure been tried with venison and/or elk.

What Does Ground Elk Taste Like?
Ground elk tastes like ground beef, simply put. I find it much milder than venison, and it's super lean, aka good for our arteries compared to beef. I actually prefer it to venison, although gamey flavors depend a ton on the animal as well as the processing method.

This concludes our Discussion On Wild Game By A Non-Hunting Anti-Gun Liberal, thanks for being here with me through this. People are very complex.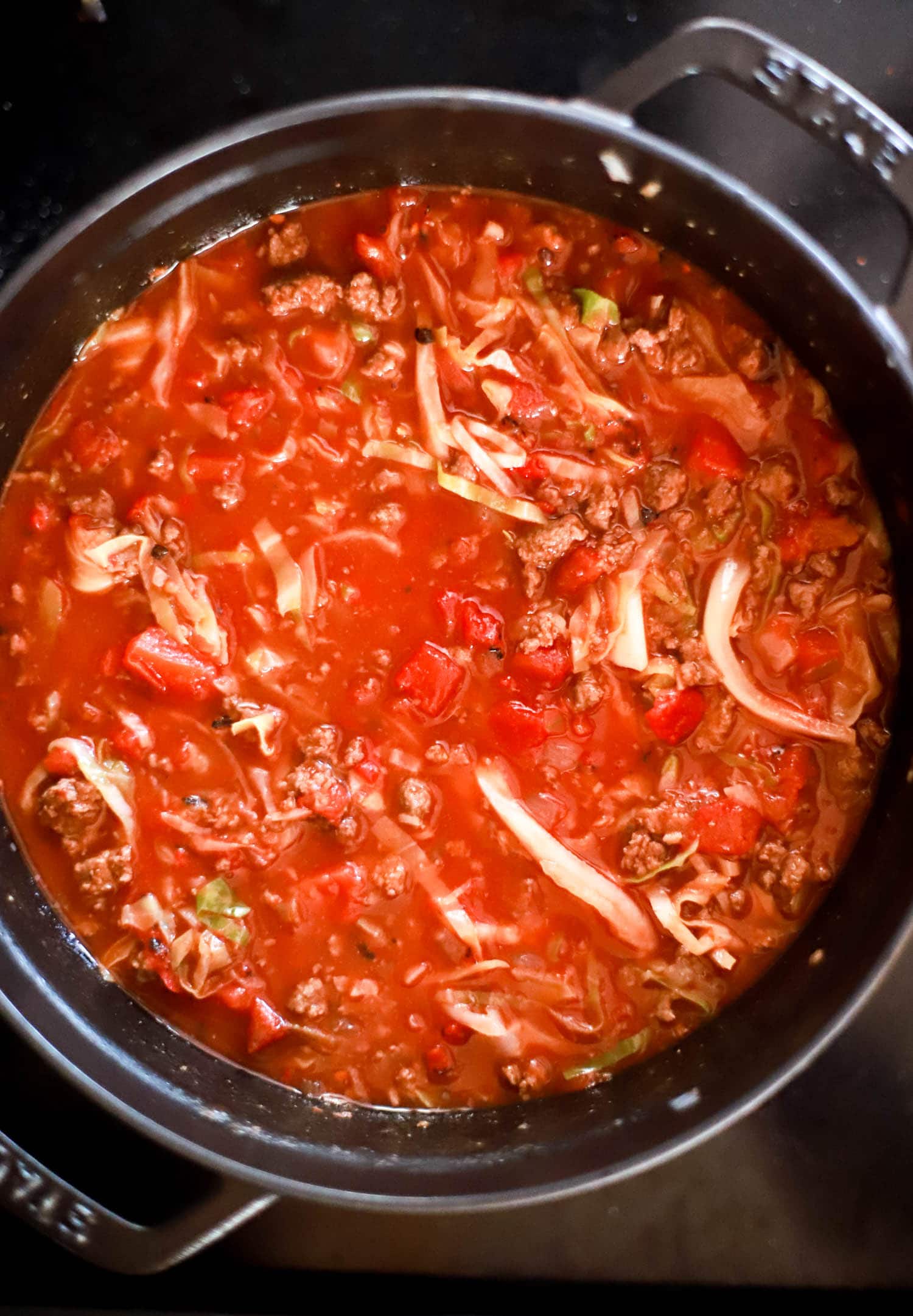 Make Ahead and Storage
For meal prep, I like to make this and eat half then freeze the rest or portion whatever we don't eat into glass storage containers for lunches throughout the week. If you have a large family you can certainly double the recipe; this serves 4-6 depending on how hungry you are.
And that's it! I know this is so, so simple but that's kind of the point. We have the essence of cabbage rolls without any fuss of rolling cabbage rolls or ingredients that we don't already have on hand. This is a great pantry meal because cabbage lasts forever in the fridge and ground meat can stay frozen until you say When, you know?
You know.
Enjoy this! It's a really wonderful make ahead soup that will carry you through these final cold months.
PS - if you're into beef and cabbage I have a Chinese beef and cabbage soup that is different but the same but different but just as delicious! Makes total sense.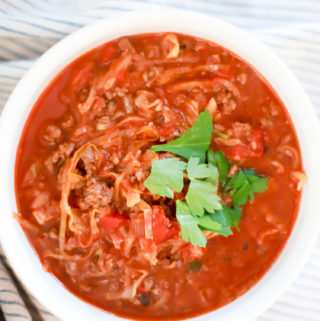 Cabbage Roll Soup
Super yummy cabbage roll flavors in a cabbage and beef soup for no rolling muss or fuss. This soup comes together in 30 minutes and is perfect for meal prep!
Ingredients
1

pound

ground beef

½

onion

diced

2

cloves

garlic

minced

4

cups

about ¼ large head shredded cabbage

28

ounces

crushed tomatoes

fire roasted is a nice choice!

2

cups

beef stock

2

tablespoons

red wine vinegar

2

tablespoons

brown sugar

1

teaspoon

kosher salt
Instructions
Preheat a soup pot to medium heat with a drizzle of oil. Add the ground beef and cook, breaking it up as you go with a spoon until the meat is browned, crumbly, and cooked through.

Add the onion and garlic and stir for 2 minutes until fragrant.

Add the cabbage and stir for 5 minutes to soften the veggies.

Add the tomatoes, stock, vinegar, sugar, and salt. Reduce the heat slightly and allow the soup to come to a simmer.

Simmer the cabbage roll soup uncovered for 15 minutes until the cabbage is soft. Stir a time or two during this time.

Taste the soup for seasoning; add more salt to your preference. EAT.
Notes
This keeps really well in the fridge for at least a week and as long as you need in the freezer.
Beef stock is a great choice here, but chicken or veggie stock are fine too if that's what you have on hand.
This is a great soup to try out wild game such as ground venison or ground elk. Check out the info in the post for more notes on flavor!