Juicy, crispy, easy fried chicken with buttermilk is the best summertime dish! This is a simple recipe for fried chicken that is totally foolproof and comes out perfectly every time. I love this hot, cold, or at room temperature!
FOR THE FOURTH OF JULY OBVIOUSLY BECAUSE PATRIOTISM.
Gag. About that first phrase, not the chicken. I do very much like Hamilton and the thought of the founding fathers, flawed as they may be, so maybe that's our patriotism for the summer patriotic holidays. You decide!
Either way, summer is so much fun and such a great excuse to have parties, eat picnic/potluck food, and be generally sweaty and tipsy in public in a manner that is completely acceptable.
Buttermilk Fried Chicken Ingredients
We start with one chicken cut into pieces - I had the meat counter guy do this for me, but feel free to watch a YouTube video, do this yourself, and let me know how it goes. I couldn't be bothered. The chicken pieces go in a bowl of buttermilk to soak while you prepare seasoned flour for dredging.
Then, flour mixture! Flour, salt, sugar, onion powder, garlic powder, cayenne pepper. Stir this together with a fork and set it to the side while you fill a big pot with vegetable or canola oil.
Breading for Fried Chicken
When the chicken has marinated for an hour, take the pieces out and one by one dip/roll/cover them in the flour mixture.
The pieces should each have a nice coating of flour without being overly clumpy. Shake off extra flour, then place the chicken pieces on a baking rack to rest while you heat the oil. This will make the crust a little more sturdy during the frying process - you can also do this way in advance, keep the chicken uncovered in the fridge on a pan like this, and fry right before eating.
When the chicken is dredged and resting, turn the stove to medium heat to slowly warm the oil. Use a meat thermometer to monitor the progress; mine took about 20 minutes to reach 350F.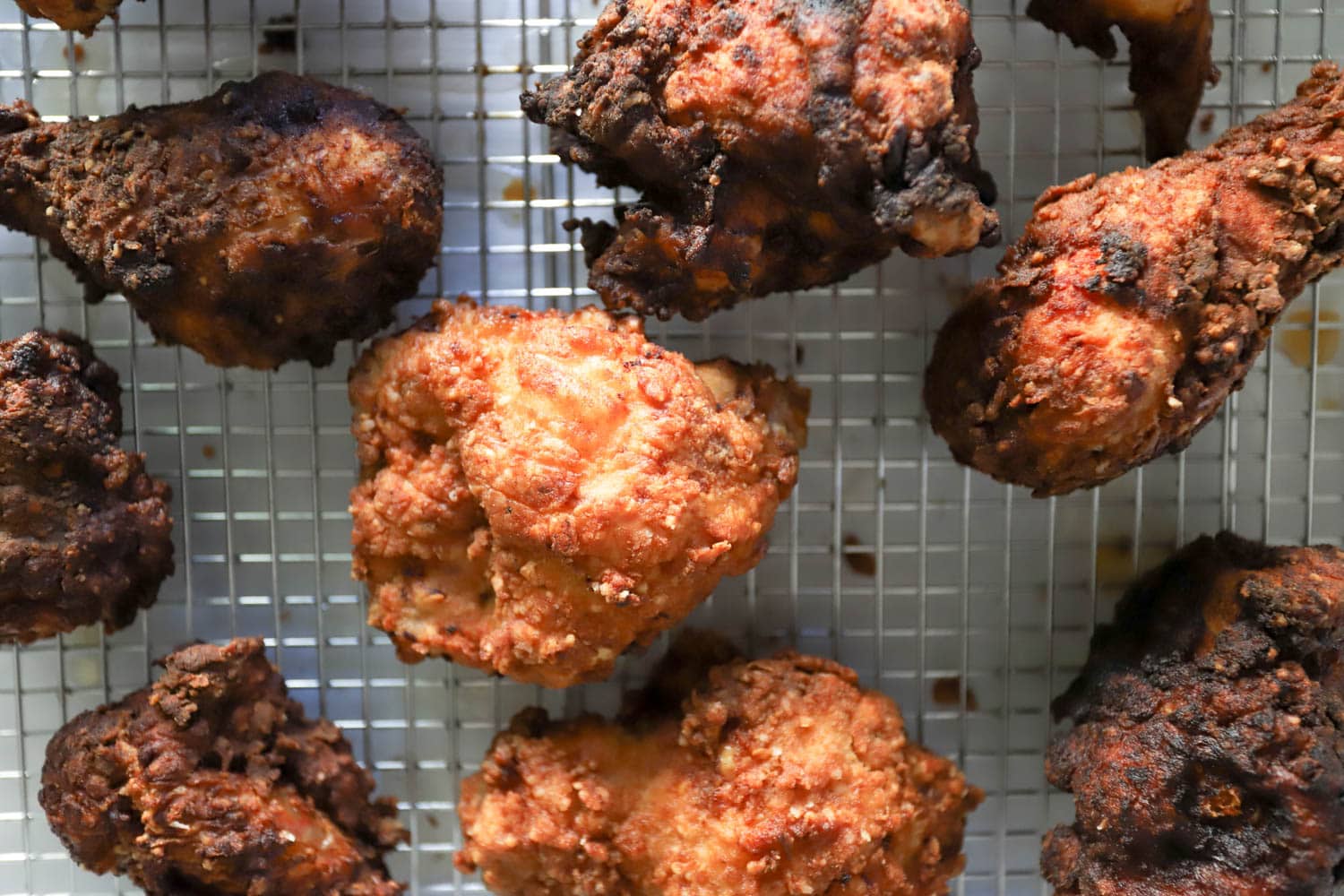 Timing will depend on your stove and your pot, but when the oil is between 350 and 375F gently ease two or three pieces of chicken into the oil. At this point the oil should cool to about 300F and stay there while the chicken fries for 10-15 minutes until it's golden brown and cooked through.
Pro Tip: If the oil is VERY HOT, the chicken will burn before it cooks through. Adjust the heat up or down as you go to keep the oil with chicken frying between 300F and 330F.
As you fry, adjust the heat up or down as needed to maintain these temperatures, even turning off the heat if needed to let it cool quickly (if you're like me and in a hurry, you may turn up the heat and forget about it then BOOM 390F burned chicken cool).
Cook the chicken in batches and let it rest on paper towels or a clean cooling rack as you finish frying.
As soon as you take each batch of chicken out of the frying oil, sprinkle it with kosher salt for extra flavor.
Serve the chicken hot, cold, or at room temperature - it's seriously good any of the ways you can imagine. I love classic summer side dishes on the side with fried chicken.
What to Serve with Fried Chicken:
Summer is made for dishes like this. A little bit of extra time to make food that is WORTH it, to spend time with friends, to generally slow down and enjoy and smell the friend chicken.
Enjoy!
Print
Buttermilk Fried Chicken
---
Total Time:

1 hour 15 minutes

Yield:

Makes

10

pieces of fried chicken.

1

x
Description
How to make perfect buttermilk fried chicken at home! Buttermilk fried chicken recipe with tips and tricks for foolproof fried chicken every time.
---
1

chicken, cut into 10 pieces (

2

wings, thighs, and legs;

2

breasts cut into

two

pieces each)

1 quart

buttermilk

3 cups

flour

2 tablespoons

salt

1 tablespoon

sugar

1 tablespoon

onion powder

1 tablespoon

garlic powder

1 teaspoon

hot paprika or cayenne pepper
Vegetable oil for frying
---
Instructions
Pour the buttermilk into a large bowl and add the chicken. Let marinate for one hour in the fridge while you heat the oil and make the dredge.
Whisk together the flour and all of the spices in a shallow bowl or dish.
When the chicken has marinated, prepare a baking sheet with a cooling rack set inside. Carefully remove each piece of chicken from the buttermilk, shaking off any excess. Dredge each piece of chicken in the flour mixture, then place on the baking rack to rest.
Repeat with the rest of the chicken pieces. Let the coated chicken rest while you heat the oil.
Fill a large pot with oil, about 6 inches or so. Turn the stove on and let the oil heat over medium heat for about 20 minutes. Attach a candy thermometer to the side of the pot to monitor the temperature of the oil.
When the oil reaches 350-375F, add two or three pieces of chicken to the pot. The oil should reduce in temperature; turn the stove down if it doesn't.
Let the chicken fry at about 300F for 10-15 minutes until golden brown. Adjust the stove as you go to maintain an even oil temperature.
Remove the chicken to another cooling rack to drain and cool slightly. Serve immediately or store in the fridge to eat cold. Repeat with the remaining chicken until all of the pieces are fried. Enjoy!
Notes
Serve hot, cold, or at room temperature. This chicken stores really well in the fridge for a few days!
Prep Time:

1 hour

Cook Time:

15 minutes
Keywords: buttermilk fried chicken, fried chicken thighs
More Easy Chicken Recipes