Gluten free buffalo turkey meatballs served with an easy smashed cucumber salad for a yummy low carb lunch or dinner! The gluten free turkey meatballs have tons of flavor and can be made as part of your meal prep for the week. They're also great meatballs to make in a big batch and keep in the freezer!
I made us lunch!
A really really yummy lunch. No story, really, just a way to showcase the gluten free turkey meatballs and smashed cucumber salad from a few weeks ago together. I threw on some easy "homemade" (not really) buffalo sauce because Buffalo all the things and call me happy.
I love recipes like this that allow for creativity, throwing on any ingredients or sauces you like for a completely different type of meal. The cucumbers with crispy Korean chicken in rice bowls? Do it. The meatballs tossed in marinara over spaghetti? It all works.
Today, though, Buffalo! Hot sauce + butter = magic, please and thank you. The "method" here is to make a batch of the gluten free baked turkey meatballs. I love making a double batch and keeping these in the freezer to warm up in any sauce I want - we're actually doing that on Friday with some random leftover marinara.
Buffalo Turkey Meatballs
To get the meal ready, start the smashed cucumber salad and let the cucumbers drain while I make the quick buffalo sauce and get the meatballs ready.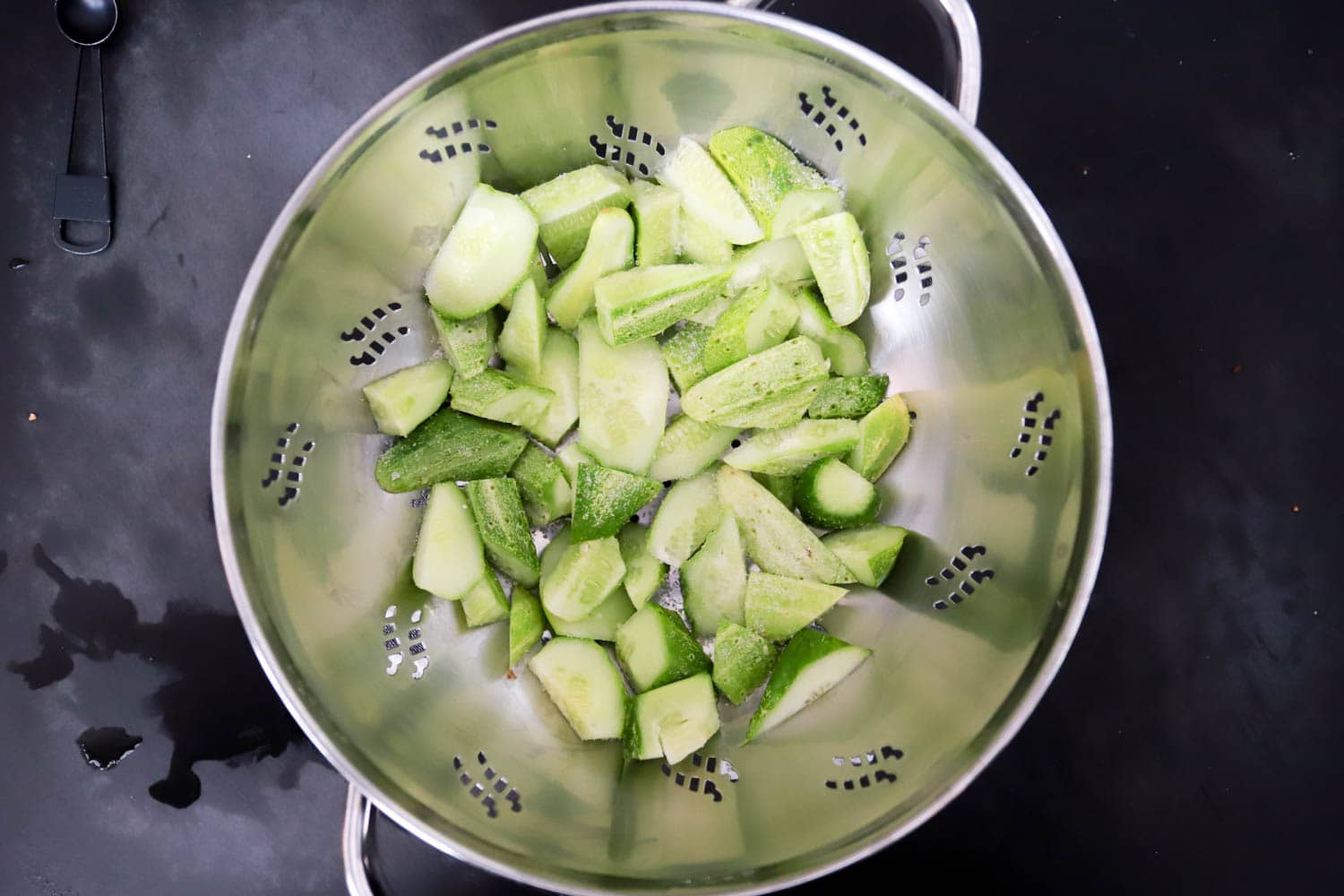 Since they're already cooked (holla, meal prep!), they just need to warm through in the sauce, which is equal parts butter and hot sauce.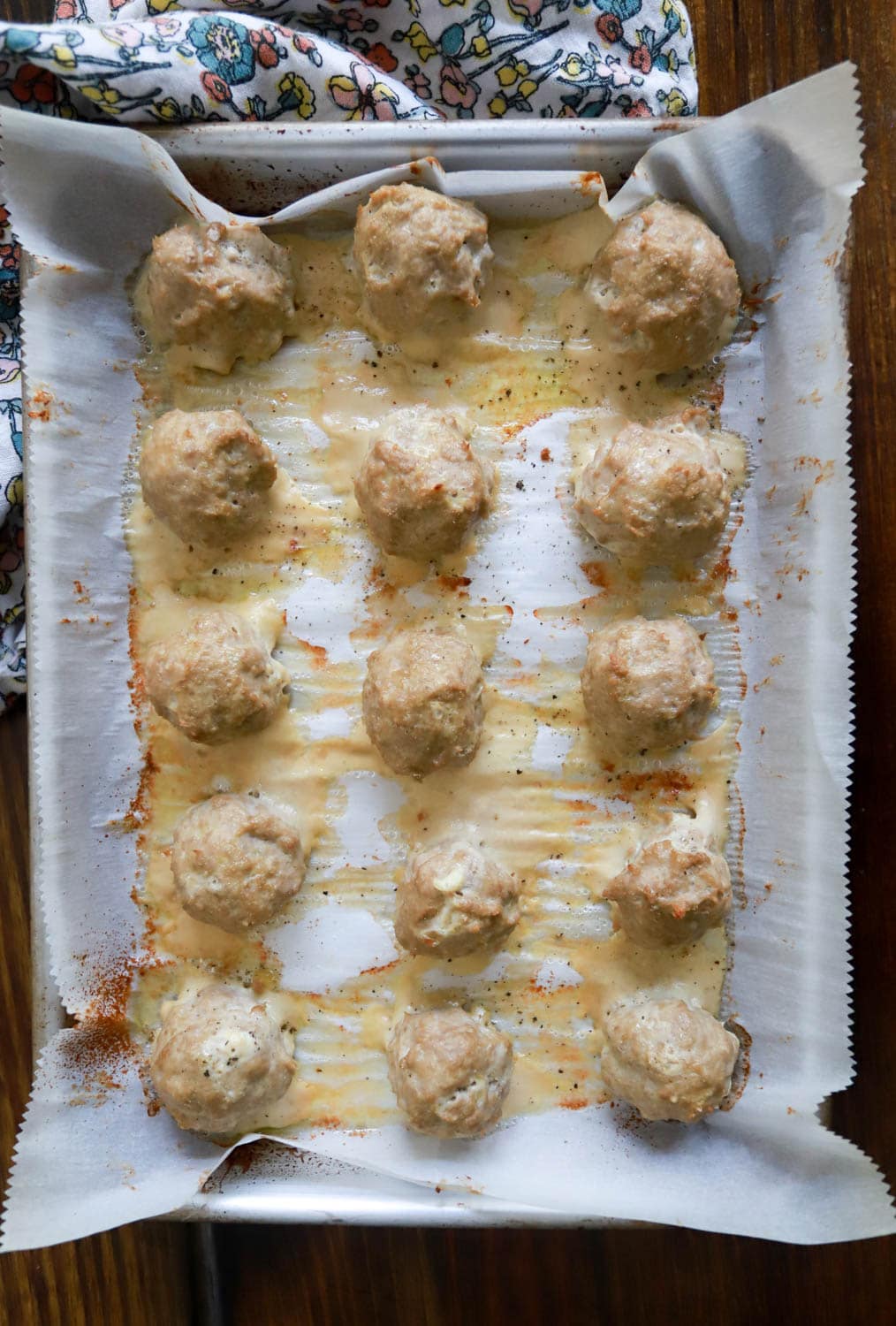 Use any kind of buffalo/wing sauce you like - Franks and Texas Pete are two of my favorites.
Toss the meatballs in the sauce for just a few minutes to warm them through. If they were in the freezer, thaw them in the fridge overnight before using them. If you made them freshly for this recipe, they're ready to go!
Add the cucumbers to a plate and top with some buffalo turkey meatballs. For serving, I added some teeny tomatoes and slices of avocado (not pictured because honestly photographing avocado is not something I care to be great at, I have other skills).
You could also add blue cheese, chopped celery, lettuce or kale leaves - anything to make this feel like a Buffalo salad plate to you!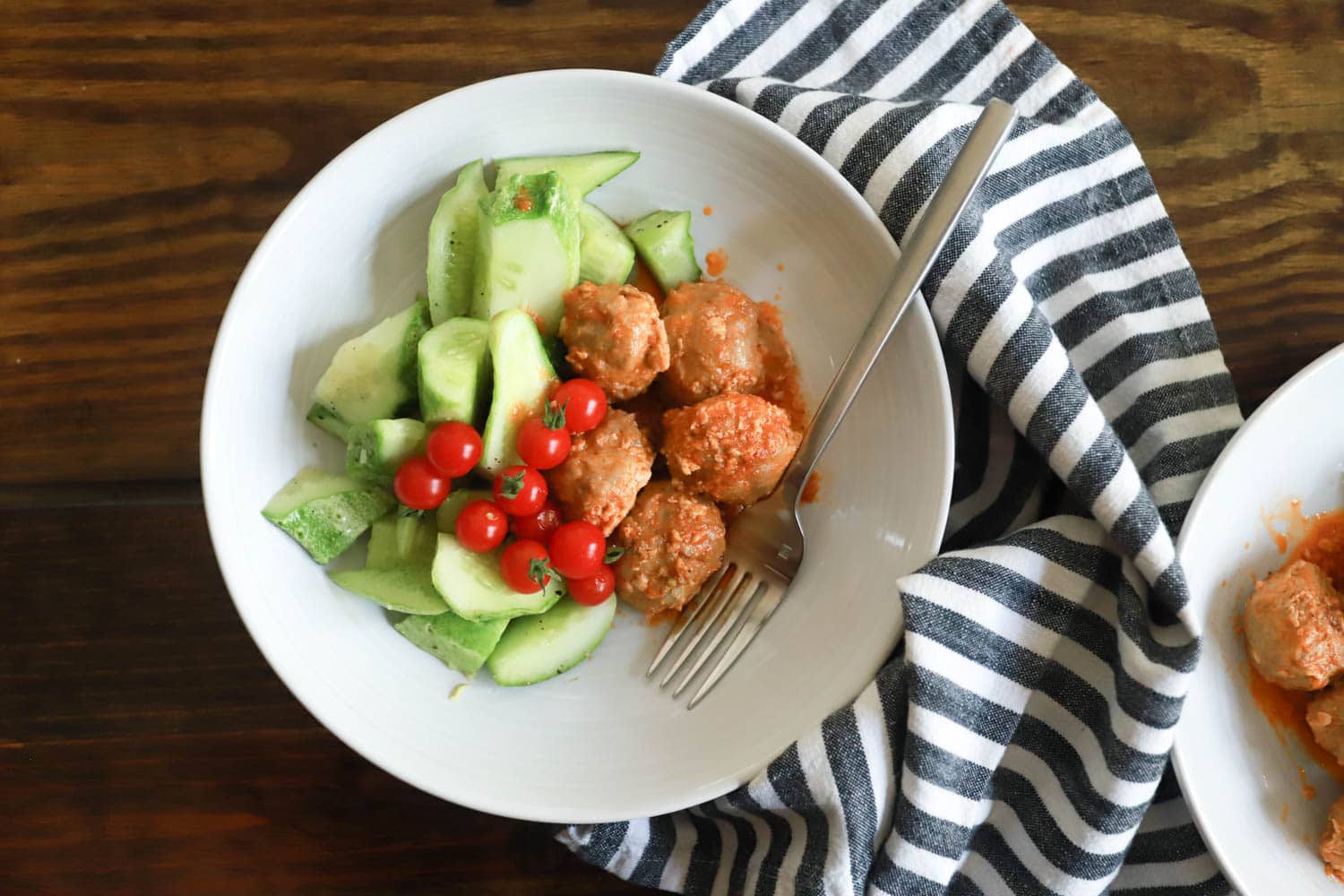 Honestly? That's all. We have loved the gluten free baked turkey meatballs all summer, and each time we do something different with them! Recipes like this are how I cook often; the same foods over and over but different each time.
With this particular dish, I kept half of the meatballs sauce-free because Beck is NOT into spicy foods but did declare that "wow Mama, you make some really excellent meatballs" after eating nothing but goldfish for about a week. Kid Friendly Foods To Boost My Self Esteem - new blog title?
If you make these I hope you'll leave a comment and a review! What dishes do you love with meatballs? Tell me, tell me!
Buffalo Turkey Meatballs with Smashed Cucumbers
My best gluten free baked turkey meatballs recipe, jazzed up with an easy buffalo sauce and smashed cucumbers to cool everything down. Lunch = handled.
Ingredients
GLUTEN FREE TURKEY MEATBALLS:
1

pound

ground turkey

1

egg

2

tablespoons

grated Parmesan cheese

½

tablespoon

Worcestershire sauce

1

teaspoon

kosher salt

½

teaspoon

EACH onion and garlic powders

olive oil for drizzling

⅛

cup

salted butter

or unsalted + a pinch of salt

⅛

cup

hot sauce such as Frank's

4

small cucumbers

pickling or persian style

½

teaspoon

kosher salt

½

teaspoon

sugar

cracked black pepper for serving
Instructions
MEATBALLS:
Prepare a baking sheet with parchment paper, a silicone baking mat, or cooking spray.

Combine all ingredients (except olive oil and extra salt) in a large bowl. Use your fingers to mix the egg and seasoning into the meat.

Gently form the mixture into about 16 meatballs, or 20 for smaller bites. The trick is to touch the meat as little as possible, pushing the meatballs into spheres without mushing them too much. The meat mixture will be fairly wet, but move quickly and you'll get the hang of it.

Arrange the meatballs as you go about 2 inches apart on the baking sheet. Place the baking sheet in the fridge until ready to cook or bake right away.

Preheat the oven to 400F. Drizzle the meatballs with a bit of oil and sprinkle with salt.

Bake the gluten free meatballs for 25 minutes until cooked through and slightly golden. Serve as desired.
CUCUMBERS:
Cut the cucumbers into bite sized chunks.

Arrange the cucumbers in one layer on a cutting board, and place a baking sheet or skillet over top. Rock the baking sheet or skillet back and forth over the cucumbers, pressing down slightly, to smush the cucumbers a bit.

Transfer the smashed cukes to a colander set over a bowl. Sprinkle with the salt and sugar and toss.

Let the cucumbers sit and drain for about 30 minutes until ready to eat. Taste, and add a bit more salt or sugar if you'd like.
BUFFALO TURKEY MEATBALLS:
Preheat a large skillet to medium heat. Add the hot sauce, butter, and meatballs. Stir to combine and heat the meatballs through for about 5 minutes until coated and sizzling.

Arrange the meatballs and drained smashed cucumbers on plates or shallow bowls for serving. Add avocado, blue cheese, fresh herbs, tomatoes - anything you like!
Notes
I make these meatballs in double batches and keep them in the freezer. Let them thaw in the fridge overnight or at room temp for using in this recipe to speed things up.