This pumpkin blondies recipe is an EGG FREE DESSERT RECIPE with added pumpkin and fall spices for an easy fall twist on this delicious dessert! These can be made in advance - they keep great in the fridge for about a week or in the freezer for even longer.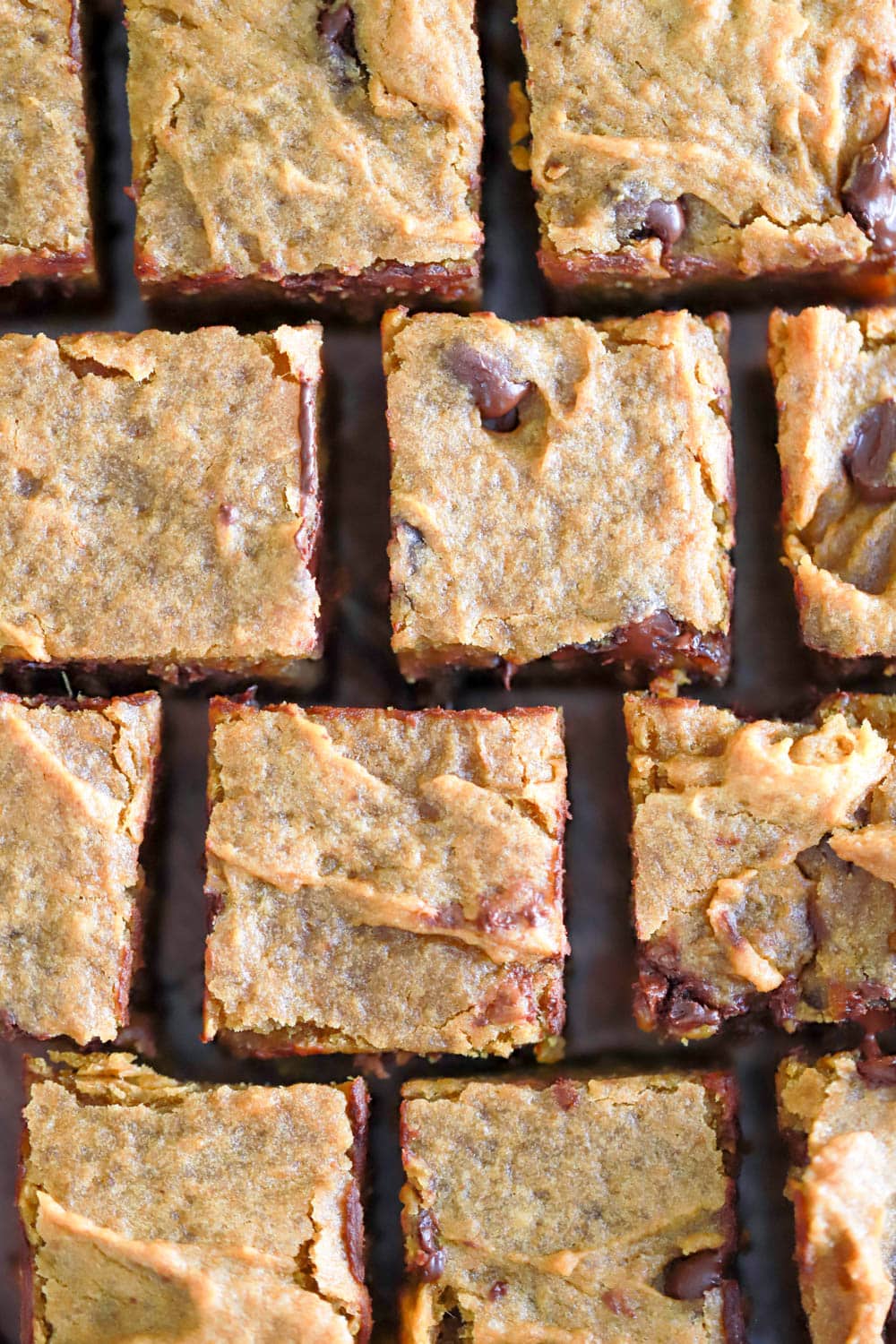 Got you some seasonal ish, right here.
I am having a season of easy blondies recipes. Since Beck has been old enough to vaguely care about helping in the kitchen I find that I enjoy baking more and more BUT, baking tends to take a lot of time, and Beck's attention span is approximately 47 seconds.
So I'm always on the hunt for quick dessert recipes - things that don't have a ton of ingredients or use a mixer, that sort of thing. Like my absolute favorite brownies: those are worth her attention.
Cue: Brown Butter Pumpkin Blondies.
Omg. These are SO, so good. Blondies are, as the name suggests, a lighter, non-chocolate brownie. I liken them to cookie dough, and the options for flavors are endless. Some people actually call them Blondies Brownies which...doesn't make sense, but ok.
Pumpkin Spice Blondies
This blondie recipe came from Food52, and I adjusted it to include pumpkin for 1. the season, 2. more fiber, and 3. because I had some! Swapping pumpkin or applesauce for THE eggs and some of the butter means we get a delicious, healthy, no-egg dessert without sacrificing flavor or texture.
These pumpkin blondies are dense, moist, and SO delicious, almost creamy from the pumpkin, with a bit of pumpkin pie spice but not so much that we're entering PSL territory. Chocolate chips are NOT optional, and you could add a cup or so of walnuts or pecans if you'd like!
How To Brown Butter
The real effort of this recipe comes from browning the butter. There are tons of methods for doing this, and here's mine:
I melt butter in a skillet, then stir until the butter melts, the foam goes away, and brown bits form on the bottom of the pan, stirring as I go. As soon as I see the brown bits I turn the heat OFF, stir for one minute more, then transfer the brown butter to a bowl to cool. The nutty flavor is really, really amazing in this recipe especially.
Note that the more your butter browns, the more nutty it will taste. I tend to REALLY brown my butter (edge of burning, seriously), but even light golden flecks are delicious and add a ton of flavor to the finished dish.
Ingredients
While the brown butter cools slightly, measure and gather the rest of the ingredients for the brown butter pumpkin blondies! Flour, salt, canned pumpkin, LOTS of vanilla, brown sugar, pumpkin pie spice, and chocolate chips. Preheat the oven to 350F.
Step By Step Instructions
Start by whisking the flour and salt together in a small bowl, then stirring the butter (still warm but not hot), pumpkin, vanilla, brown sugar, and pumpkin pie spice together in a large bowl.
Fold in the flour mixture, then the chocolate chips. YUM. Taste this. It's not gross. You can really taste the brown butter; it deepens the flavor of the pumpkin and pie spice so much.
Now, spread the batter into a prepared square cake pan - I like an 8x8 or 9x9 square with parchment so that I can lift the blondies right out after they cool.
Bake the brown butter pumpkin blondies at 350F for 40-45 minutes or so until they're just set. These will be soft when they come out of the oven but as long as the center is set they're good to go - don't overcook them or they'll dry out.
Let the blondies cool completely in the pan, then remove them and cut them into squares. I like to cut small squares and make 20-25 small blondies.
I mean. They're so seasonal but super yummy, not trying to shape anything into a pumpkin or spider here. This is a regular, grown up dessert with tons of flavor that comes together in just about an hour.
The pumpkin yields an almost fudge-like texture, which I love.
Plus! The pumpkin makes these ideal for breakfast or an afternoon snack, and trust me on how lovely these are with coffee and tea.
Enjoy these! They're a perfect addition to our selection of fall snacks and desserts.
PS - not into pumpkin? Here's the original recipe for one-bowl brown butter blondies!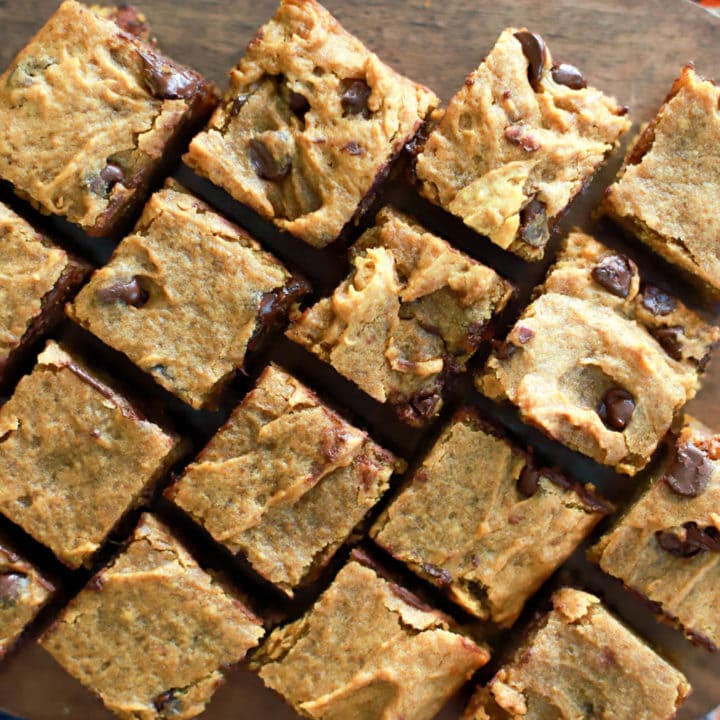 Brown Butter Pumpkin Blondies
These pumpkin brown butter blondies are full of nutty brown butter and extra fiber from the pumpkin. They come together with no mixer in under an hour and are highly addictive and perfect for this time of year!
Ingredients
1

cup

salted butter

browned and cooled slightly (see instructions)

2

cups

all purpose flour

1 ½

teaspoons

kosher salt

15

ounces

canned pumpkin puree

plain pumpkin, not pumpkin pie filling

4

teaspoons

vanilla

yes, that much

1 ½

cups

brown sugar

½

teaspoon

pumpkin pie spice

1

cup

chocolate chips
Instructions
To brown the butter, I melt it in a skillet over medium heat, stirring as I go. When the butter melts it will foam. Wait for the foam to diminish, then look for brown bits of butter on the bottom of the skillet. As soon as you see the brown bits, turn the heat off, stir for one minute more, then transfer the brown butter to a large bowl for the blondies. Let the butter cool for about 5 minutes, then proceed with the recipe.

Preheat the oven to 350F. Prepare a square baking dish (8x8 or 9x9) with parchment paper or cooking spray.

Whisk the flour and salt together in a small bowl.

To the large bowl with the slightly cooled brown butter, add the pumpkin puree, vanilla, brown sugar, and pie spice. Stir well to combine.

Fold in the flour mixture until barely combined.

Stir in the chocolate chips.

Transfer the mixture to the baking dish and spread to fill the pan. Bake the brown butter pumpkin blondies for 45-50 minutes until the edges are lightly brown and the center is just set. The top of the blondies will still look slightly underdone.

Remove from the oven and cool completely in the pan before removing and slicing/serving. YUM.
Notes
Since there is no egg in this recipe, the end result will be somewhat soft. Cooling the blondies completely before serving will allow the blondies to set nicely.
Recipe adapted from Food52.
More blondies! My favorite Brown Butter Blondies are right here.