Here's our favorite summery weeknight dinner right here! Easy basil sauce (dairy free pesto without nuts, basically) and lemony broiled chicken with NO marinating time means a 30 minute dinner that is low carb, gluten free, dairy free, and filled with summery flavor thanks to fresh basil.
Oh hi, summer.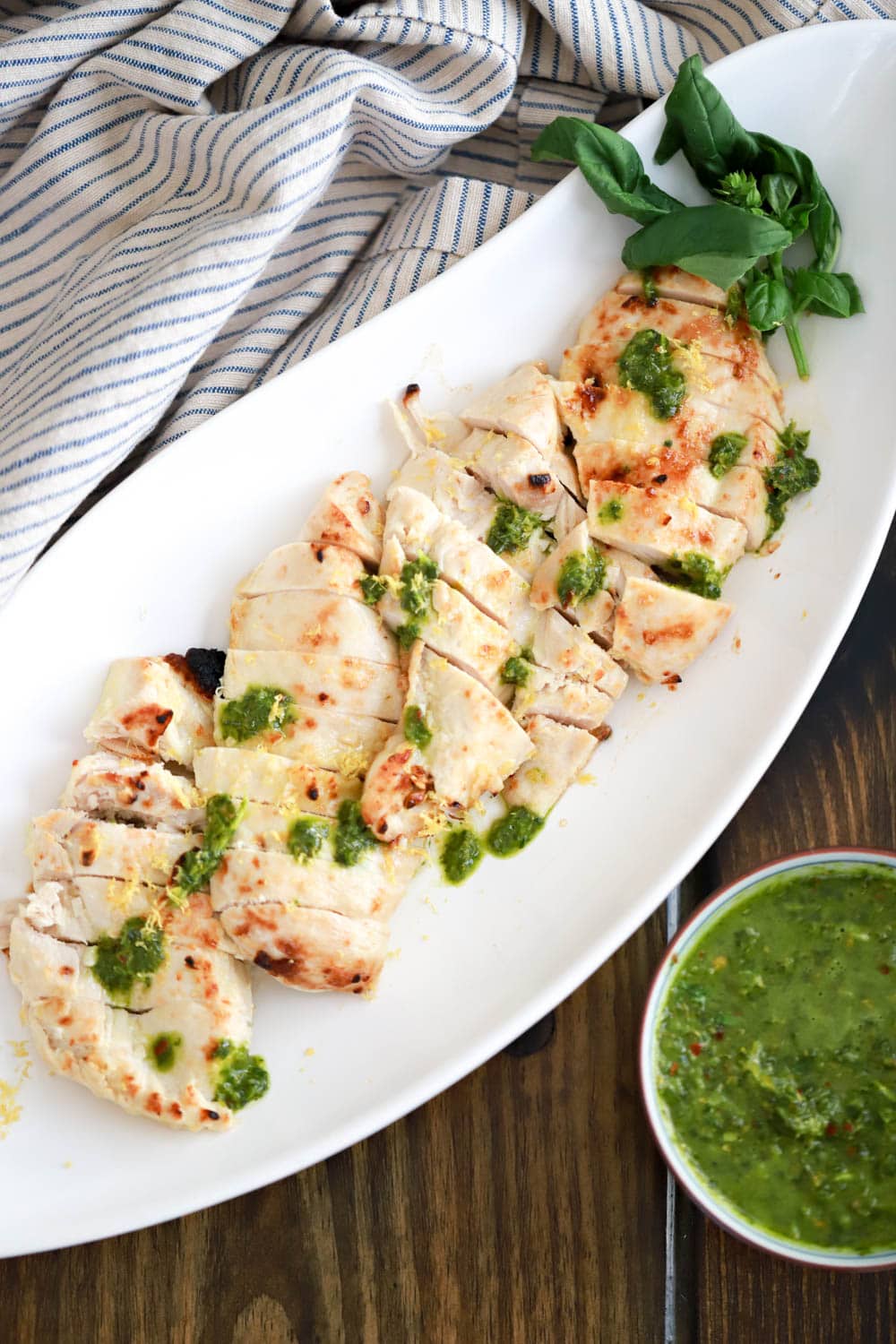 My basil plant is doing GREAT this year, in a new sunny spot from years past, so prepare yourself for a gazillion "but it's seasonal" basil-using recipes. You'll get no apologies from me on that one.
I've been playing around with how to broil chicken breasts, and after a few tries I'm definitely liking the method for a few reasons: It's super quick and doesn't smell up the house OR require walking outside to get to the grill. This particular broiled lemon chicken is broiled on just one side because the pieces of chicken are super thin. If you don't feel like cutting the chicken pieces in half (or buying thin-cut chicken) you don't have to, just flip the chicken and broil on the second side.
This entire meal is done in half an hour or even less if you make the basil sauce another day as part of meal prep. Let's do it!
Basil Sauce for Chicken
As a note, this recipe is written to use the entire lemon. So, zest the lemon first, then use half of the lemon for the chicken and half for the basil sauce.
I usually start by marinating the chicken just for a few minutes while I make the basil sauce and preheat the broiler, but have the instructions here separate for clarity in case you'd like to make the basil sauce in advance for meal prep.
To a food processor, add parsley, basil, a garlic clove, olive oil, salt, sugar, crushed red pepper, lemon juice, and some water.
Blend the sauce together until smooth but still with some texture. Add some more water if the sauce seems too thick, or more salt if you'd like. It should taste GREAT. Anytime food is bland, add another pinch of salt and see what happens.
Basil Sauce Without a Food Processor:
You can absolutely make this sauce if you don't have a food processor. A blender will work really well, or you can finely chop the ingredients for the cause and whisk them together for a slightly chunkier version of the basil sauce. Both ways are delicious!
Lemon Chicken Breasts
For this dish, preheat the broiler to high and toss the chicken with lemon juice, olive oil, salt, and minced garlic. YUM.
Let the chicken sit while you make the basil sauce, or make the basil sauce a day or two in advance.
To prep the lemon chicken, marinate the chicken for up to 4 hours before broiling. Longer than that may yield a strange texture with the chicken because of the lemon juice, so I wouldn't marinate this chicken overnight.
But, marinating for just 15 minutes or so works really well.
Now, onto the chicken! Arrange the chicken pieces on a baking sheet covered in foil. I fold the edges of the foil up to catch any chicken juices.
Broil the chicken about 6 inches away from the top of the oven, for 8 minutes or until there are just a few dark bits on the chicken. Check for doneness - the internal temperature on the chicken should read 165F.
LOOK at those crispy chicken bits. Yum.
Now, all that's left is to serve and eat! I like to slice the chicken then drizzle it with the basil sauce and sprinkle with the lemon zest.
You can serve this with salad, bread, or any side dishes you like. This broiled chicken is just everything summer should be, to me. It's so simple and fresh-tasting, with little bits of charred chicken contrasting the bright sauce so nicely.
Side Dishes for Broiled Chicken:
Easy broiled chicken, heck yes. Enjoy this one! It's the perfect all-summer quick weeknight dinner.
Basil Sauce with Broiled Chicken Breast
This broiled chicken comes together so quickly with an easy basil sauce that takes just five minutes to make. This meal is dairy free and gluten free, too!
Ingredients
CHICKEN

1 ½

pounds

chicken cutlets

thin-cut chicken breasts

½

lemon

¼

cup

olive oil

3

cloves

minced garlic

zest of 1 lemon

1

teaspoon

salt

BASIL SAUCE

½

bunch parsley

leaves and stems

1

cup

fresh basil leaves

approximately, loosely packed

1

clove

garlic

peeled

⅓

cup

olive oil

½

lemon

½

teaspoon

salt

½

teaspoon

sugar

½

teaspoon

crushed red pepper

4

tablespoons

cold water
Instructions
Zest the lemon and set it aside since you'll use it at the very end of this recipe.

Preheat the broiler to high, and toss the chicken with the olive oil, salt, garlic, and lemon juice.

Make the basil sauce. Combine all ingredients in a food processor and blend until a sauce forms. Taste, and add a bit more water if you'd like a thinner sauce, or pinches of salt until it tastes great to you.

Arrange the chicken on a baking sheet lined with aluminum foil. Broil the chicken about 6 inches away from the top of the oven for 8-10 minutes until slightly darkened and cooked through. No need to flip halfway through.

Slice the chicken and serve drizzled with basil sauce and sprinkled with lemon zest. Enjoy!
Notes
If you use regular chicken breasts and don't want to slice them in half, just flip the chicken and broil on each side for about 7 minutes until cooked through.
Cooked chicken should read 165F at the thickest part when done.
The basil sauce can be made in advance and keeps great in the fridge for a few days. The method also works really well with other soft herbs such as cilantro and oregano.
If you don't have a food processor, the sauce can be made in a blender or chopped up by hand for a coarser version. All ways to make basil sauce are delicious!
More Recipes for Summer