Because obviously bacon.
I'm in full summertime side dish swing right now, do you do that? Dinners are random leftovers from parties with some grilled chicken and a side salad, done and done. I'm always looking for new + healthyish side dishes because potato salad from the grocery store is great BUT, you know? You know. The but(t) gets big sometimes. Heh. My grandmother makes a version of this salad and brings it to family functions a few times per year, and we all love it. She switches up the nuts she uses, whether or not there is bacon in it, etc, but the base is the same: broccoli, cauliflower, onion, and a creamy-but-light Greek yogurt dressing.
The yogurt is cut with mayo for flavor, so you can definitely use fat free yogurt or anything else you have around - even regular yogurt! The broccoli and cauliflower are totally raw so you can even make this the night before so the veg starts to soften somewhat, or you can make it right before you serve. It's delicious even after a few days in the fridge!
The salad is broccoli, cauliflower, sliced onion, toasted pecans, raisins, and bacon. The dressing is yogurt, mayo, sugar, lemon juice, grated garlic, and salt. Easy! I start with the veg in small pieces and the onion thinly sliced so it isn't too strong throughout the dish. Cook and crumble the bacon however you like - even in the microwave.
For the dressing, whisk the ingredients together in a little dish, then taste the dressing and add a few pinches of salt if you'd like.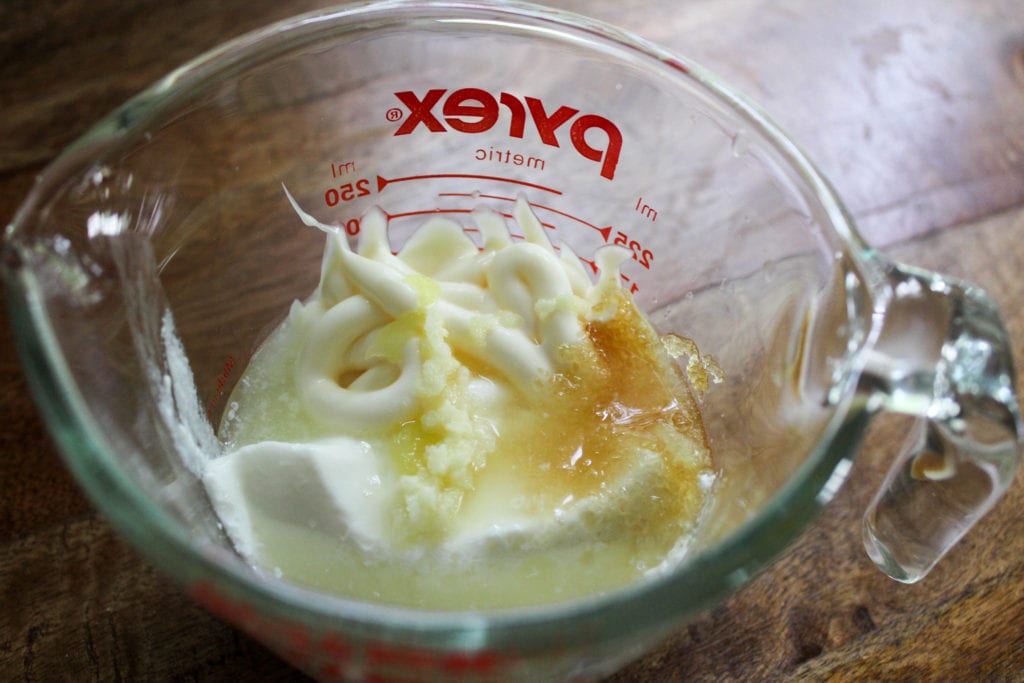 Arrange all of the salad ingredients in a large bowl....
...and pour all of the dressing over top.
Stir the salad to coat everything in the dressing, then try a bite with all of the ingredients. Yum and also: what's it need? More salt? Some pepper? Season away. The dressing should very lightly coat all of the vegetables but not be goopy or soupy.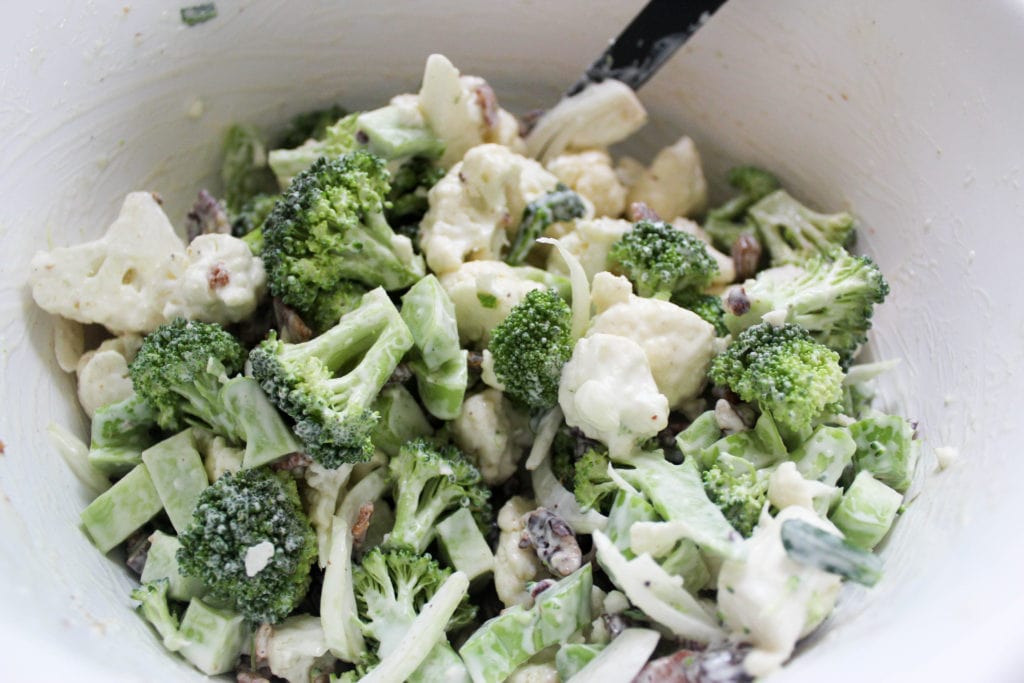 When the salad tastes great, keep it covered in the fridge until you're ready to use.
Serve. Summer! The party line on mayo-based dressings is to not let them sit outside for more than 2 hours, so keep that in mind if you're into food safety or having a cookout in sweltering heat. I'm not sure if warm mayo can really make you sick (I mean, anything can, but there are lots of preservatives in jarred mayo), but do you WANT to eat a creamy salad that is warm? Not I.
Add this to the 4th of July plan. It's less than a month away, can you believe it?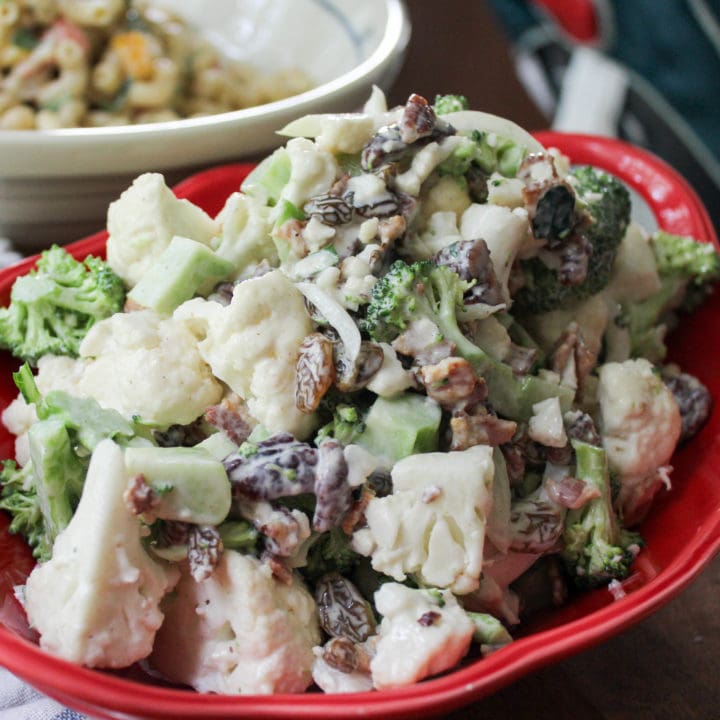 Broccoli Cauliflower Salad with Greek Yogurt and Bacon
Ingredients
½

head cauliflower

cut into florets

1

small head broccoli

cut into florets

¼

onion

thinly sliced

3

strips bacon

cooked and chopped

⅓

cup

raisins

⅓

cup

chopped toasted pecans

½

cup

plain Greek yogurt

⅓

cup

mayonnaise

1

tablespoon

sugar

1

clove

garlic

very finely minced

½

lemon

juiced

salt

to taste
Instructions
To a large bowl, add the broccoli, cauliflower, onion, bacon, raisins, and pecans.

In a small bowl, whisk together the yogurt, mayo, sugar, garlic, lemon, and a few pinches of salt. Taste the dressing and season additionally if desired.

Pour all of the dressing over the salad and toss to coat evenly. Taste once more for seasoning, and keep covered in the fridge until ready to serve, up to overnight.

Enjoy!