IT IS FINALLY HERE.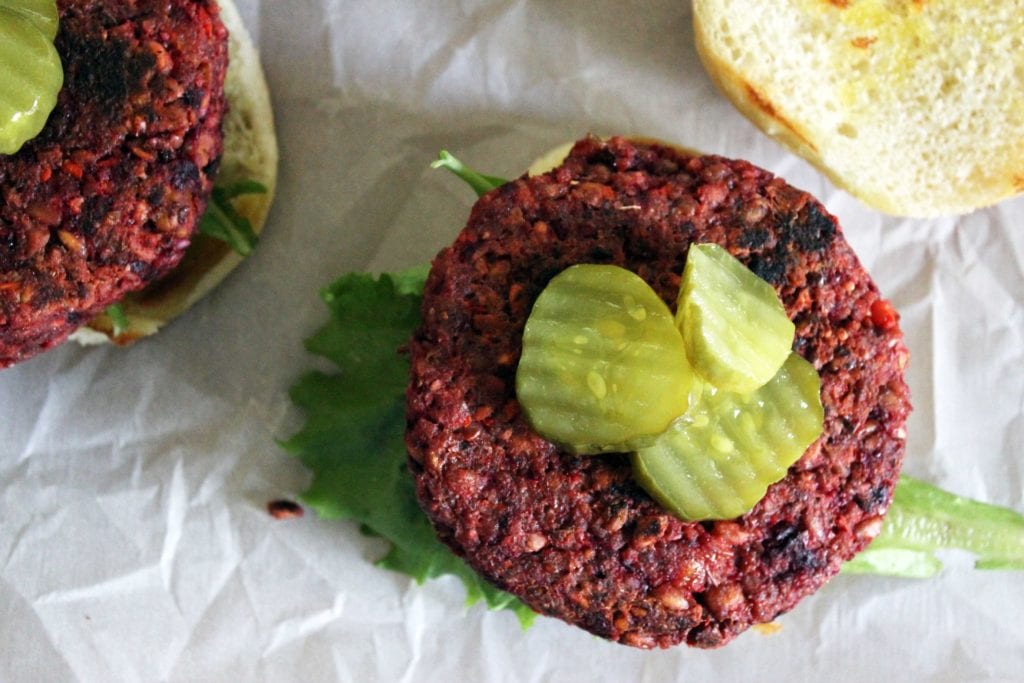 Veggie burgers! Let me explain. In college there were these veggie burgers at our dining halls that were basically a hashbrown on a bun. I'm not a vegetarian, but once I realized that fried grains on bread were so great, I started ordering veggie burgers all the time. On campus they were all the same since Aramark provided all the food. But then I moved on in my life and realized that usually a veggie burger meant a black bean burger, and usually black beans were mushy, and THAT was not my jam.
More hashbrownburgers, please.
Fast forward 10 years, and now I'm out of college (way out) and married to a man who prefers to eat vegetarian but also eats some meat but mainly prefers to eat healthy as much as possible. Which is great, right? So now we kind of do the same thing. We try lots of veggie burgers at lots of restaurants, and far and away our favorites are ones that are chewy and grainy and kind of like rice-textured. Not mushy beans that fall apart.
So I wanted to make a veggie burger. I didn't want it to be fried and I didn't wait it to be straight carbs, and I didn't care if it was vegan. I researched a ton, and this is what I came up with! Roasted veggies AND BEANS, which dries everything out and makes it chewy. Farro for more chew. Egg and ground flaxseed for binder (like a meatball), cheese and garlic for all the flavor in the ever-loving world. Prepare to be obsessed.
I feel like I'm repeating myself from the last paragraph, but just in case you weren't paying attention: You'll need farro, ground flaxseed, a can of chick peas/garbanzo beans, Worcestershire sauce, a carrot, a green onion (or small onion, doesn't matter), 2 small beets, an egg, some grated cheese, and garlic. I find ground flaxseed in the baking aisle almost everywhere, but honestly you could sub bread crumbs for that if you don't have any or can't find it. I have it on hand because it goes in lactation cookies and I'm lactating. Yummy.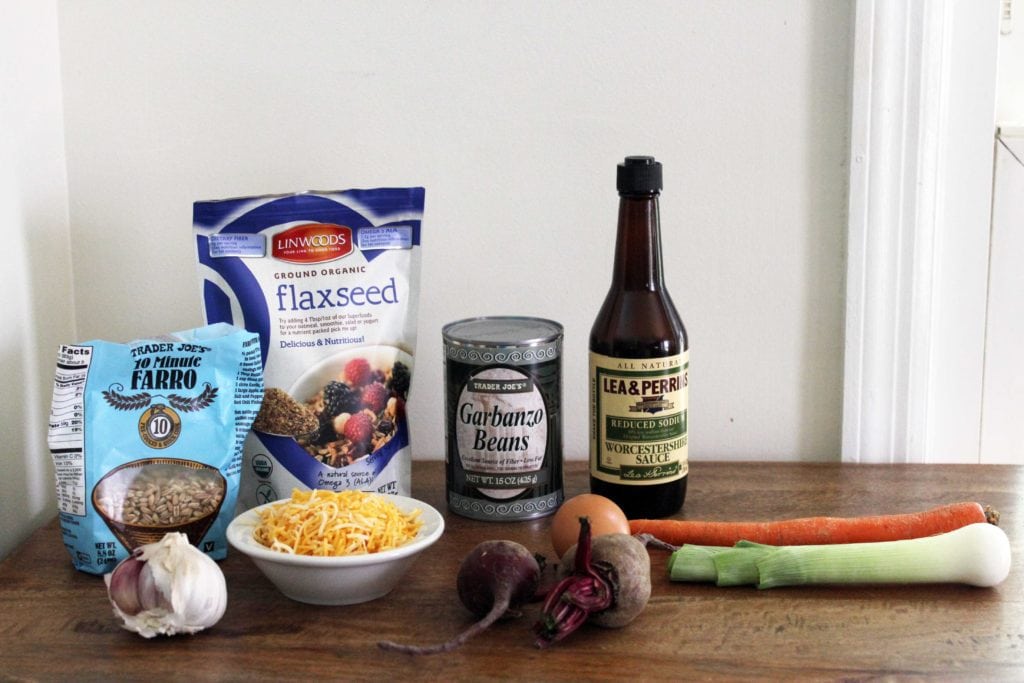 First, drain the beans and preheat your oven to 400F.
Cut the veggies into chunks - big is fine, just make them similarly sized.
On a baking sheet, arrange all the veggies and the beans, drizzle them with olive oil, and sprinkle them with salt and pepper.
Roast the veggies for 30 minutes or until they are wilted with just a few browned edges.
While the veggies are roasting, cook the farro to the package directions and drain it.
When the ingredients are all prepped, add them to a food processor with a nice sprinkle of salt. If you don't have a food processor you could just chop everything really finely by hand, that'll be fine!
Pulse the burger ingredients several times until the veggies and garlic start to get smaller. Everything will turn purple because duh beets, but I promise these don't taste like beet burgers.
Here's what we're going for: some whole bits of stuff, some mushed bits of stuff, and everything should hold together when you grab clumps of it. If it doesn't, your pieces may be too large; give the mixture a few more pulses in the food processor.
Now, carefully make patties out of this. I get 3 big or 4 medium burgers out of this recipe, so kind of go with what size your buns are. This takes a tiny bit of practice, but mainly you want to really press the mixture together and make nice flat patties; these won't change as you grill them like meat does.
Now, to cook! Skillet or flat top all the way, veggie burgers don't really do well on the grill no matter what. Even a grill pan can be dicey sometimes, but feel free to try it if you'd like.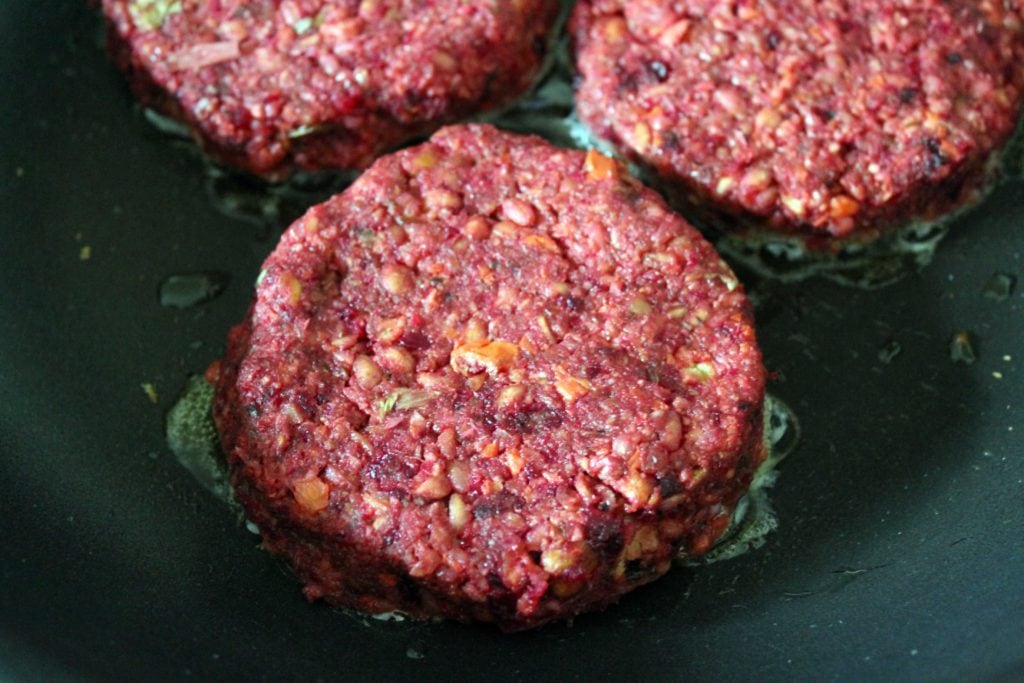 I pan-sear these in olive oil over medium-high heat for about 7 minutes on each side until they're nice and crispy.
And, done! Now, a few notes. I've made these with other grains like rice and quinoa and it all works fine. I've made these without the egg and it falls to bits and a whole burger went in my kitchen sink and I almost cried. You don't taste the cheese or the beets, the flavors just come together nicely to taste like....a veggie burger, honestly, and the Worcestershire + cheese + garlic make these taste decidely meaty.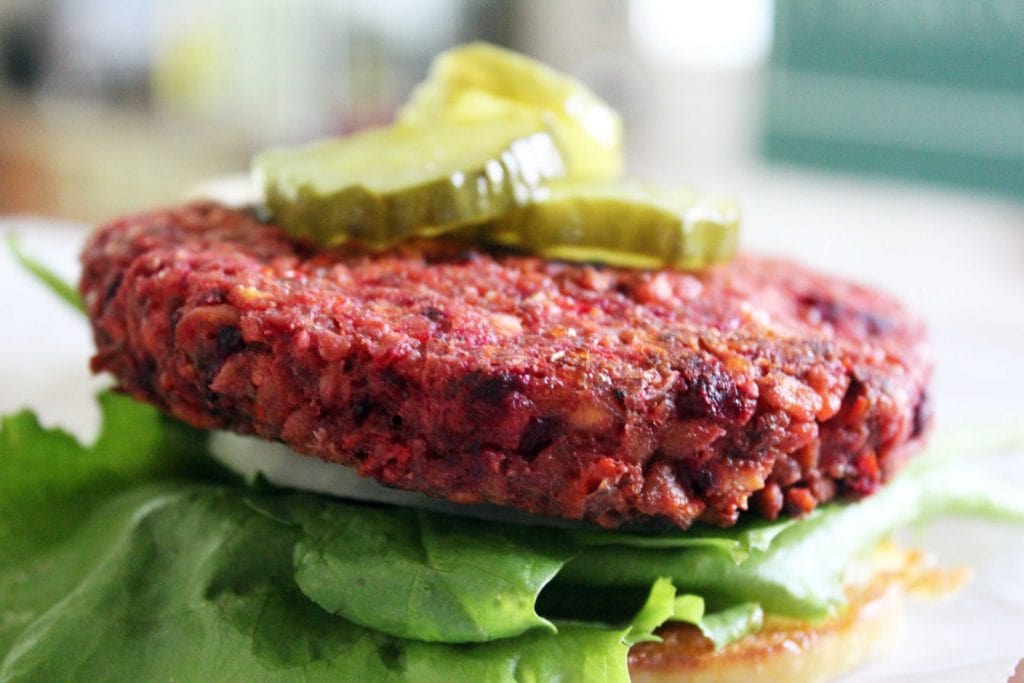 So there you go! My new fav burger recipe that I've made a ton already this summer. The patties can be made in advance and kept in the fridge until you're ready to cook them, which I love, and I think that chilling them beforehand might even make them hold up better when you flip them in the pan, but that could just be me making that up.
Top however you like, eat as fast as you can. Enjoy!
2

medium beets, cut to 1-inch pieces

1

carrot, cut to 1-inch pieces

1

small onion, cut to 1-inch pieces

1

can garbanzo beans, drained

⅔ cup

farro, cooked to package directions

2 tablespoons

ground flaxseed

1

clove garlic, peeled

1

large egg

½ cup

grated cheddar cheese

1 tablespoon

Worcestershire sauce
salt, to taste
hamburger buns, cheese, and any other toppings you like
---
Instructions
Preheat the oven to 400F. Arrange the garbanzo beans, carrot, onion, and beet on a baking sheet. Drizzle with olive oil and sprinkle with salt. Roast the vegetables for 20-30 minutes until browned and wilted. Let the veggies cool slightly, then proceed with the rest of the recipe.
Add the roasted vegetables and all remaining ingredients to the bowl of a food processor, and sprinkle with salt. Pulse the mixture several times until the veggies break down and the mixture starts to come together at about the same consistency as rice. When the mixture is evenly chopped, make 3-4 patties, pressing firmly as you go.
Chill patties for 10 minutes in the refrigerator or until ready to use.
To cook, heat a pan with olive oil to medium-high heat. Carefully add the veggie patties. Cook for about 7 minutes on each side, using a big spatula to flip the burgers, until browned and crispy at the edges.
Serve the burgers any way you like. Enjoy!
Prep Time:

45

Cook Time:

15