One of the best easy dips ever! Chorizo bean dip made with canned refried beans, sour cream, and cheese. Ingredients are layered then baked for a delicious, gooey dip that is perfect with chips or fritos. Crispy chorizo adds flavor, or use soyrizo for a vegetarian refried bean dip version. PRO TIP: sour cream guacamole is very, very good with this bean dip.
Hello and HI, Happy Halloween if you're into that sort of thing, happy end of October, happy fall, all of the happy.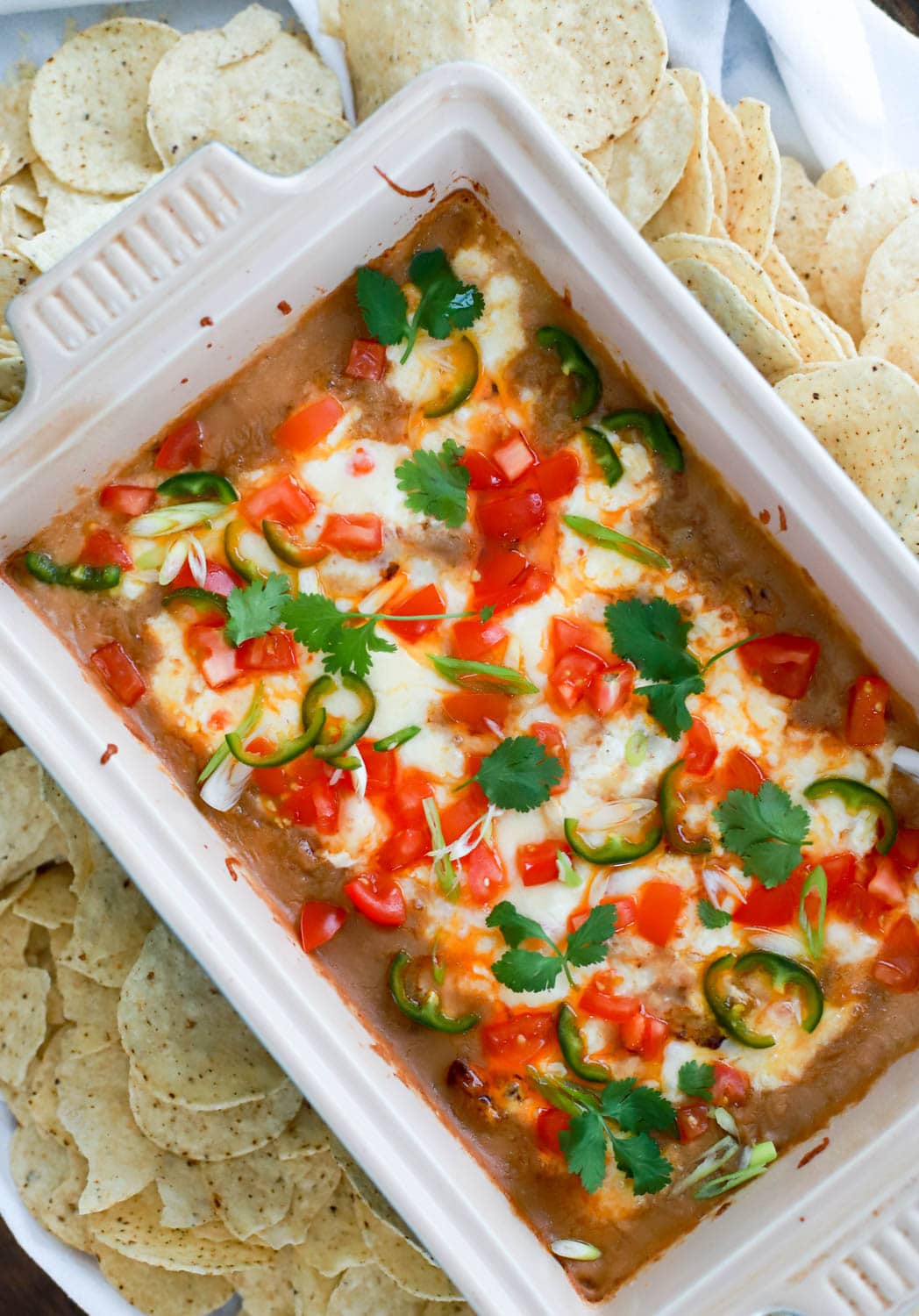 It's a really busy week so I'm thinking if I just type HAPPY over and over it will be come true?
Recipe Notes
You've had refried bean dip before, right? I've been making versions for years: first (classic 3 ingredient refried bean dip), a can of refried beans with a packet of taco seasoning and some cheese in my college apartment, then my own spice mix, and somewhere along the way I added crispy chorizo because when is that not a good idea?
It is never not a good idea.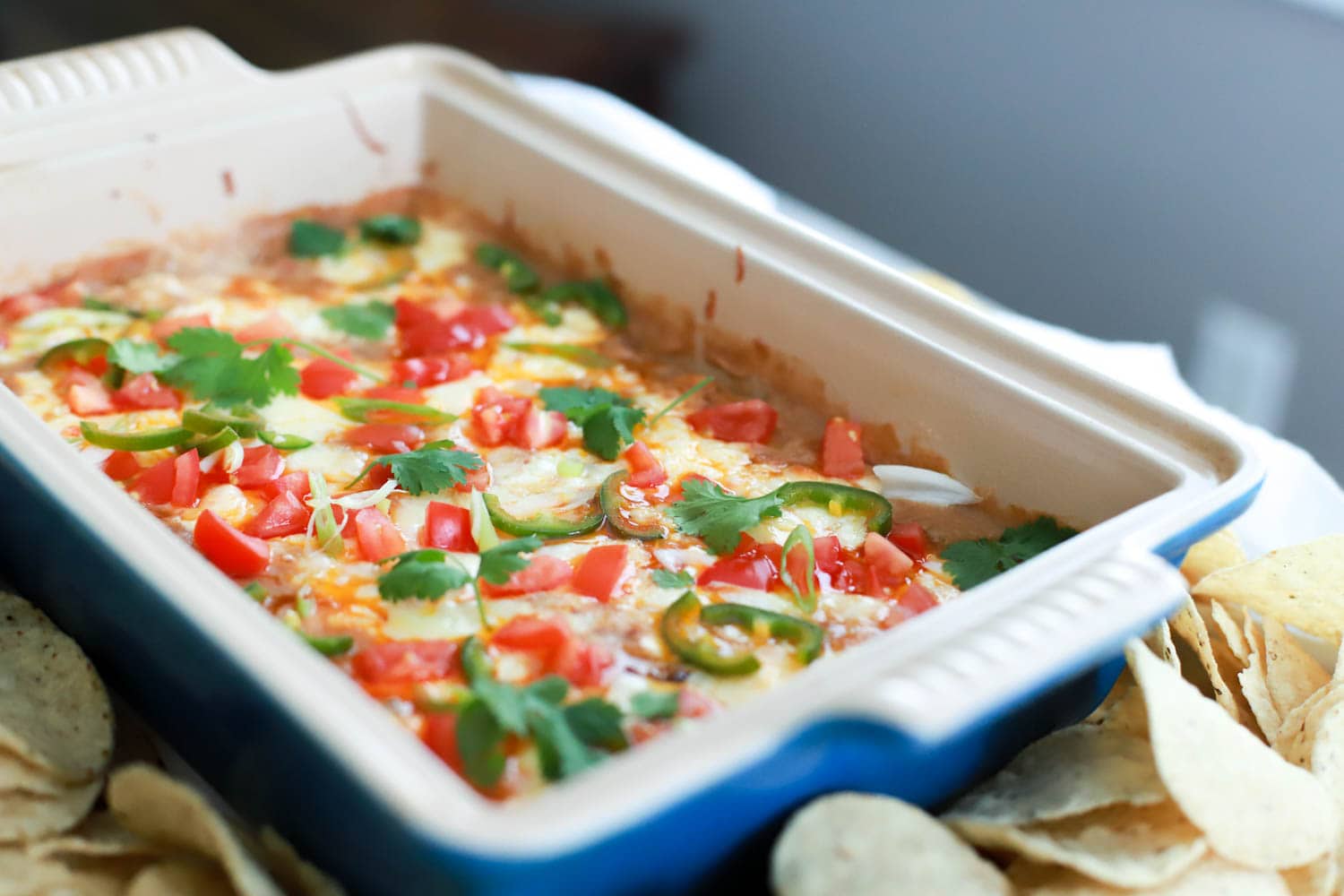 In short, refried bean dip is a layered dip with canned refried beans, some cheesy/dairy, and some spices. There are tons of variations, and all of them are very, very good.
It's served with mountains of crispy, salty tortilla chips, is gluten free on its own, and all God's people said Amen.
In this version we have: extra seasoned refried AND pinto beans, spicy crispy chorizo, cool sour cream, melty cheese, and a mountain of chips for dunking.
This bean dip is really REALLY easy and a huge crowd pleaser. One of those recipes that maybe doesn't look like much, but man the flavors are epic.
**Note that this is a refried bean dip without cream cheese. I use sour cream instead, but some recipes call for cream cheese which is also really delicious.
Ingredients and Ingredient Notes
Beans: I use one can of refried beans and one can of pinto beans in my bean dip. You can use all refried beans if you prefer! Lightly drain the pinto beans so there will be a bit of liquid left to loosen the dip up a bit.
Beans.2: ABSOLUTELY YES you can use homemade refried beans if you'd like to - they are so delicious to make yourself if you have the time.
Spices: onion powder, garlic powder, cumin, chili powder, and salt. Homemade taco seasoning! I use this blend on ground beef for tacos and it is DELICIOUS.
Chorizo: Look for Mexican chorizo in the refrigerated section - I usually find it near queso and other Mexican cheeses, not near bulk sausages. Crisp it up in a skillet before you assemble the dip, or do this step in advance.
Cheese: Any melty cheese you like works great in this dip! Bagged Mexican blends of cheese are very handy and work perfectly in this recipe. Pepper jack cheese is also particularly delicious to add some spice.
Sour Cream: Full-fat, for flavor and the best creaminess, always. Mexican crema also works great if you prefer that.
Recipe Variations
This dip is gluten free AS LONG AS you check labels for any hidden gluten.
Make this vegetarian by subbing soyrizo for the chorizo or leaving out the chorizo altogether. My favorite soyrizo comes from Trader Joe's and lasts in the fridge forever.
Add spice with some hot sauce or chopped jalapenos.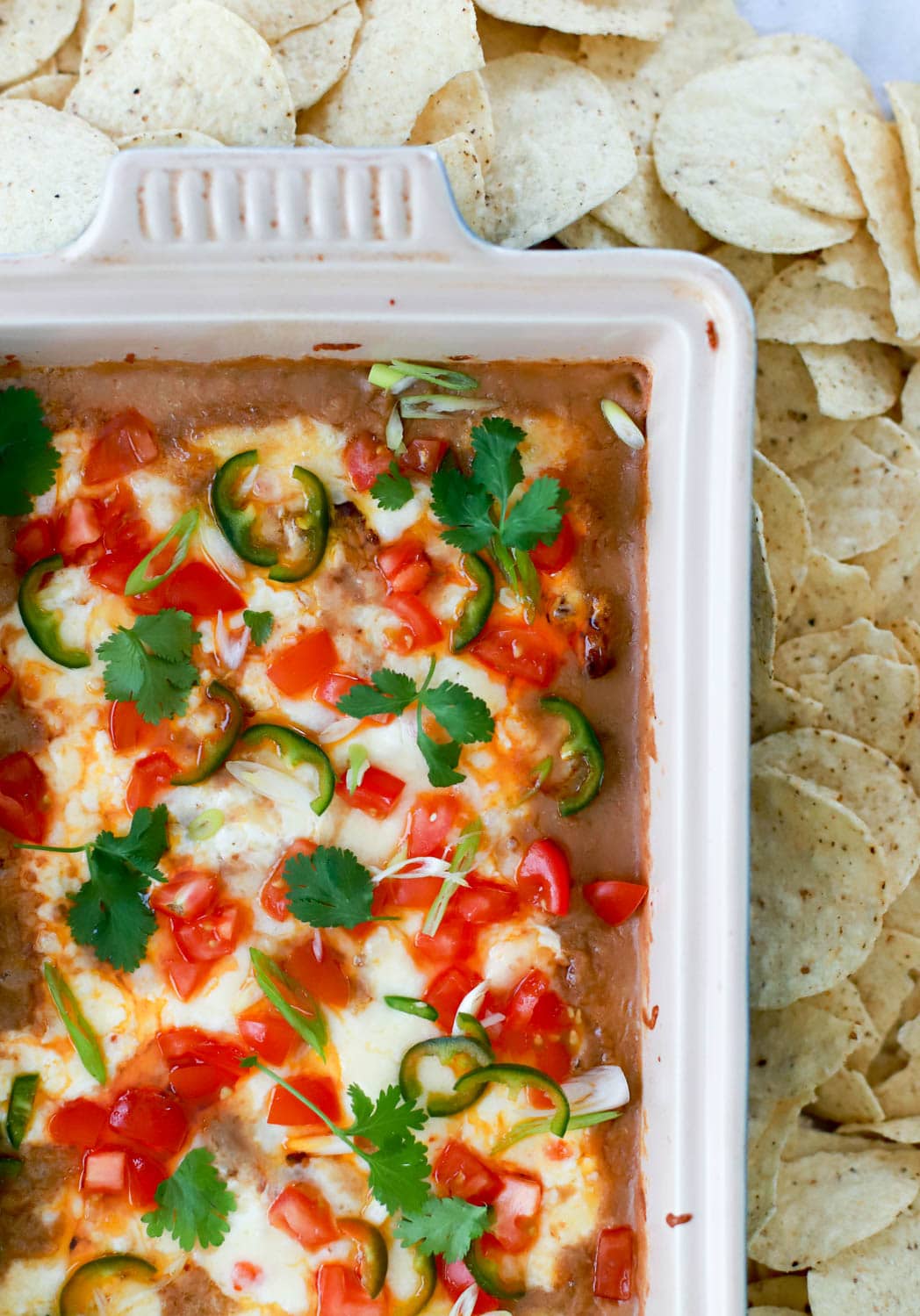 Bean Dip Recipe FAQ
Is refried beans the same as bean dip?
Nope, they're different! Refried beans usually refers to a side dish or ingredient - in this case we're using canned refried beans. To make bean dip, we're adding cheese and other flavors to the beans.
Can refried bean dip be frozen?
Technically, yes. However, this recipe is so fast to throw together that I recommend NOT freezing it since the texture of the dairy will change a bit after the dip has thawed. If you can, make this fresh.
Do you have to cook refried beans for dip?
Nope! They get spread into a baking dish straight from the can and will soften as the dip bakes into a dip-able consistency.
Step By Step Instructions
To start! Crisp some chorizo. Break it up with a spoon in the pan over medium heat until the chorizo has some crispy bits at the edge and is cooked through. Transfer it to paper towels to drain if you'd like to remove some of the grease.
When the chorizo is done, or during that time, mix up the beans. Pinto beans, refried beans, lots of spices. Depending on how much liquid is left in your can of pinto beans, this will be a little bit soupy, but the beans set up a good bit after they cook and cool.
Also during this time, grate cheese and mix half of the cheese with sour cream in a separate bowl.
At this point we have: the bean and spice mixture, the sour cream mixture, and crispy chorizo.
Now: layer. Beans first!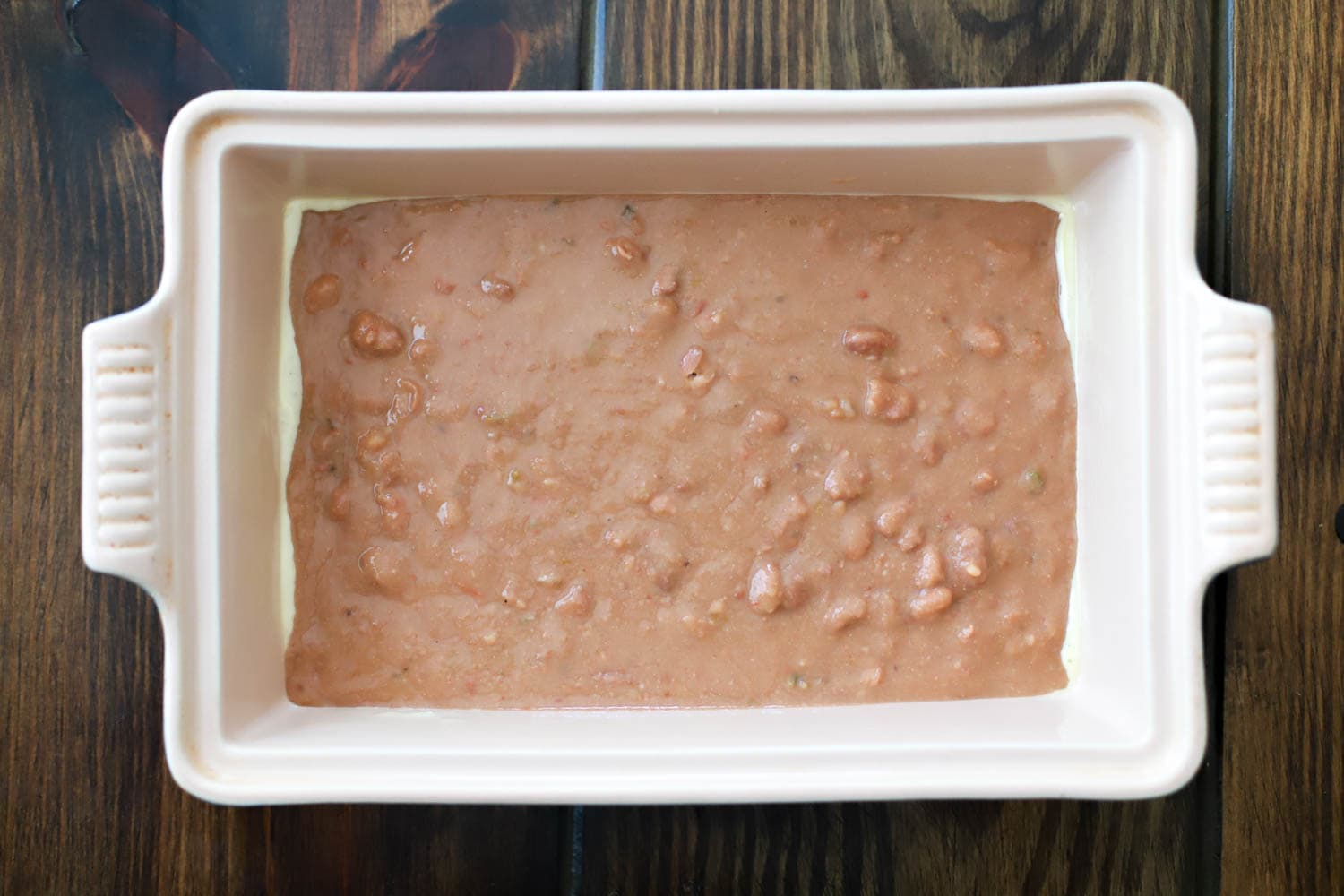 Then the chorizo, sprinkled over the beans.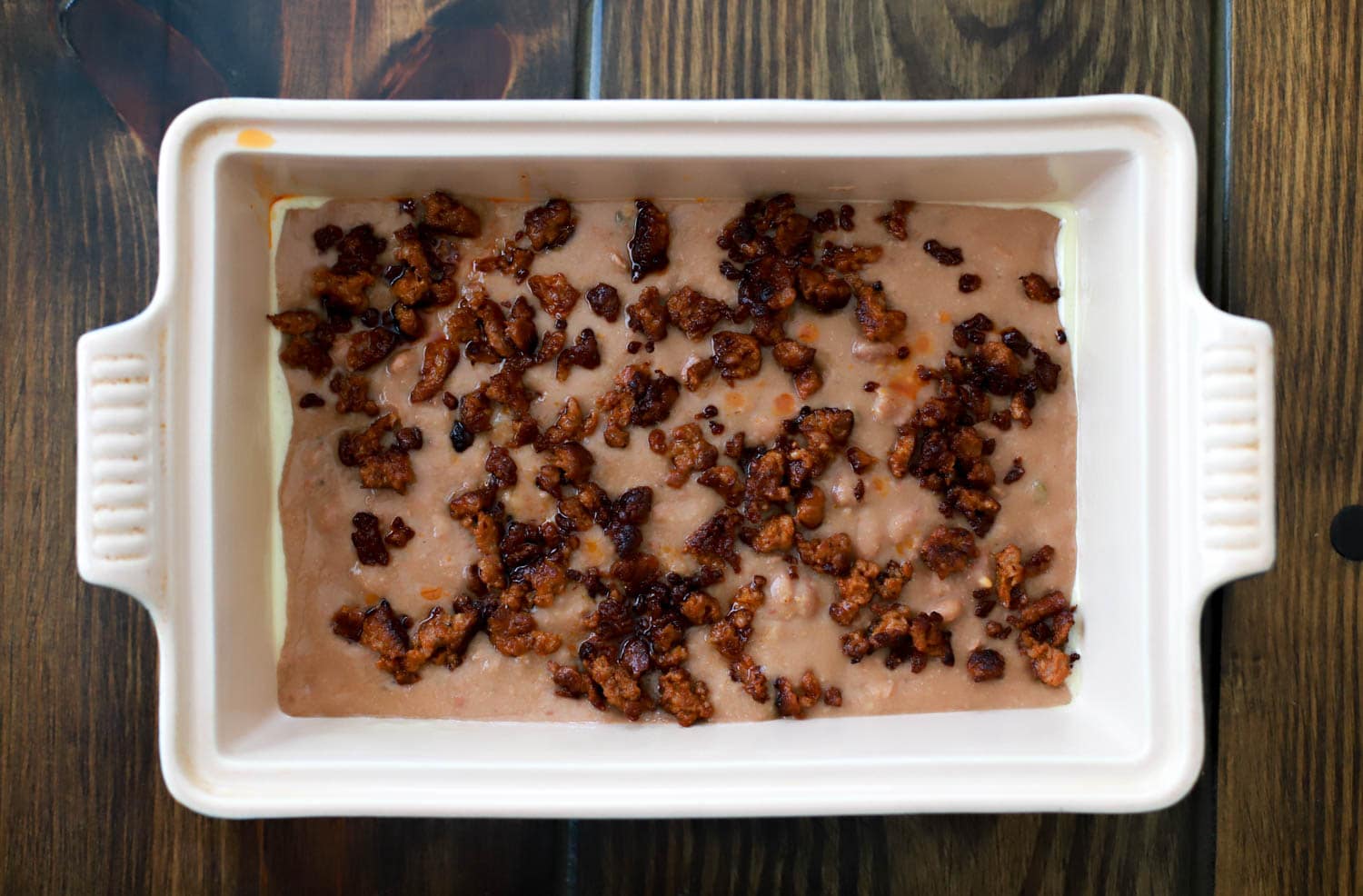 Dollops of cheesy sour cream, looks gross but trust the process.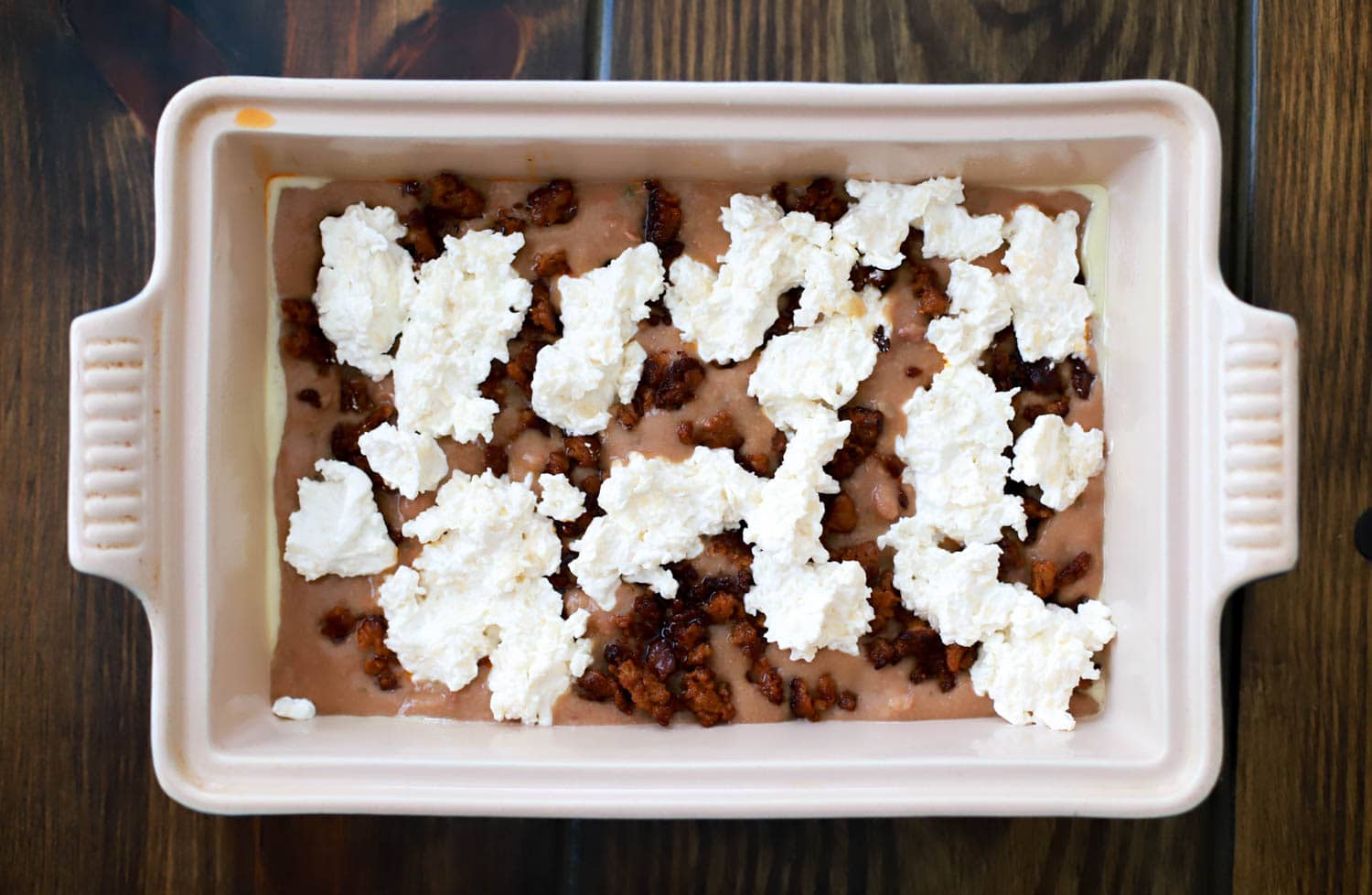 The rest of the cheese.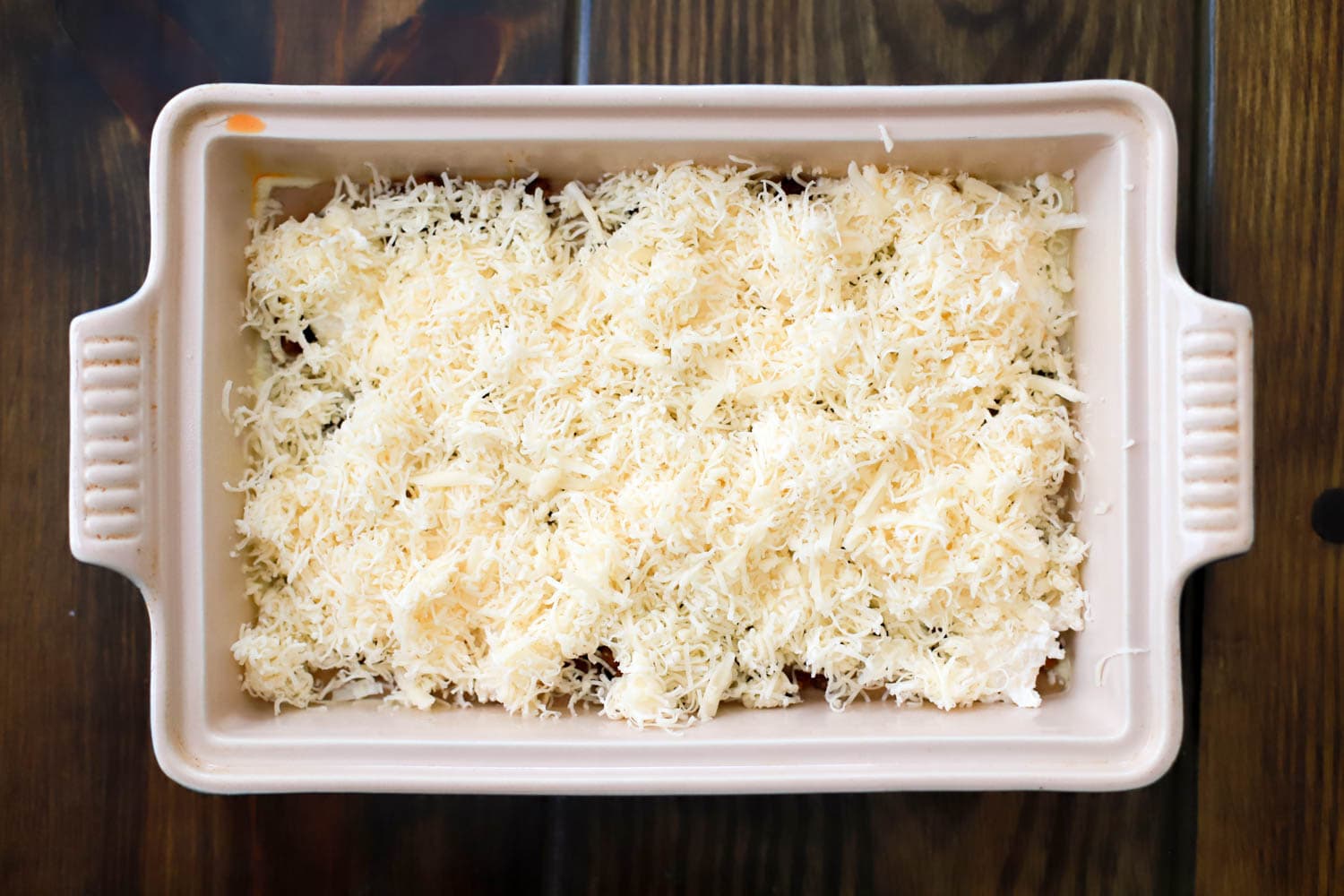 Aaaand done. Excellent. Lovely. Glorious. Cheese bean dip for president.
Bake the dip at 375F for 20 minutes or so until the dip is hot and bubbly all the way through.
Make Ahead Instructions
You can assemble this in advance and keep it in the fridge for up to 3 days; just bake it a little bit longer to be sure the beans are hot all the way through.
You can also make this early in the day and stick it in the fridge or keep it on the counter, then bake it right before serving.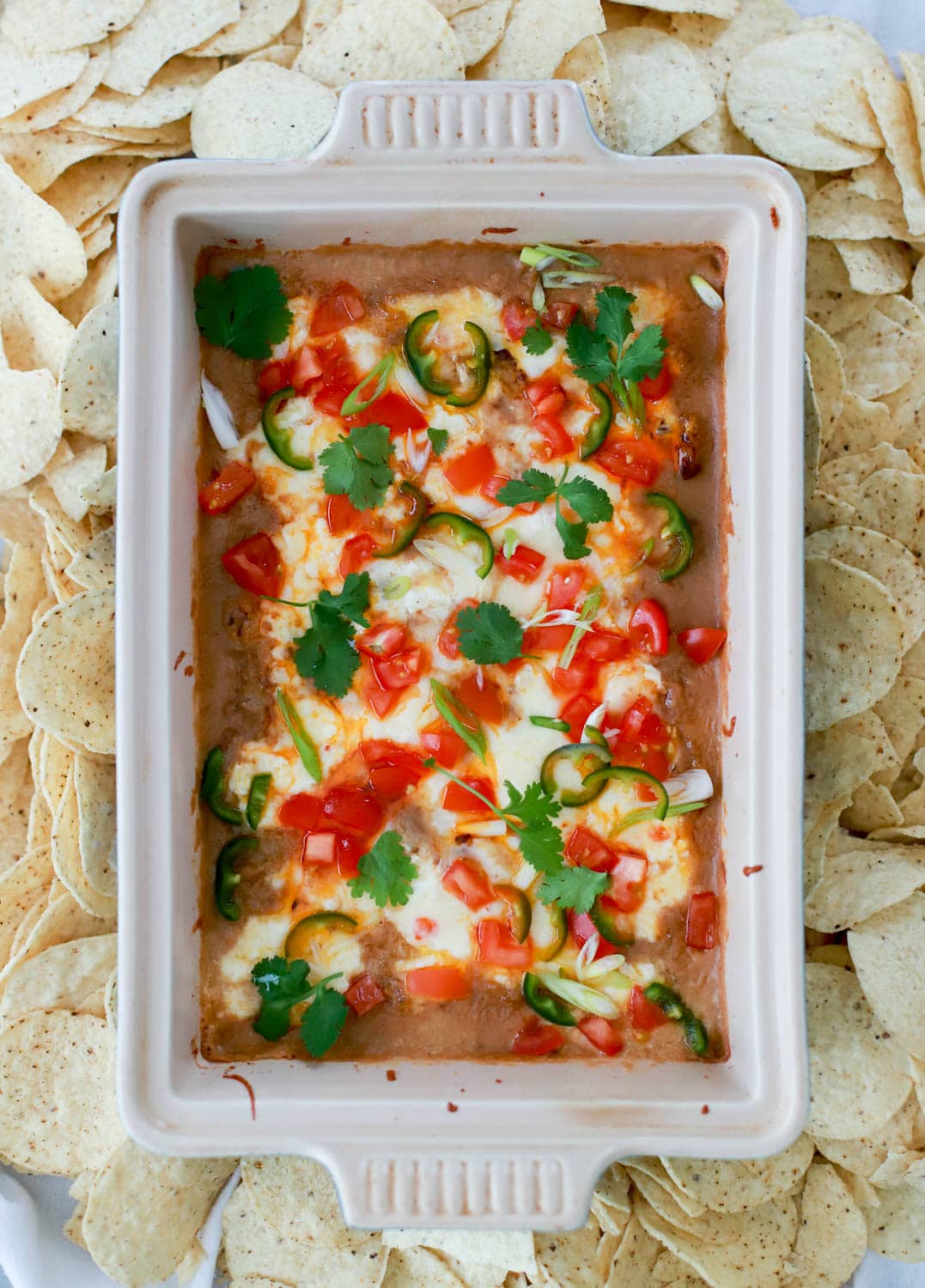 How To Serve Bean Dip
Throw some fresh stuff on top for extra oomph, and is it just me or is this looking all kind of Christmasy even though it's just Halloween? Maybe bookmark it (we do not bookmark things anymore, I know) as a very yummy and festive Christmas appetizer option.
I love this as part of an appetizer spread, and I usually add extra chips and salsa + guacamole to serve as a cool counterpart to the hot bean dip.
My favorite toppings are:
cilantro
fresh or pickled jalapenos
finely chopped onion
chopped tomato
black olives
Add tons of chips on the side for dipping, and prepare for this to be devoured ASAP. It is seriously SO good, warm and comforting, just all around a very yummy and easy appetizer for parties or football watching situations.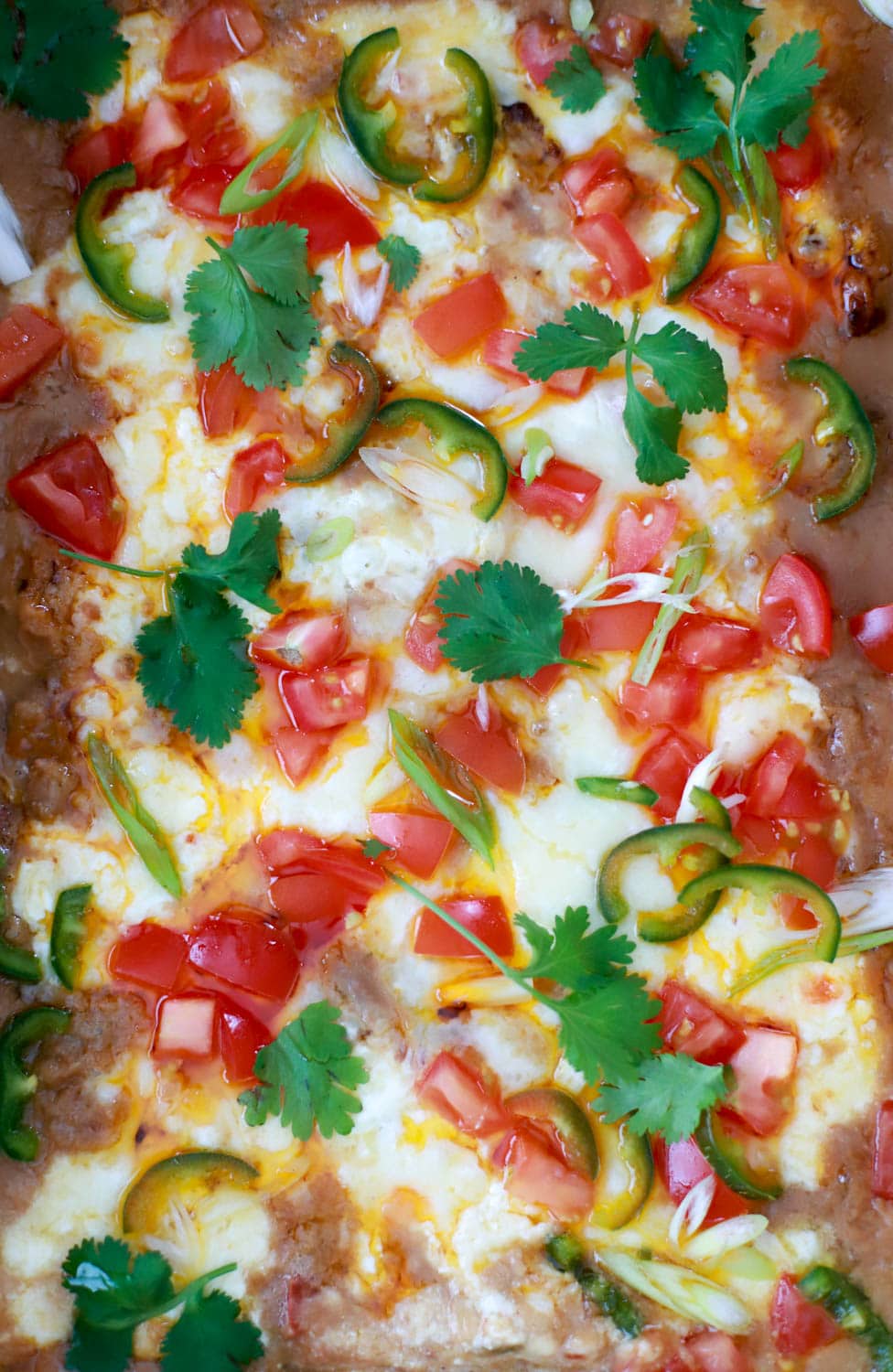 Ultimate best ever comforting calming happy refried bean dip of your dreams.
You're welcome.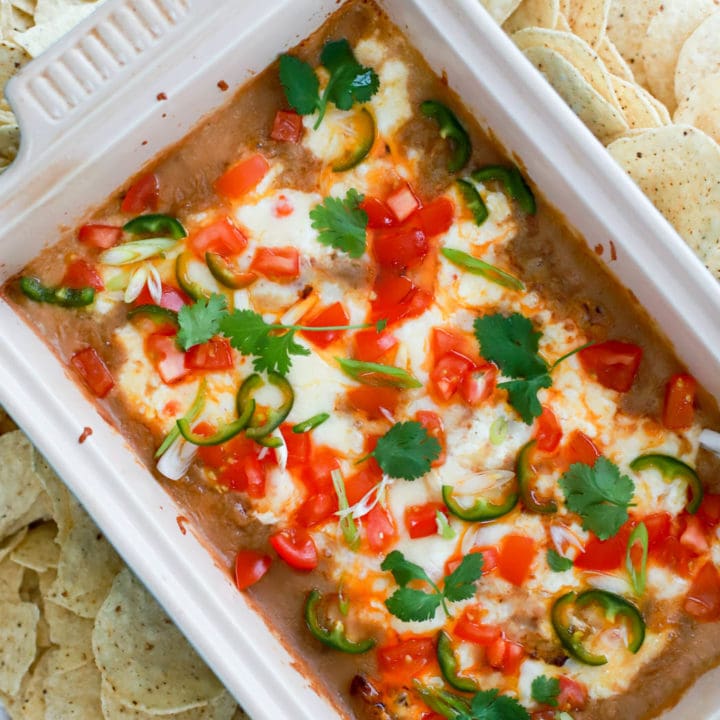 Refried Bean Dip with Chorizo
The best refried bean dip EVER with layers of cheese, chorizo, and creamy dreamy seasoned refried beans. 
Ingredients
1

can refried beans

1

can pinto beans

lightly drained

1

teaspoon

onion powder

1

teaspoon

garlic powder

1

teaspoon

chili powder

1

teaspoon

kosher salt

½

teaspoon

ground cumin

8

ounces

crumbled cooked Mexican chorizo

14

ounces

grated melty cheese

monterrey jack, queso quesadilla, etc

½

cup

sour cream

Toppings: sliced jalapeno

diced tomatoes, cilantro leaves, anything you love!
Instructions
Preheat the oven to 375F. In a bowl, combine both cans of beans with the spices. Mash the pinto beans lightly with a fork as you mix.

Combine half of the grated cheese with the sour cream and a pinch of salt. Set aside.

Layer the dip in a large baking dish (9x13 or equivalent): all the beans, the chorizo, the sour cream mixture, and the remaining grated cheese.

Bake the dip for 20 minutes until hot and bubbly. Top with fresh stuff, serve with chips, YES.
Notes
Make Ahead: I make this in advance often and keep it in the fridge for a day or two before I bake it. You'll need to add some baking time, and it's ready when it's hot and bubbly! Gluten Free: This dish is gluten free as written, just check labels to be extra sure. Cheese: Grating your own cheese will make this dip extra melty; bagged grated cheese also works well to save some time. Chorizo: Mexican chorizo is sold uncooked in bulk or in casings. The casings usually aren't edible; squeeze the sausage from the casing into the pan, then crisp it up.
Other Easy Mexican Recipes