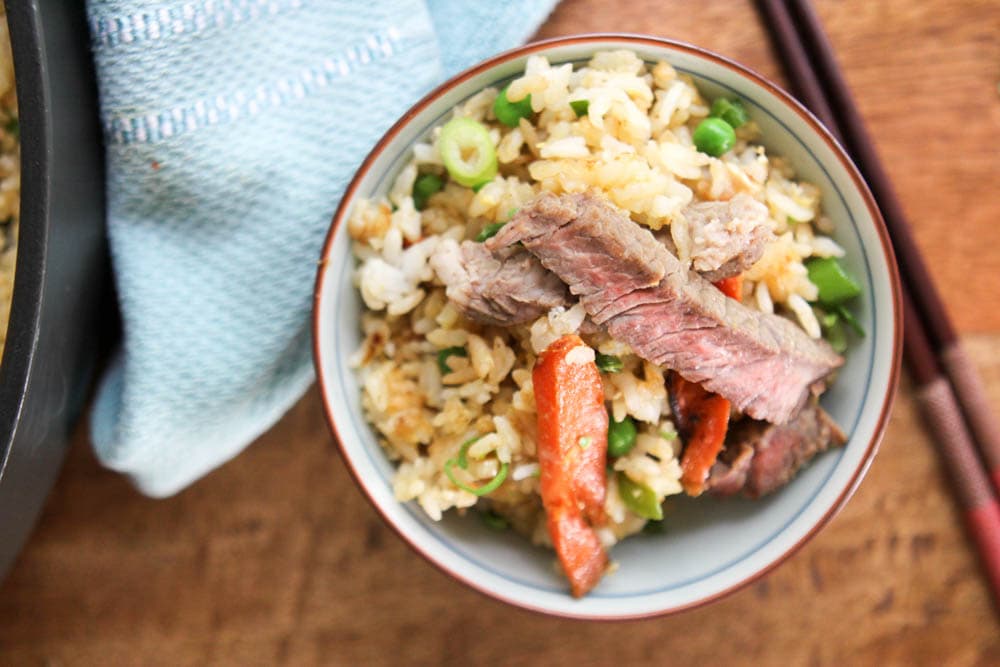 Because beef and rice, because Monday, because all of the things.
HOW WAS YOUR WEEKEND? We did the kid birthday party thing, went to a splash park with a friend who lives about an hour away, and Jay got home from Ireland last night! He was there for almost a week for a comedy festival and to golf, and to say it was the trip of a lifetime is probably an understatement. I'm asking him to write all about it for you, so stand by for some pretty serious travel journalism coming up.
First, though, fried rice. When I lived in Japan for a semester in college the host family I stayed with ate a ton of fried rice. It's not really a traditionally Japanese dish, but it served as a catch-all meal: one dish, protein + veg + carb, use whatever you need to use up. My host mom, Keiko, was a great cook, and I loved that the fried rice we had was different each time. This is just an example - once you master the method fried rice becomes a great no-recipe quick dinner, especially if you have leftover rice. I find that takeout from Indian and Chinese places always give more rice than is needed for the main dish, so fried rice is a great use-up for the rice a few days later.
This version has very basic veggies and tender juicy ribeye. You can use any steak you like, or swap out chicken or any other protein you like.
...