We are preparing for our first school conference next week.
What! That means the year is flying, all of that, but it also puts us in a whole new world of things we know nothing about.
Questions I have for my life include: how often are there conferences? is Beck an asshole at school? This seems likely. Will I have to fit into a tiny chair at 38 weeks pregnant? If I bring up an actual concern will it be addressed, or is this one of those things where you go to get it over as quickly as possible and just don't say much and then pretend it never happened and let the world keep turning without much thought?
Then of course in five seconds we multiply that by two and HONESTLY how do people make it through their lives without one parent working only part time or a weird schedule? You just use all of your vacation time on sick kids and appointments and school conferences where you don't ask your questions?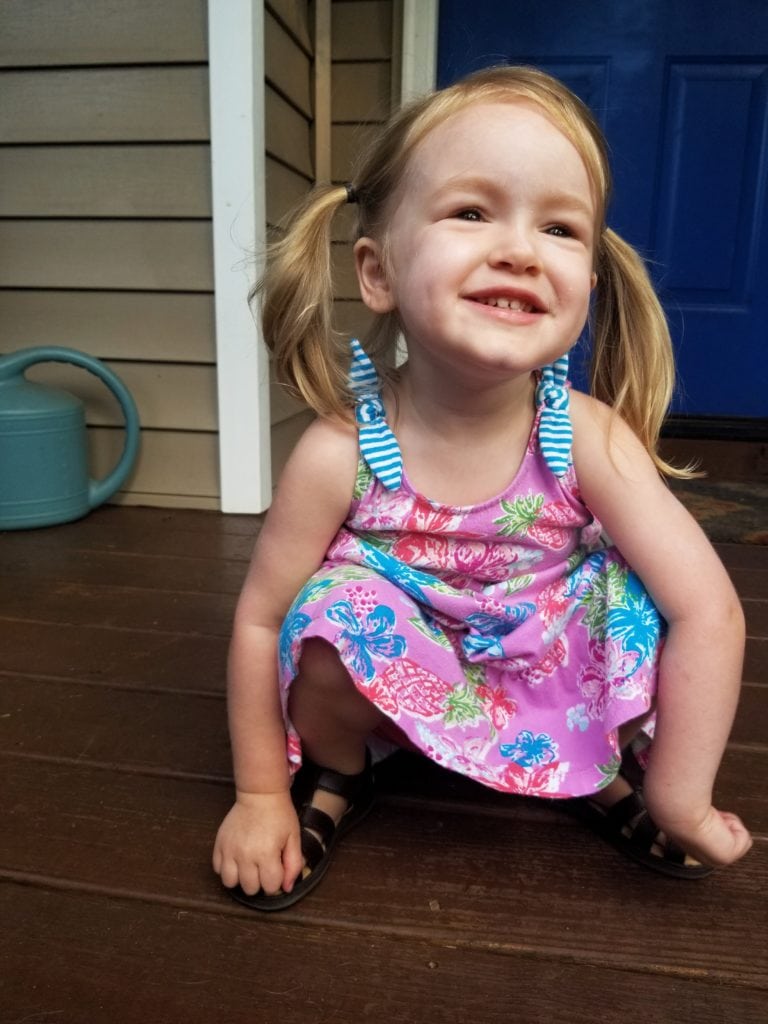 We should talk about Beck going to school before I spiral and have to put myself back to bed. I'd make a joke about how I'm not cut out to be a parent, but honestly I think I'm good at it and also it's OK to address Accepted Bullshit Of The World. Other topics include healthcare, teacher leave time and the food production system, but that's a story for another day.
Beck LOVES school. She is in a Reggio Emilia school that emphasizes kids as learners, kids as leaders, play-based, slow-paced stuff, and we love it for her. I have zero interest in two year olds being drilled on facts and figures and skills, and the research on success that these types of project/play-based programs produce is very compelling - aka people do well when they work at their own pace on things they enjoy, WEIRD. There is a ton of playground time, tons of art, very structured clean-up time, and funny songs that Beck can only repeat about halfway, so I honestly don't know what they're about.
On her first day, Beck was slightly weepy in the car that Jay and I wouldn't be staying with her at school, but as soon as she got into the classroom she ran to the house/doctor/imagination play area and started listening to a babydoll's heartbeat while saying "bye guys." Jay and I were in our cars before school actually started, and kind of looked at each other like "guess we are no longer needed." Jay had to go straight to work but I intentionally had given myself the morning TO BE FREE so I got myself a Panera bagel and observed some very strange physical symptoms in myself before cleaning Beck's room for her and wandering around the house until it was time to pick her up.
It was very strange. I wasn't sad, not at all. We worked hard to pick the school, it's only two days a week, and it wasn't like Beck had any trouble with us leaving. I did, though, have a very strong physical response to not being needed at all by her. My face felt puffy and I felt stuffed full of feelings that didn't have anywhere to go. It wasn't sadness or anxiety, it was just...a shift. The beginning of the separation, which is all parenting really is: preparing small humans to be big humans and need you less and less and in different ways as the months and years pass. It is EXACTLY what should be happening and I wouldn't have it any other way, but I still wasn't prepared for such a visceral reaction to the natural way that things go. It should also be noted that I don't have that reaction anymore and most mornings consider that we COULD send her more days per week or for longer days and that wouldn't be terrible either. For now Beck is in school two mornings per week, the literal shortest time available in any school that I've found.
The "free time" that comes with Beck being in school is obviously super short lived since we'll have a newborn in a few weeks, and I haven't been able to do anything enjoyable like I'd planned. I've instead caught up on work and errands, but one time I did sleep for an hour on a Tuesday morning and that was lovely. Beck, for her part, comes home exhausted and can't tell me anything about school unless someone has wronged her (it has come to light that there's a kid who pushes her when she takes a certain stethoscope from them, and this apparently is the other kid's fault, per her), so she usually begs for TV for 30 minutes while drinking milk and sitting as close to me as possible until I insist on a nap even though she is definitely never tired. And then she sleeps for two hours.
When Beck DOES talk about school, it's really fun to see her weave school stories into our regular life - she assumes we know exactly what she does all day, when of course we have very little information about those mornings. Playground time is the preferred activity, and many days she comes home covered in dirt. She prefers swinging on the playground to the other activities, so I'm unclear on how she gets so dirty, and she's always fascinated by it, asking "how did I get sand in my diaper," and, again I remind her that I have no clue. Pictures and paintings and various art projects come home constantly, and Jay's office at work is FULL of images. I see my future more clearly, in a mathematical way, so I'm not overly concerned with displaying 20 pictures in the first 20 days of school when we have 16 more years of this, which makes me heartless and I'm cool with that.
Beck is also really curious each day about who will be driving her two and from school, and it's fun to see her start to develop a little schedule in her mind. She hasn't quite figured out the days of the week (she can say them in order, but doesn't quite connect them to actual days she is experiencing yet), but is always really excited when we tell her that it's a school day. Very well behaved in the getting-ready process, that sort of thing.
SPEAKING OF HEARTLESS. We got our first birthday party invitation for someone in her class. It's right around my due date, so we are going to politely decline on those grounds, but this is what they talk about! Inviting all of the kids in the class to every party and...that's so many parties. I want her to go if she wants to, of course, but what will become of us when she's in elementary school and has 22 other kids in her class? Are we allowed to not do that? This is the first year for all of our friends' kids being in school, so haven't done much of the million party thing yet.
In conclusion, having a kid in school is busy, fun, weird, and brings up a host of emotions from my own childhood that I really thought I was done with, but now I'm just feeling them on my kids' behalf. I also very much enjoy packing lunches and Beck eats more veggies at school than at home, so I think for now we will allow her to keep attending.
The end.