Summery pasta alert!
Sometimes when Jay and I are feeling VERY COOL, he pulls out or buys random ingredients, and then we play Chopped.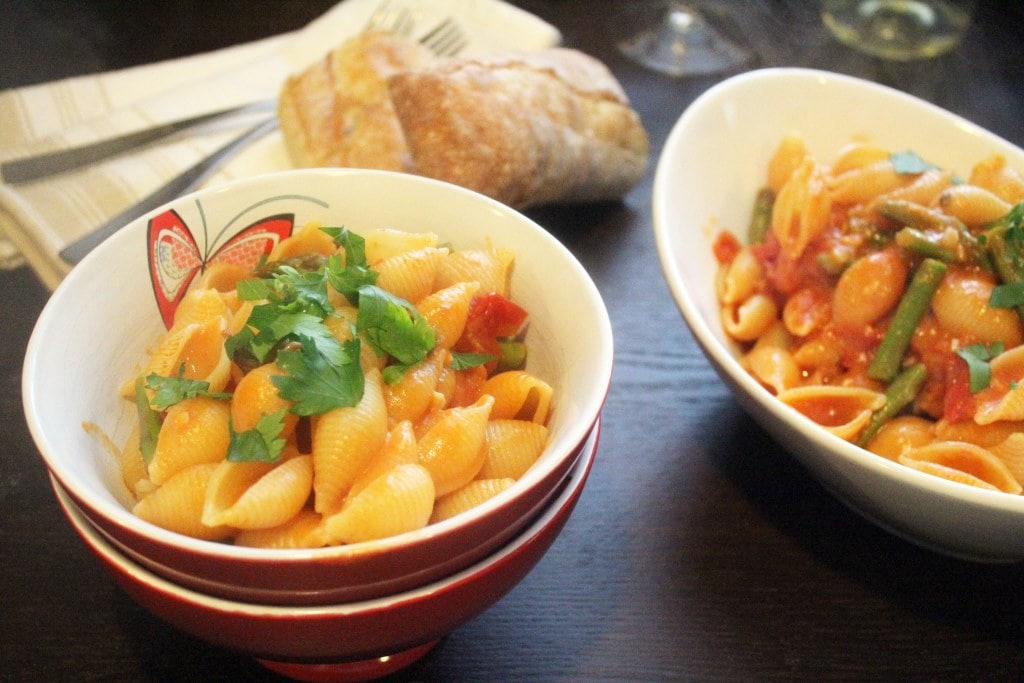 I'm not joking.
I wish I was, but not really, because it's FUN.
I'm telling you this because the other night we played this VERY COOL game, and asparagus was one of my ingredients.
Also cod. It was awesome. I didn't make this pasta for Chopped night. I made this pasta a few nights later with the extra asparagus. SEE? I have a point.
I made this pasta a few days ago and we ate it last night. Due to the aforementioned getting home at 9pm every night, I find that I need to cook dinners wayyyyy in advance to avoid the temptation of going out to eat every night. It was great Light, fresh, and simple, and kept really well in the fridge for 2 days.
This is vegetarian except for ONE anchovy, which you could totally leave out. I like anchovies and Jay could take 'em or leave 'em so....whether or not you use the anchovy in this is totally up to you.
You need pasta, asparagus, mascarpone cheese, parsley, anchovies (optional), a fresh tomato (or a few little guys), and garlic. Sorry about the weird picture slash dog that wouldn't move. I was in a hurry.
AND TOMATO SAUCE. Don't forget a little can of tomato sauce!
And wine. I decided halfway through to add wine.
We're going to cook the pasta while we make the sauce. Start water to boil, then when you add the timer set it for 2 minutes LESS than the al dente time - we'll boil the asparagus for 1-2 minutes with the pasta right before we drain it.
To start the sauce, add 1 anchovy with 1 tablespoon of olive oil to a large skillet over medium heat. Let the anchovy cook and break down into the olive oil - it'll lose the fishy flavor that way.
While the anchovy cooks, cut the tomatoes into chunks and mince the garlic.
When the anchovy has melted into the oil (it should bubble a bit and "fry"), add the tomatoes and let them just start to soften, for about 2 minutes.
Then, add the garlic and stir it for one minute!
While the tomatoes and garlic are working, cut the asparagus into chunks so that when the pasta timer goes off it'll be ready!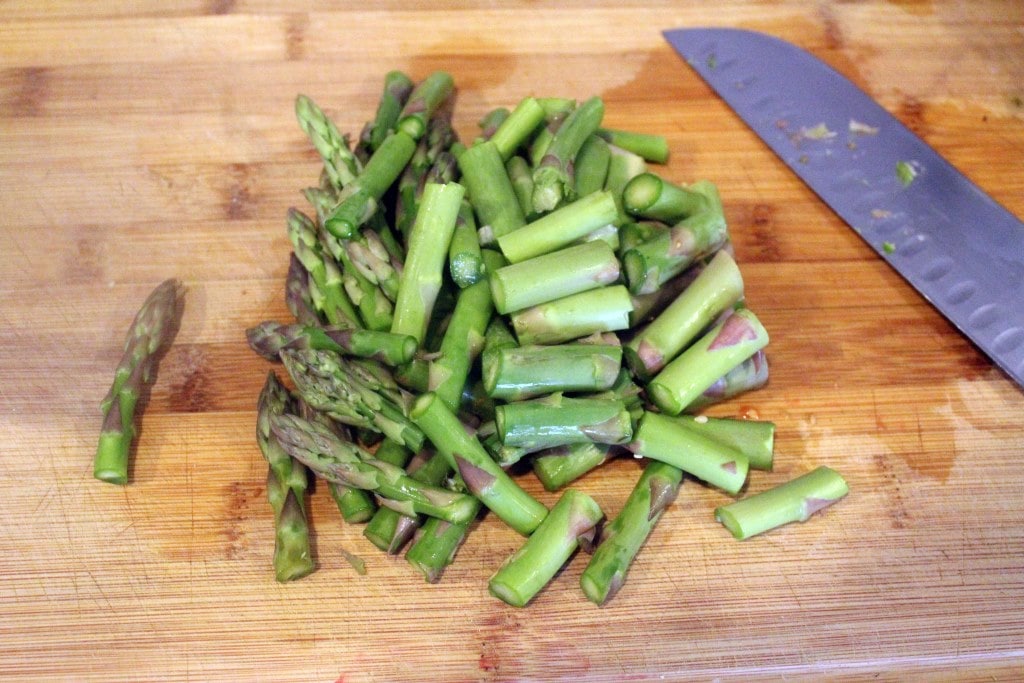 When the garlic is fragrant, add the wine and let it reduce by about half - turn up the heat if you need to.
Pour in the tomato sauce, and stir everything together. Let it simmer gently (I turned down the heat at this point), and taste: add some salt if you'd like.
Add the asparagus right in the last minute or two of cooking the pasta - we just want the asparagus to start cooking, not lose all its color and crunch.
When the pasta is cooked to al dente, drain it with the asparagus.
Then, add the asparagus, pasta, and mascarpone cheese to the pot. Stir everything together and let it sit for a minute or two to really combine!
For topping, roughly chop up the parsley, and cut another anchovy into bits if you'd like! That was strictly for me, and is totally optional.
Other toppings include good olive oil, capers, parmesan cheese, crushed red pepper...you name it!
I like this pasta served just with parsley and some extra anchovies - it's super light and the flavor of the wine and the mascarpone together are LOVELY.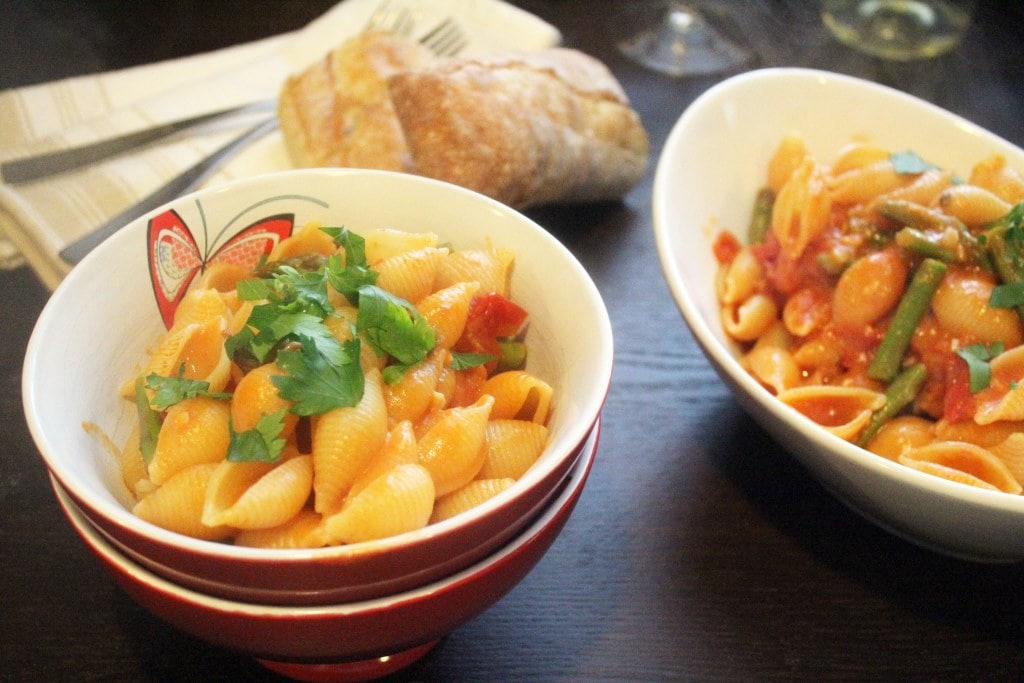 Enjoy this one!
Shared at Weekend Potluck for everyone to try!
Asparagus Pasta with Mascarpone Tomato Sauce
Ingredients
12

ounces

short-cut pasta

1

small bunch asparagus

cut into 1-inch pieces

1

whole anchovy

plus more for topping, if desired

3

cloves

garlic

minced

1

large

or equivalent, fresh tomato, chopped

1

cup

dry white wine

1

small can

8 oz tomato sauce

4

ounces

mascarpone cheese

salt

to taste

¼

cup

fresh parsley leaves

for topping
Instructions
Bring a large pot of salted water to a boil for the pasta. Cook the pasta according to package directions. 2 minutes before the pasta is done, add the asparagus and cook until pasta is done. Drain.

Meanwhile, make the sauce. In a large skillet, add the anchovy with a drizzle of oil over medium heat. Cook the anchovy until it has broken up into the oil, then add the tomato chunks. Cook the tomatoes for 2 minutes, then add the garlic for one minute.

Pour in the wine, and allow to reduce by half. Then, add the tomato sauce. Let the sauce bubble for a minute or so, then taste. Add some salt if you'd like.

Combine the tomato sauce, pasta, asparagus, and mascarpone until well combined. Serve topped with the parsley, and add extra anchovy bits if you'd like.
Nutrition