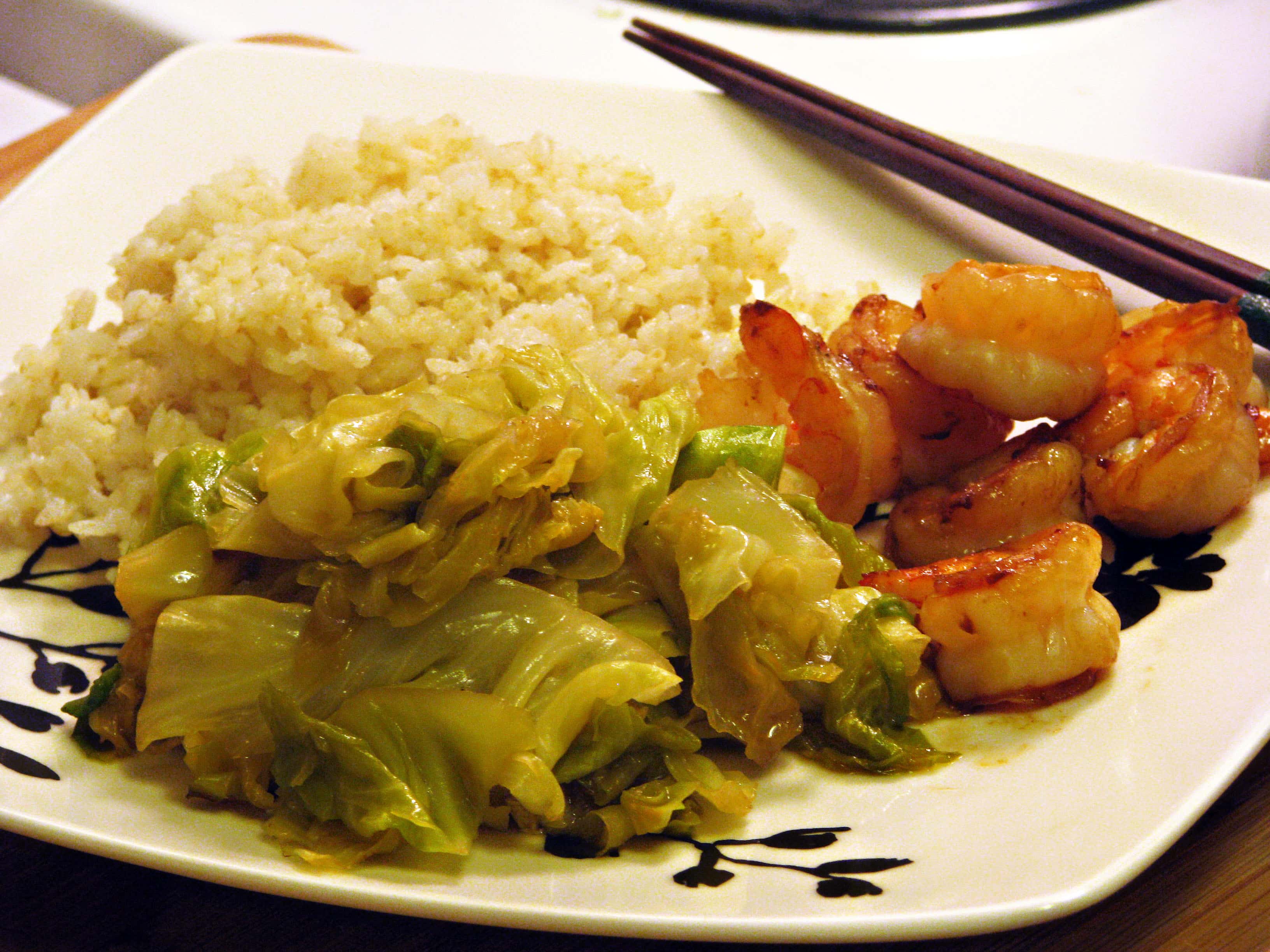 Happy New Year!
We've been MIA for a few days because we've been busy drinking our faces off and getting ready to both start new jobs!
But, back to the food.
This week I'm going to share with you a few VERY easy Asian recipes that can be mixed and matched to form complete, healthy meals. They're all healthy, light, and fresh - you'll love them! Another great feature of this set of recipes is that they use largely the same ingredients, so if you have a few things on hand you can make a ton of easy Asian food all the time!
First, spicy braised cabbage. It's easy and delicious!
Cut the cabbage into large strips, and discard the core. One medium cabbage will serve 4 people with leftovers.
Heat a pan to medium, and add the cabbage to the pan with a drizzle of olive oil or cooking spray - don't add more fat than you need to!
Cabbage cooks down a LOT, so use more than you think you'll need! Toss the cabbage around the pan for 2 minutes using tongs or a big spoon, then drizzle in about 1 cup of chicken broth or stock and turn the heat down to medium or medium low - the liquid should be barely bubbling.
For sauce ingredients, you'll need the following things:
These are easy ingredients! Honey, chili/garlic sauce, soy sauce, and mirin. Mirin is a sweet cooking seasoning (in case you can't read), and it acts sort of like wine - it's easy to find in lots of grocery stores, so keep some around! It really makes Asian things taste....Asian.
After the cabbage has braised for about ten minutes, while there is still some chicken stock left, make the sauce - just add the ingredients right in the pan! I like my cabbage spicy, so I use the following amounts:
1 tablespoon honey
1 tablespoon chili/garlic sauce
1 tablespoon soy sauce
2 tablespoons mirin
This makes the cabbage spicy, so use less chili sauce first if you're unsure!
Toss the cabbage around and continue to let it braise until most of the liquid has evaporated, about 10 minutes more.
Look how delicious that looks! Taste the cabbage and add any more seasonings you'd like - turn the heat up right at the end to evaporate most of the liquid and let the cabbage get a little crispy on the edges.
I served this with white rice and hibachi shrimp, which I'll show you tomorrow - it's easy and healthy too!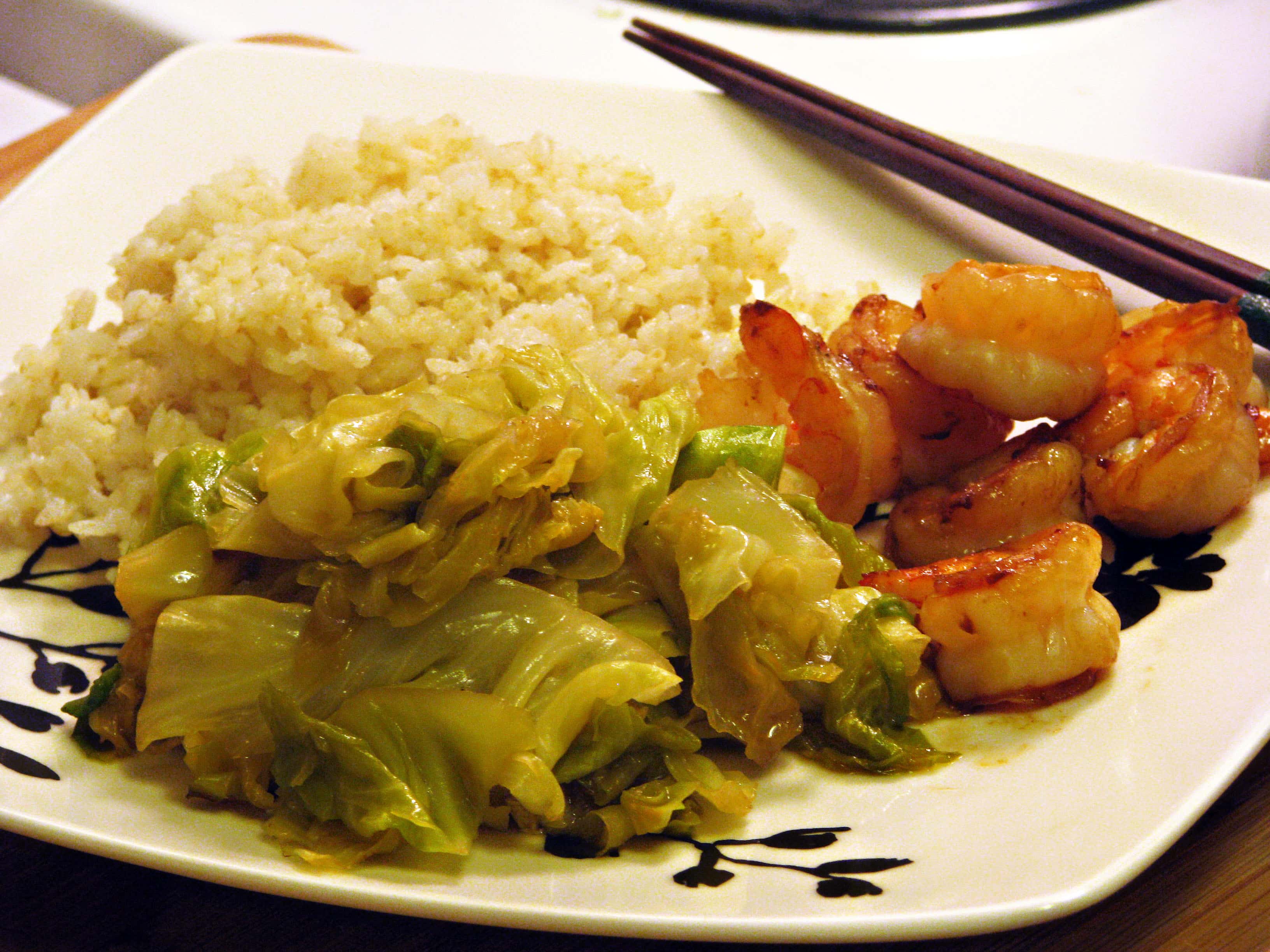 More healthy recipes that would be fabulous with this cabbage:
Enjoy this one guys!
Asian-style Braised Cabbage
Ingredients
1

whole cabbage

cut into 1-inch strips

1

tablespoon

olive or canola oil

1

cup

chicken stock

1

teaspoon

honey

1

tablespoon

soy sauce

1 - 2

teaspoons

sriracha

plus more to taste

2

tablespoons

mirin
Instructions
Preheat a pan to medium heat with the oil. Add the cabbage, and let cook out for 2 minutes or two, tossing with tongs.

Add the chicken stock and let braise as the stock and cabbage cook together for 5 - 10 minutes. When the stock is nearly gone, add the honey, soy sauce, mirin, and as much srirach as you'd like to the pan. Toss with tongs to form a sauce.

When the stock is evaporated and the cabbage is cooked through, serve as desired.
Nutrition