Our friends Addie and Rick got engaged last night!
It. Was. Awesome.
A total surprise for Addie, which was tough for Rick considering that they 1. picked out the ring together and 2. kind of have already been planning their wedding. It worked, though, and I was the lucky one who knew in advance, so my food-crusted camera was READY.
I love stuff like this.
It was a great surprise. Rick lives above our cute little baseball field (go Drive!), and this is his balcony view:
Last night was the last home game of the season (where the eff did summer go?), so Addie and Rick invited some friends over to watch the game and have dinner. Rick somehow managed to convince the Drive mascot, Reedy, to walk to his place after the first inning.
The story was that there was a balcony contest, and the most crowded balcony got a visit from Reedy!
So, in walks Reedy, a cameraman, and Reedy's assistants. Addie's all "oh weird, why is this frog all up in my business, there are a gazillion other people here," and THEN the announcer started talking to Rick from across the field.
"Reedy, I see you're over there with your buddy Rick! Is it because you have something to give him?"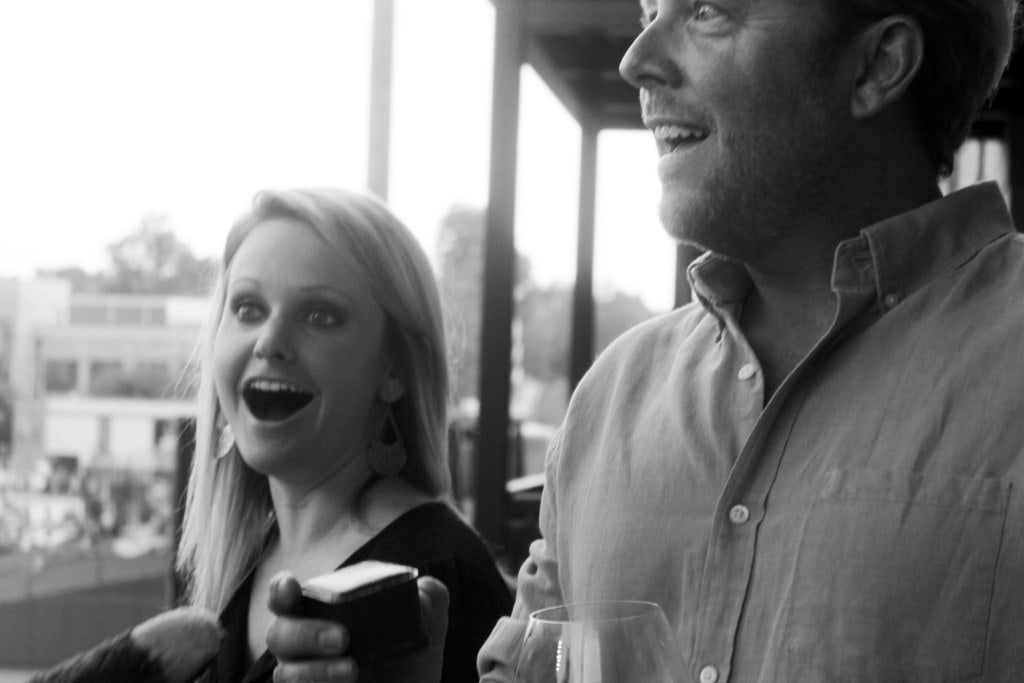 Reedy gives Rick ring. Addie does this.
Then this.
Then this.
OHHHHHHHH guys it was the best ever. I haven't witnessed a ton of engagements, and usually I'm not a fan of public ones. This, though....it was JUST public enough. All of Greenville got to see the engagement, but we weren't at the stadium so we got back to just our little group of friends after a few minutes.
Rick had thought to invite Addie's parents, so they got to watch the whole thing from a lower balcony!
There was crying, and hugging, and laughing, and after about 45 seconds Addie said "I HAVE SO MANY QUESTIONS!"
It was amazing. Being a newlywed makes you, like, totally love weddingy stuff, so I'm super duper psyched that another of my bffs is getting married!
I love love. That's pretty much all there is to it.
Congrats, guys! Thanks for letting us all be a part of your special night. I'd like to go ahead to volunteer myself as your officiant, photographer, musician, and caterer.
Love, your self-promoting friend.