Easy, light, and refreshing, this 3-ingredient smashed cucumbers recipe is done in just 30 minutes. The result is the most delicious, juicy cucumber bites. These are vegan, gluten free, and dairy free.
Oh heyyyyyyy not really a recipe recipe!
That's honestly all the brainpower I have in quarantine week, 8,276 you're welcome.
Here in SC it has been over 90 degrees for more than two weeks EVERY DAY, the water bill is sky-high from trying to keep everything from dying, and my motivation to cook is ... ok well still at like 50% but I love to cook.
Our cucumber plant is BURSTING, and we've already made garlic dill refrigerator pickles, raita, and now these smashed cucumbers. I was inspired by seeing lots of recipes for Chinese smashed cucumber salad made with rice vinegar and sesame oil, and I've done THAT a few times too.
But I wanted simpler. 5 ingredients was too much. I also wanted something truly basic that could be flavored and dressed up any way YOU wanted to.
How To Make Smashed Cucumbers
Please try not to explode with laughter. The gist here is that we kind of mush cucumbers then let them marinate in salt and sugar for a bit. The salt, sugar, and mushing (this sounds more appropriate in my head than mashing, because it's just a little squish) help the cucumbers break down just a bit.
The result is juicy, crunchy, slightly tenderized? cucumbers that go with literally anything.
I cut the cukes into chunks - large bite sized, and I like different shapes because we can't let our brains wilt too much, you know? Cut them however you'd like.
Then, grab a baking sheet or skillet and place it over the cucumbers, and kind of press down on the cucumbers to smash them just a little bit. No whacking necessary, we aren't tenderizing meat here.
Sprinkle on sugar and salt and let the cucumber pieces sit for 30 minutes or so while you make whatever else you're making. Maybe you're unwrapping sandwiches that you had delivered. It's still feeding your family.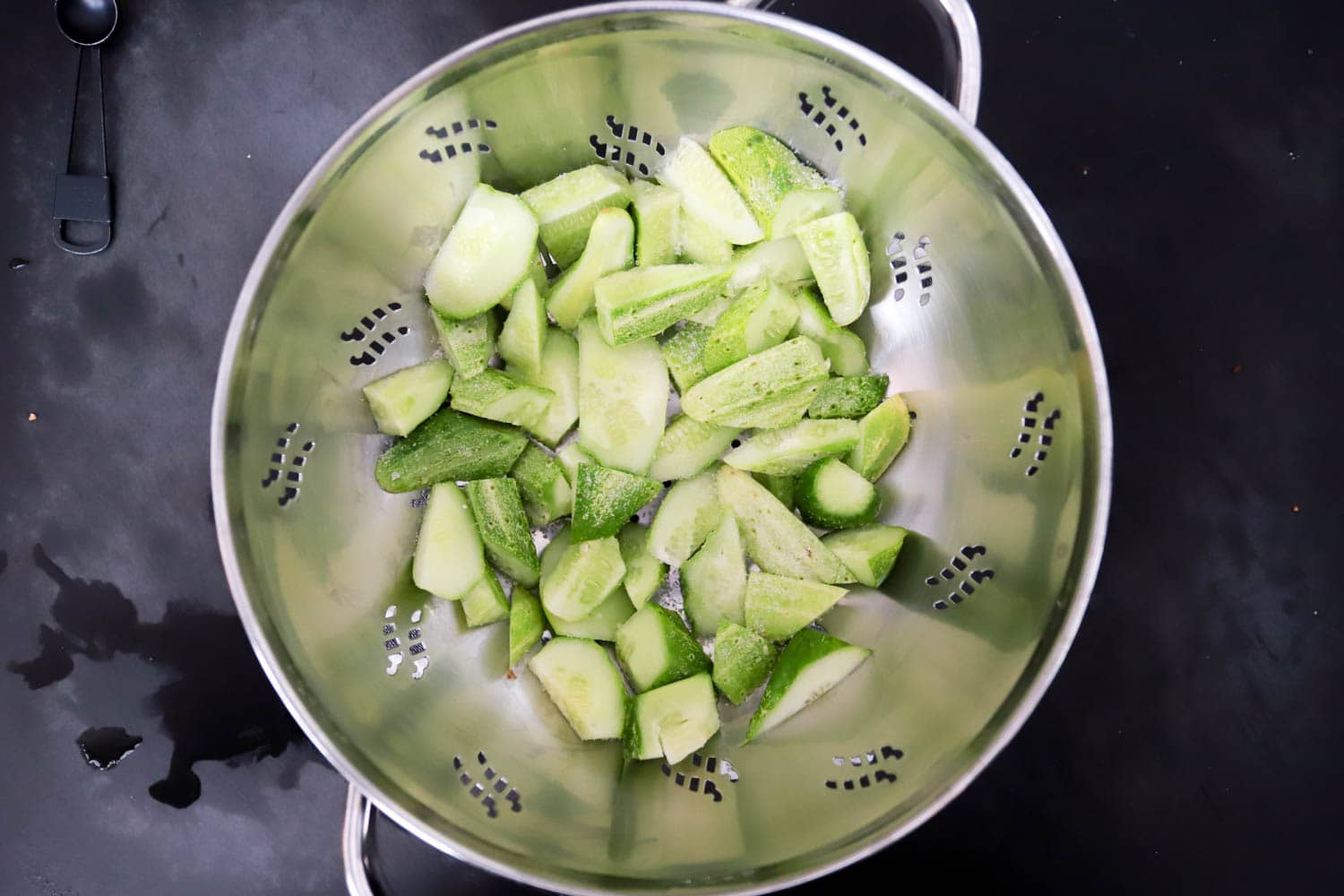 Now, I have served these 90% as-is, and we love them.
Other Ideas For Serving
If you'd like to jazz these up some? Do that!
Drizzle with sesame oil and/or rice vinegar.
Add thinly sliced onion to the salt/sugar stage.
Sprinkle with lemon or lime juice right before serving.
Top with tiny tomatoes, capers, fresh herbs, all of the above.
See where this is headed? This is basically the beginning of a thousand recipes, all with this same tenderizing method, all using any flavors you like, any ingredients you have.
Plain, though I love these smashed cucumbers on the side of almost any dinner these days. Easy pesto grilled chicken would be particularly yummy with these cukes.
Enjoy these!
3-Ingredient Smashed Cucumbers
Smashed cucumbers come together in under half an hour and are the most delicious light summer side dish! This is a perfect use for lots of garden cucumbers.
Ingredients
4

small cucumbers

pickling or persian style

½

teaspoon

kosher salt

½

teaspoon

sugar
Instructions
Cut the cucumbers into bite sized chunks.

Arrange the cucumbers in one layer on a cutting board, and place a baking sheet or skillet over top. Rock the baking sheet or skillet back and forth over the cucumbers, pressing down slightly, to smush the cucumbers a bit.

Transfer the smashed cukes to a colander set over a bowl. Sprinkle with the salt and sugar and toss.

Let the cucumbers sit and drain for about 30 minutes until ready to eat. Taste, and add a bit more salt or sugar if you'd like.

Serve with all meals. Enjoy!
Notes
Jazz these up any way you'd like! Add lemon/lime juice, fresh herbs, sesame oil, olive oil, crushed red pepper, sriracha, the sky's the limit!