I'm skipping that thing where we pretend to be on a diet for the first three weeks of December to punish ourselves for Thanksgiving. There are a few reasons for this, the first being that I think punishment for food-related behaviors leads to more unhealthy behaviors, and on and on. BUT MAINLY, our post-Thanksgiving lives are chock-full of celebrations, and no one wants a salad for their birthday. Jay's birthday was yesterday and Beck's is in less than two weeks, so here's the first of many holiday party foods.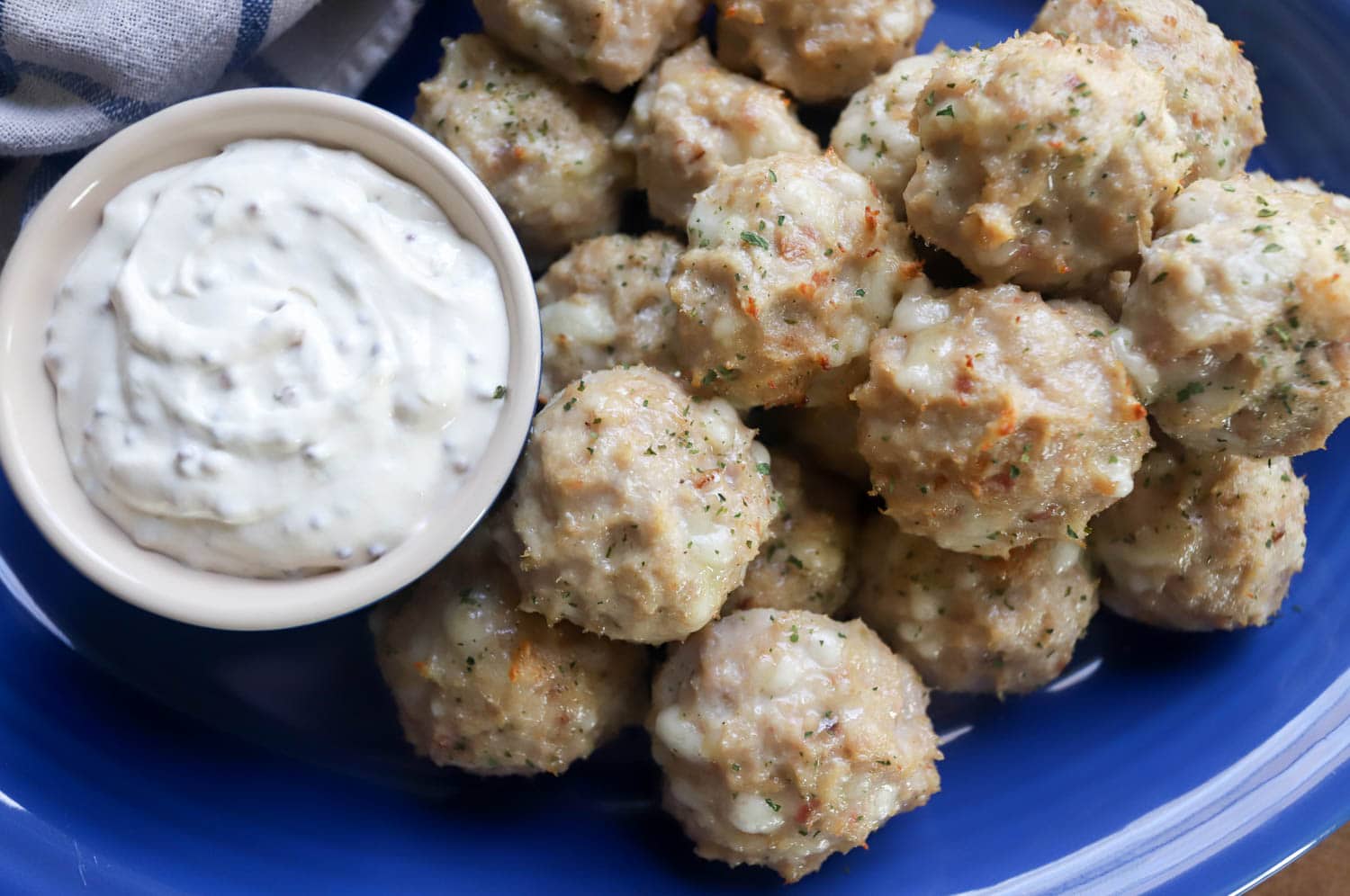 They're balls with ham and cheese and chicken.
They were, as all good ideas on this blog are, Jay's idea, and they were a fantastic one. I love the nostalgic flavors of chicken cordon bleu, crispy exterior, gooey interior, but the process is pretty arduous and a meatball is just so friendly and celebratory, right? For the sake of the holidays, you can totally make these in advance, bake them, then reheat them in the oven until the cheese melts again so all the mess + raw meat nonsense can happen well in advance of your event.
The ingredients are simple, and I'm so glad I'm showing these to you TODAY because they are a perfect use-up for Thanksgiving ham, if you have any of that lying around. I made a few things with leftover ham this weekend and all were just as delicious as eating ham on its own.
Cheers to my wonderful husband and the start of what I hope is the most celebratory of seasons for you! No punishment or self-loathing allowed.
Our ingredients are so simple and delicious here! This is a large batch, so feel free to halve it if you don't love delicious tender cheesy meatballs. I'd say this is enough for 8 people or more if it's a party with lots of other snacks. You'll need ground chicken, an egg, some grated swiss, any kind of ham you like, bread crumbs, garlic powder, onion powder, and salt. All of the yummy stuff in life, and nothing terribly complicated. I bake these in the oven on a rack fitted into a baking sheet, so it's a good idea to set that up before you end up balls (heh get it) deep in raw chicken.
First, put the ham, egg, breadcrumbs, and spices into a food processor.
Whir everything together to create an awful-sounding egg/ham mixture, but I promise it's worth it.
Add the ham mixture to a bowl with the chicken and the swiss cheese, then use you hands to mix everything together really well to incorporate the spices.
Gently roll the mixture into 35-40 meatballs about 1 1/2 inches in diameter. The mixture here will be a little bit sticky since we're using chicken, so just work gently with the mixture and form the balls as best you can - they don't have to be perfect!
Bake the meatballs at 400F for 25 minutes until they are slightly golden, cooked through, and the cheese is perfectly gooey. If you make smaller meatballs they'll be done in 20 minutes, so test one at that point to see if they are cooked through. Note that there will be some pink spots because of the HAM, not raw chicken. Just ham.
While the meatballs are cooking, make the quickest and most delicious dipping sauce for this. Combine sour cream, any mustard you have (I used a combination of grainy mustard and a dijon honey blend, but seriously ANYTHING works), and a few pinches of salt. Taste it, and add more salt or mustard if you'd like!
Boom. Serve, done. Admittedly, the rolling of the meatballs takes a little bit of time and is gross, but beyond that, this dish is so easy to make and really flavorful without a ton of ingredients or effort.
The swiss + ham + mustard combo is to die for, obviously.
So now we are set for the first of many holiday parties, which for about half of the world is coming up this weekend. This can 100% be your go-to dish for the entire season, right up to the Super Bowl, seriously. I'm also thinking they'd be fab with a baked potato and salad for dinner. Try them soon!
Print
Chicken Cordon Bleu Meatballs
---
Prep Time:

20 minutes

Cook Time:

25 minutes

Total Time:

45 minutes

Yield:

Serves

8

or more for a party!

1

x
Scale
Ingredients
Meatballs
2

pounds ground chicken

6 ounces

grated swiss cheese

6 ounces

ham, sliced or leftover from holidays, diced

1

egg

2/3 cup

breadcrumbs

1 teaspoon

onion powder

1 teaspoon

garlic powder

1 teaspoon

salt
Mustard Sour Cream
1/2 cup

sour cream

3 tablespoons

mustard, the grainiest/fanciest you have

1/4 teaspoon

salt
---
Instructions
For the meatballs, preheat the oven to 400F and prepare a baking sheet with a baking rack inside for cooking.
Add the ham, egg, breadcrumbs, and spices to a food processor. Blend together to form a paste, the ham should be ground similar to the chicken.
Add the ham mixture to a large bowl with the chicken and cheese. Mix with your hands to distribute the ham into the chicken, then form into 35-40 meatballs, about 1 1/2 inches in diameter. Place the meatballs on the baking rack inside the baking sheet.
Bake the meatballs for 22-25 minutes at 400F.
While the meatballs are baking, combine the ingredients for the mustard sauce in a bowl. Taste, and add more salt or mustard to your preference.
Remove the meatballs from the oven and let cool for a minute or two, then serve with the sauce for dipping.
Enjoy!
Notes
These can be made in advance, baked, then kept in the fridge for a few days. Bake again at 300F until the cheese is gooey, and serve with the dipping sauce.