Today we just have to talk about poop. Sometimes it just has to happen, you know?
No but really, this is a real thing. My mom is really teeny and sweet and dainty and proper, but also she had 4 kids with no drugs (ugh) and when you have kids weird things happen to your body because there is A KID pressing against your innards and sometimes ish gets kind of janky in there, ya know?
I'm old enough now that I've had friends with babies for years, but recently it's gotten kind of out of control. It's a thing I guess where you go through a phase where everyone gets married all at once, which is a hella expensive few years, and then they all start having kids roughly at the same time. We're THERE. We got married later than most of our friends and ain't got no babies, but people all over our lives are popping out kids. And when people pop out kids I like to take them food because duh.
So, it casually came up in a conversation over wine with my mom that my friends talk about constipation before and after pregnancy, and she was all "yeah, I know, that never happened to me. My midwife brought me bran muffins and said 'trust me, just eat these and don't ask questions' and I was just fine!"
Boom. Must find bran muffin recipe and make for every human I know who is having kids or just likes pooping on the reg ASAP. I've made these several times so far, and can't keep them in the house. Everyone who's tried them has been a big fan, which I consider a feat because sometimes bran has a really kind of...specific...texture in baked goods I think. But these are REALLY good, and don't have a ton of added sugar and not very much fat, which means you can 100% eat them for breakfast with no judgement from me. Or yourself.
You just need eggs, butter, baking powder, cinnamon, oat bran, milk of some kind, sugar, flour, applesauce, and apple, salt, and vanilla. PS: one time I made these with white sugar and one time with brown, and I couldn't tell a difference. ANOTHER time I used all butter instead of butter/applesauce and couldn't tell a difference. So....a few swap-outs can be made in this recipe!
The prep involves turning on the oven and grabbing some baking cups....
...and peeling and dicing the apple.
Then we build our batter! Start with the wet ingredients in the bowl of a mixer, and beat that together for a few minutes.
Then, take the bowl away from the mixer and add the dry ingredients!
When everything is in the bowl, stir once more...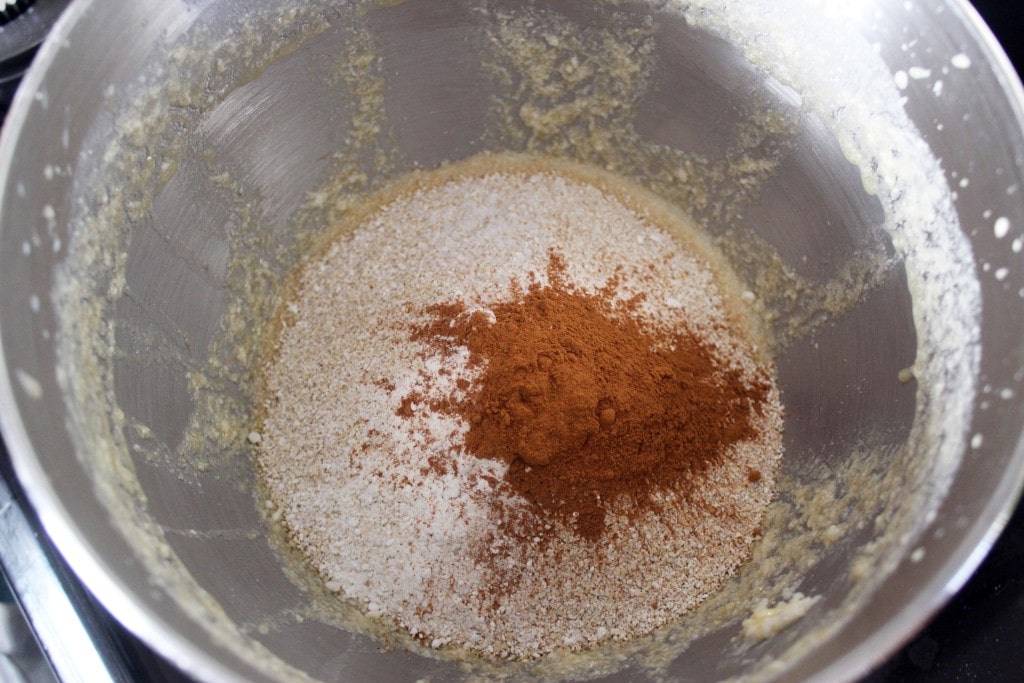 ....until the batter is really smooth!
Last, just fold in the apple.
Now, fill the baking cups however you like them to be filled! I use 1/3 cup measure, but an ice cream scoop or regular spoon are just fine too.
Now get baked. For 18 minutes while the muffins bake. Get it?
Make these soon, for a yummy healthy breakfast or for someone who.....needs bran? There's really no sexy way to put that.
The end.
Print
Double Apple Bran Muffins
---
Prep Time:

15

Cook Time:

18

Total Time:

33 minutes

Yield:

12

1

x
Scale
Ingredients
1/2 cup

brown sugar

1/4 cup

softened butter

1

whole egg

1

egg white

2/4 cup

milk

1/4 cup

applesauce

1 teaspoon

vanilla extract

1 cup

all-purpose flour

1 1/2 cups

oat bran

1 1/2 teaspoons

baking powder

3/4 teaspoons

salt (omit if using salted butter)

1 teaspoon

cinnamon

1

apple, peeled and chopped
---
Instructions
Preheat oven to 400° and place 12 paper muffin cup liners in muffin cups.
Combine brown sugar and butter in a medium bowl; beat with a mixer at medium-high speed until light and fluffy (about 5 minutes). Add egg and egg white; beat 1 minute or until well blended. Add the milk, applesauce, and vanilla extract; beat on low speed until well blended.
Make a well in the center of the milk mixture and add the flour, oat bran, baking powder, salt, and cinnamon. Stir just until the batter is mixed, then folk in the apples.
Spoon batter evenly into prepared muffin cups. Sprinkle with extra sugar, if desired. Bake at 400° for 18 minutes or until muffins spring back when touched lightly in center.