Delicious, easy last-minute fudge recipe that comes together in the microwave and is totally foolproof. This version uses Andes chips for a 2 ingredient mint fudge, but the method is adaptable and can be used to make any flavor of fudge you like!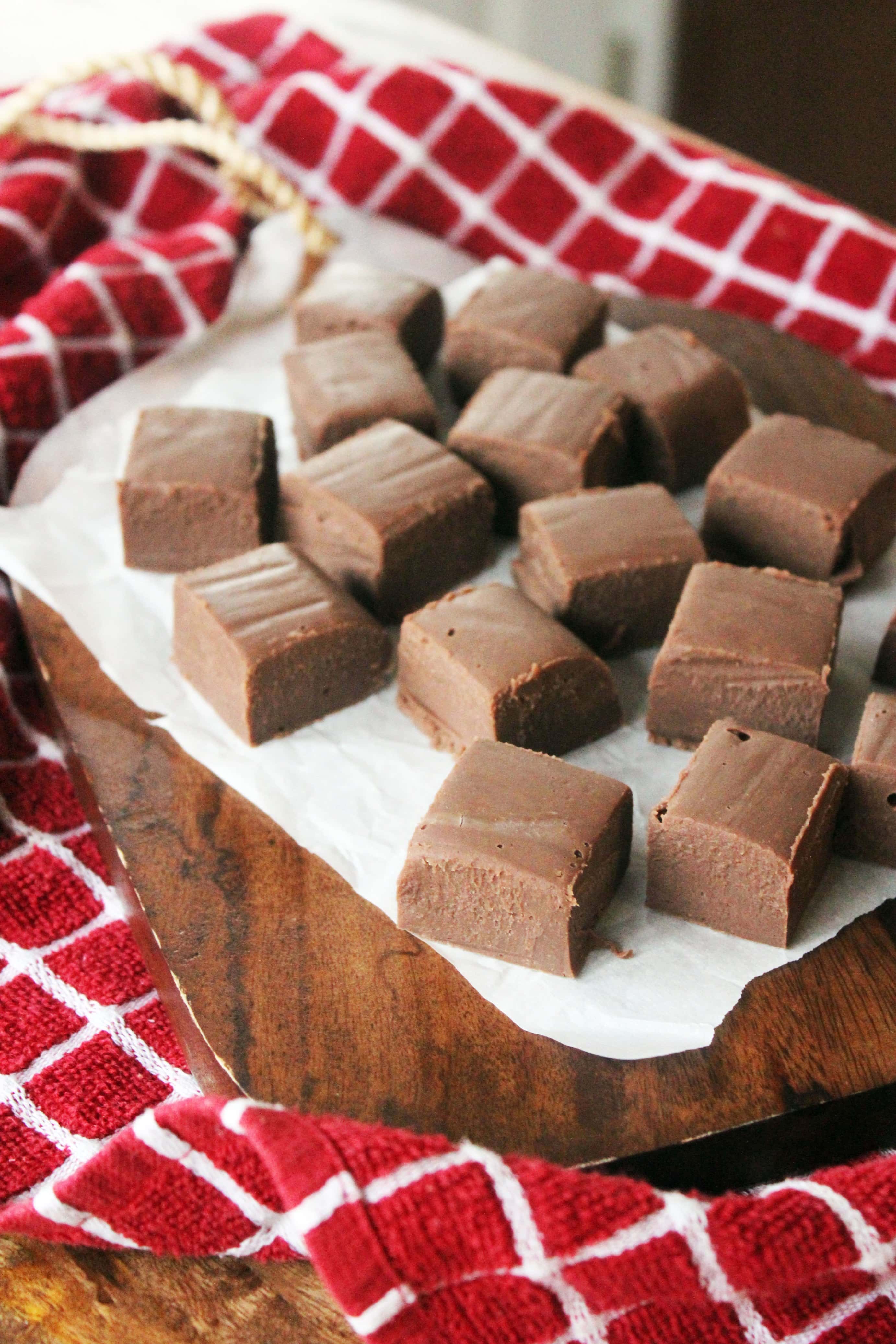 Ok, let's talk about last minute Christmas things. The "omg forgot I was going to this what to make" types of situations, things where a homemade-yet-easy-and-also-cheap tasty treat might be in order for a gift, etc.
We need two-ingredient fudge!
Recipe Notes
This is inspired by Pioneer Woman 2-ingredient fudge recipe, who also, incidentally, inspired me to START THIS BLOG, but the formula for the recipe is simple: one can sweetened condensed milk, three cups or one bag of chocolate chips.
In this case I went with ANDES BAKING CHIPS because every single day of your life should taste like a hotel pillow offering, yes?
If you've had bad hotel experiences, don't answer that.
The only thing to pay attention to is the timing: making this fudge is very quick, but it needs at least three hours to chill. That said, this is an EXCELLENT make ahead holiday dessert, and I like making it a day or two in advance to have something totally done before an event or holiday.
Ingredients and Recipe Variations
This fudge is legit two ingredients, three steps, and boom, done. Perfect for a last minute gift or dessert or snack or just for fun!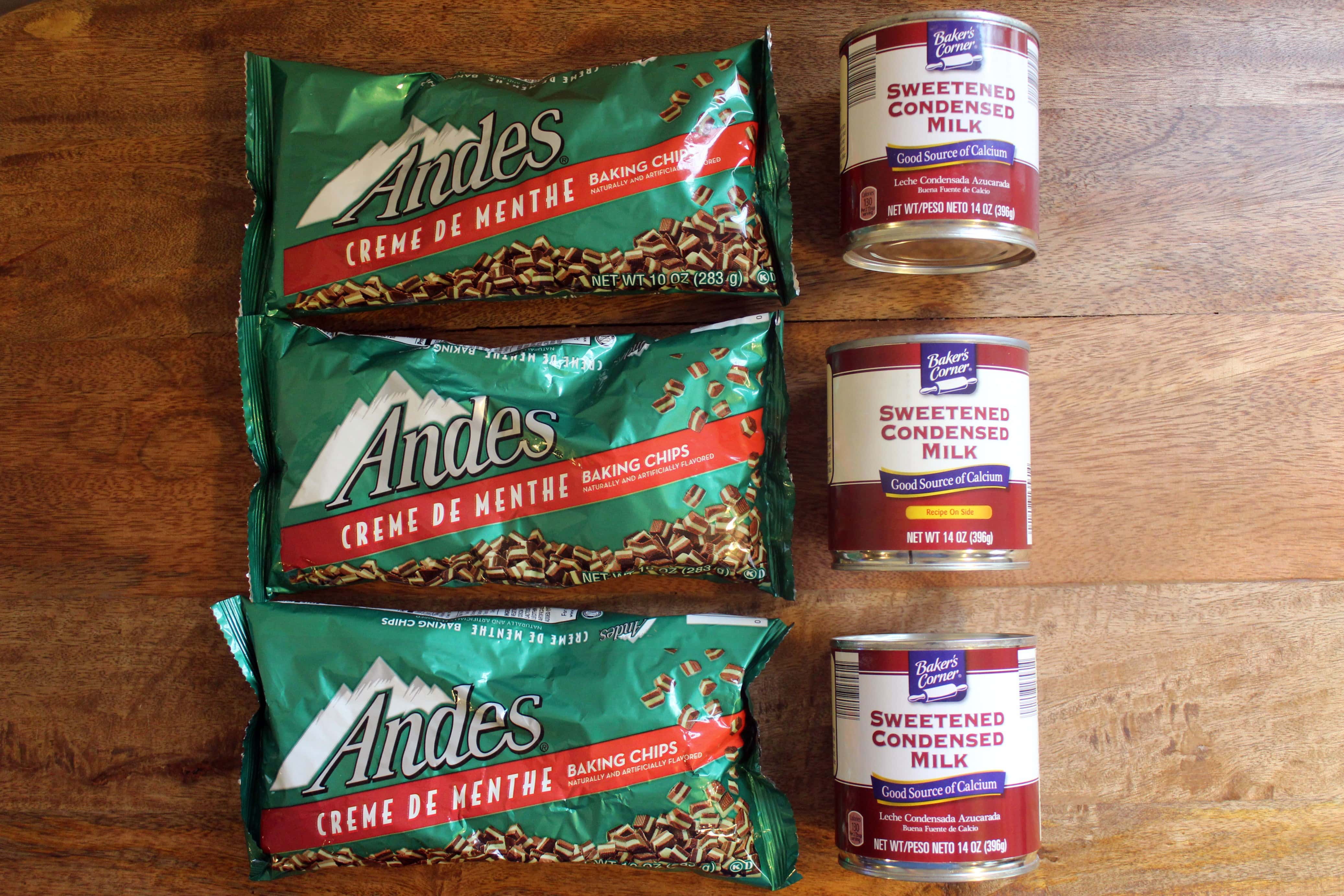 In these images I made a triple batch of mint fudge because I was using it as gifts. The single batch measurements are in the recipe card below: one can of sweetened condensed milk (14 ounces) and one bag of baking chips or chocolate chips (10 ounces). That's it!
So, although this is technically a mint fudge, aka peppermint patty fudge, this method can be used to make ANY flavor of fudge that you can find a bag of chocolate chips for. Peanut butter fudge? Caramel? White chocolate? Absolutely yes to all of the above.
Peppermint Patty Fudge FAQ
What are the ingredients for two ingredient fudge?
Easy! In this case, sweetened condensed milk and chocolate chips or baking chips. The flavor comes from the type of chips you choose.
Can you freeze 2 ingredient fudge?
Yep! It freezes really well. Thaw it by sticking it in the fridge overnight before you'd like to eat it.
Does fudge have eggs?
Not usually, and not in this recipe.
Step By Step Instructions
Before you start "making" the fudge, prepare a dish by lining it with parchment paper, wax paper, or baking spray....something that will help the whole block release really easily once it's hardened. I usually line the pan with parchment paper and THEN spray it with cooking spray. Extra credit overachiever nerd status.
Start by placing the chocolate chips in a large microwave-safe bowl. It's 2 ingredient fudge in the microwave!
Microwave the chips for 30 seconds, stir, then repeat. Not much will happen at first, but be patient; if we microwave the chips all at once without resting and stirring, the chocolate will seize up and the fudge don't work. Trust the process, even if it feels weird at first!
After the first 60 seconds in the microwave (and stirring twice), add the entire can of sweetened condensed milk to the mixture.
Now, keep microwaving for 30 seconds at a time (don't cheat, it'll burn the chocolate), stirring after each time, until everything is combined and smooth and melty.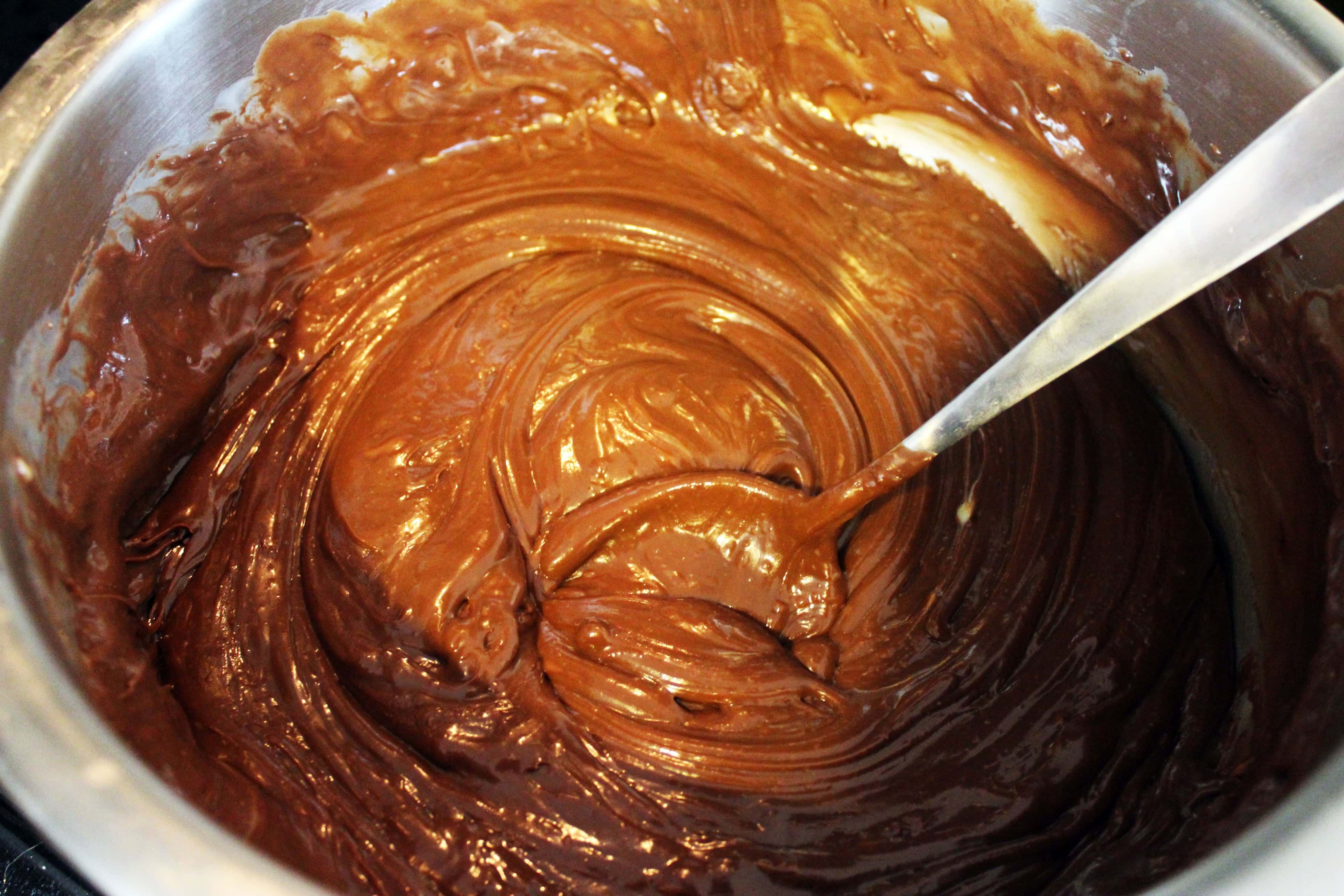 Spread the chocolate fudge mixture into the dish you prepared, and smooth out the top if you're feeling fancy.
Then we chill! Or we get hard. You know, however you like to discuss your fudge. Packed? I'll stop now, I'm so sorry.
Chill the fudge in the fridge, uncovered for at least 3 hours but preferably 6 hours of overnight.
Once the fudge is set, use your sharpest knife to cut the fudge into 1.5 inch squares or so - small bites so that they look lovely on a cookie tray with other cookies and desserts.
Storage Tips
Store the mint fudge in a storage container with a lid - if you need to make a few layers, put pieces of wax paper or parchment paper between the layers of fudge. This stores fine at room temperature for a few days, or you can keep it in the fridge to be sure it doesn't soften too much.
Listen, this is fudge that tastes like a York Peppermint Patty. It's DELICIOUS, so simple to make, and will make you win Christmas. What I love most, though, is the creamy texture - not crumbly like some fudge recipes.
I hope you love this if you try it. Happy holidays, merry everything!
Super Quick 2-Ingredient Fudge
From The Pioneer Woman, this super foolproof mint fudge is the easiest fudge ever with just two ingredients. It's ready to eat after chilling and is made in the microwave!
Ingredients
1

can sweetened condensed milk

3

cups

1 bag peppermint or Andes chocolate chips
Instructions
Prepare an 8x8 dish with parchment paper or other nonstick equivalent. Add the chips to a microwave safe bowl. Microwave for 30 seconds, stir, then repeat.

Pour the condensed milk into the slightly melted chips, then repeat the 30 seconds microwaving, stir, repeat until the mixture is completely smooth and melted.

Pour the chocolate mixture into the prepared dish and smooth the top with a spoon or knife.

Let the mixture chill in the fridge for at least 3 hours, then cut into small bits and enjoy!
Notes
Melting the chocolate: It can be tempting to hurry the melting process by microwaving for a minute or more at a time. However, this can cause the chocolate to seize and harden or burn. Be patient with the first few rounds of microwaving; it won't feel like much is happening but trust the process. Flavors: Simply put, this recipe works with ANY bag of chocolate or baking chips and a can of sweetened condensed milk. Plain chocolate, caramel, and peanut butter are all delicious flavors to try using this method! Storage: This fudge keeps great on the counter for about 3 days; or up to a week in the fridge.
More Easy Christmas Desserts