Sautéed zucchini and onions is the best easy side dish! I use this easy hibachi vegetables recipe when I make hibachi shrimp or hibachi steak bowls, but cooking veggies this way is a great veggie side dish for any main course you love. This recipe is vegan and gluten free if you sub GF soy sauce/Tamari for the soy sauce.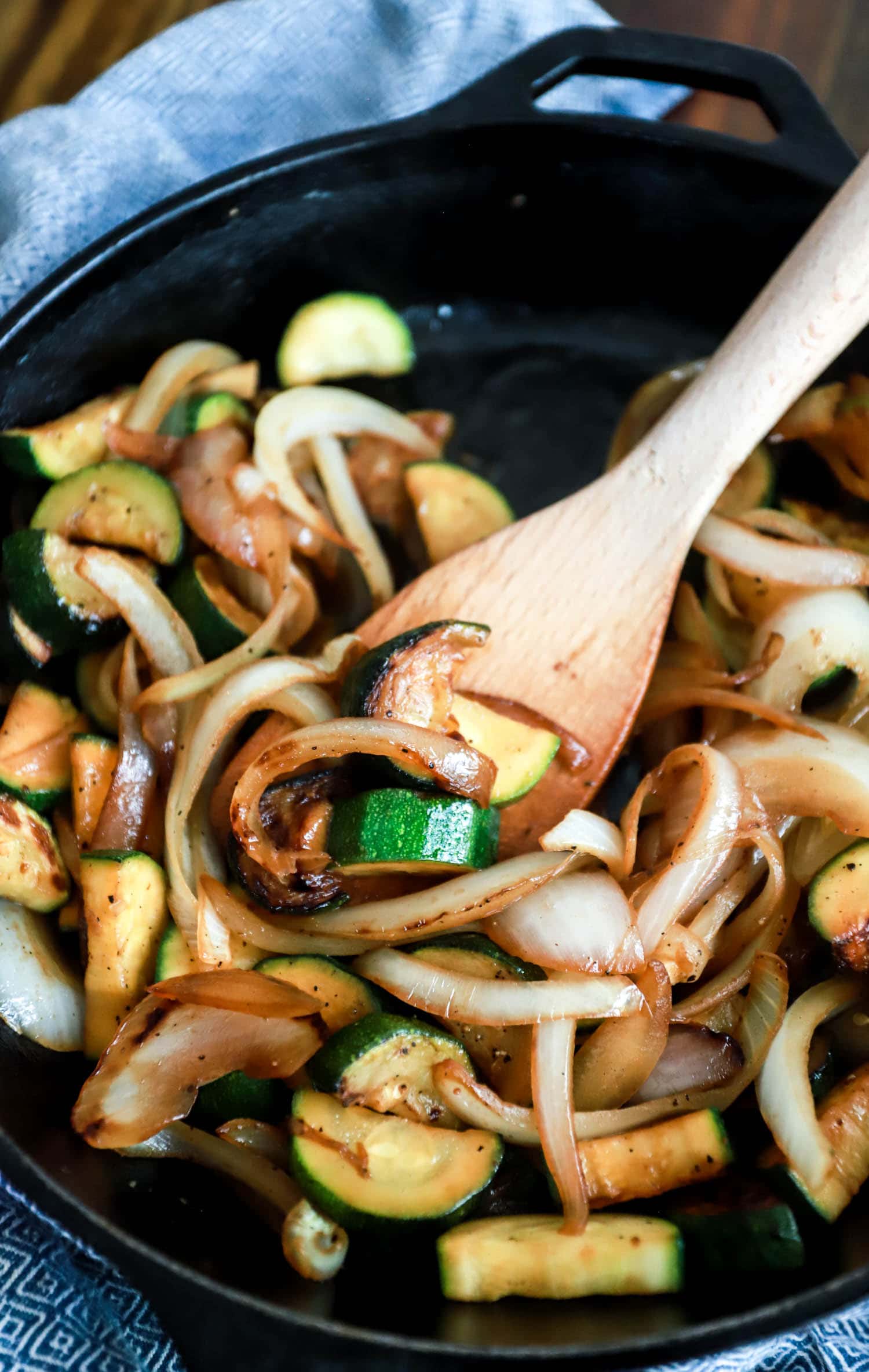 I love veggies!
Well, I love all food, but that's a different story. Today, let's make a super easy vegan side dish - hibachi vegetables at home!
Recipe Notes
This method is just like the hibachi shrimp method from a few weeks ago and could OF COURSE be used with any veggie you like!
The key here is the method, not necessarily the veggies used, although I love the combo of onions and zucchini together. Feel free to add in any veggies you see at your fave Japanese steakhouse!
Other Veggies for Hibachi Vegetables:
mushrooms
carrots
green onion
baby corn
yellow squash
bell peppers
One thing I love about homemade hibachi recipes in general is that they come together super quickly and don't have many ingredients. This sautéed zucchini and onions recipe has just 6 ingredients including salt and pepper.
The classic hibachi flavor comes from having a really hot pan and cooking everything really quickly.
Now, there are some hibachi style vegetables cooking methods (looking at you, benihana vegetables) that include fancy garlic butter and other ingredients (um, yum) but I like to have a few super simple side dishes like this one that don't involve any extra special ingredients.
More Hibachi At Home
Ingredients
So: gather up some onion, zucchini, salt, pepper, soy sauce (sub Tamari for gluten free) and oil for cooking. I use olive oil, but vegetable oil or anything you use for cooking veggies will be fine.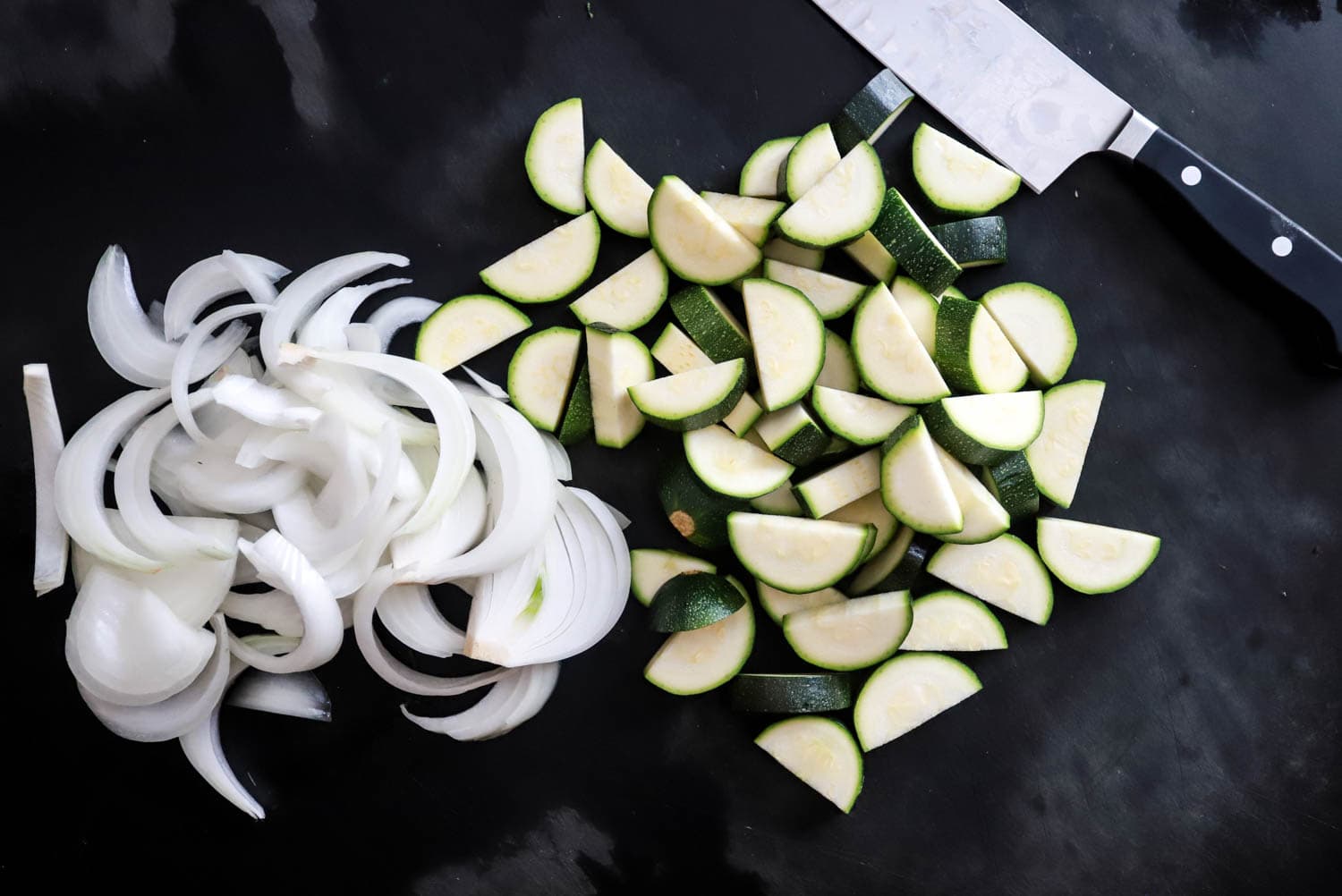 **How Many Veggies to Use: I like about ⅓ of the mix to be onions, and the rest to be other veggies. The recipe below serves 4, but feel free to make more or less veggies depending on how many people you're serving and if you'd like leftovers.
Flavor Variation and Reheating Leftover Hibachi Vegetables
Feel free to add some extra seasonings if you'd like! I love a pat of butter right at the end and/or a sprinkle of toasted sesame seeds on top of the finished dish.
To eat the veggie leftovers plain, I usually microwave them with some rice and call it a day. HOWEVER, reheating the hibachi veg in a skillet with a little pat of butter is a very nice way to bring them back to life without much extra effort.
I also love putting leftover hibachi vegetables into hibachi fried rice - just make plain fried rice and stir in chopped leftover veggies to add extra oomph and flavor to the fried rice. You can also add the leftover veggies to kimchi fried rice!
Hibachi Veggies FAQ
What Are The Veggies at Hibachi?
In short, anything that you enjoy! I've had tons of hibachi veggies at restaurants, and I most often see onions, zucchini, mushrooms, and carrots. Similar to fajita veggies, though, use anything you like!
What are good Hibachi Seasonings?
Simply: salt, pepper, and soy sauce. There are some hibachi recipes that call for other seasonings, but I prefer the simplicity that allows the veggie flavor to shine through.
How To Cut Hibachi Vegetables
Cut veggies for hibachi into bite-sized pieces. They can be slightly larger or smaller depending on your preference, but the key is to keep everything pretty much the same size so the veggies cook in the same amount of time.
Step By Step Instructions
Heat a pan (I love a cast iron skillet for this) to medium-high heat with a drizzle of oil. When the pan is hot, add the veggies and sauté them until they're brown; for about 3 minutes.
The key to browning the veggies is to let them sit for about 60 seconds at a time between stirring to get nice color on the veggies.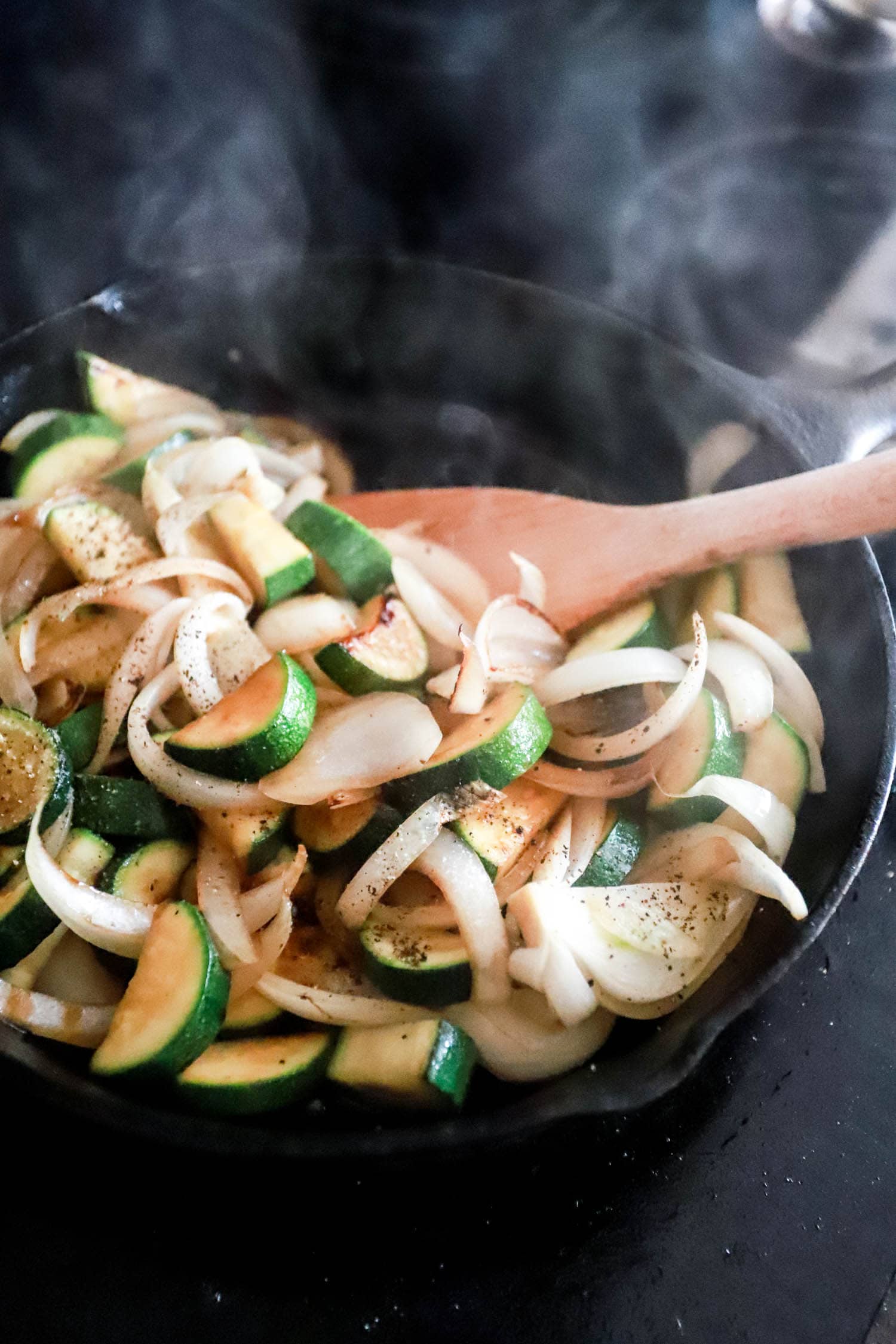 Keep the pan really hot the whole time the veggies are cooking! After about 3 minutes, drizzle in the soy sauce and sprinkle the veggies with salt and pepper.
Cook for another 2 minutes or so until the veggies are slightly soft and browned but not mushy.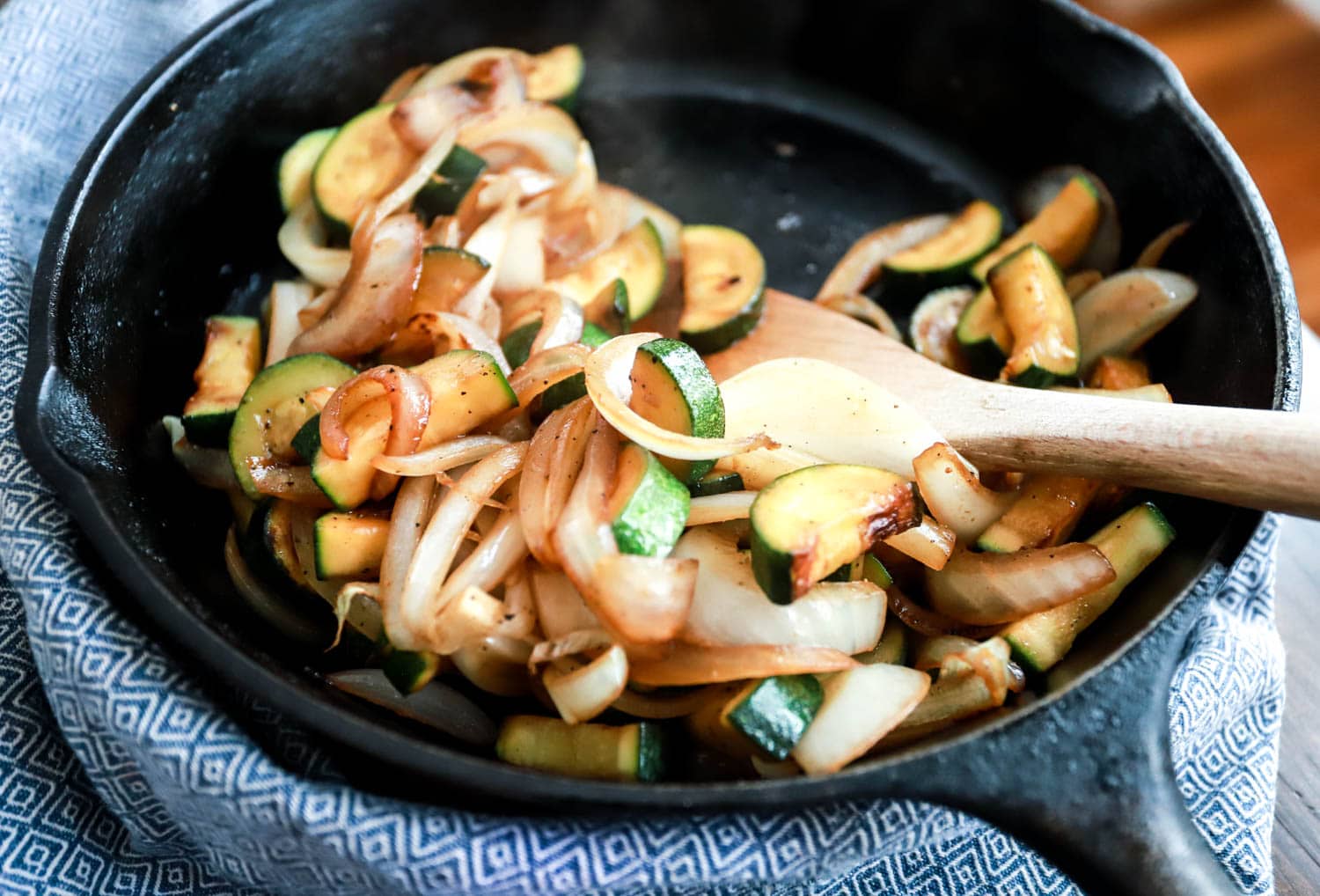 Shake the veggies around, and let the soy sauce sit on the pan for a bit to get a nice burnt-salty effect. (That sounds gross, but it isn't.)
How To Serve Hibachi Vegetables
Friends, that's IT. Super quick hibachi vegetables ready to serve with anything you'd like. I love these with hibachi shrimp (PS that recipe has instructions for a homemade hibachi yum yum sauce recipe!) or on their own with rice. This is a great clean out the fridge recipe as well; feel free to use peppers, broccoli, or mushrooms and make a big hibachi vegetables rice bowl.
You could ALSO make these veggies, some plain white rice, and some baked marinated tofu for a delicious vegan dinner.
We love a rice bowl moment, seriously.
or Or OR these are super delicious in hibachi steak bowls!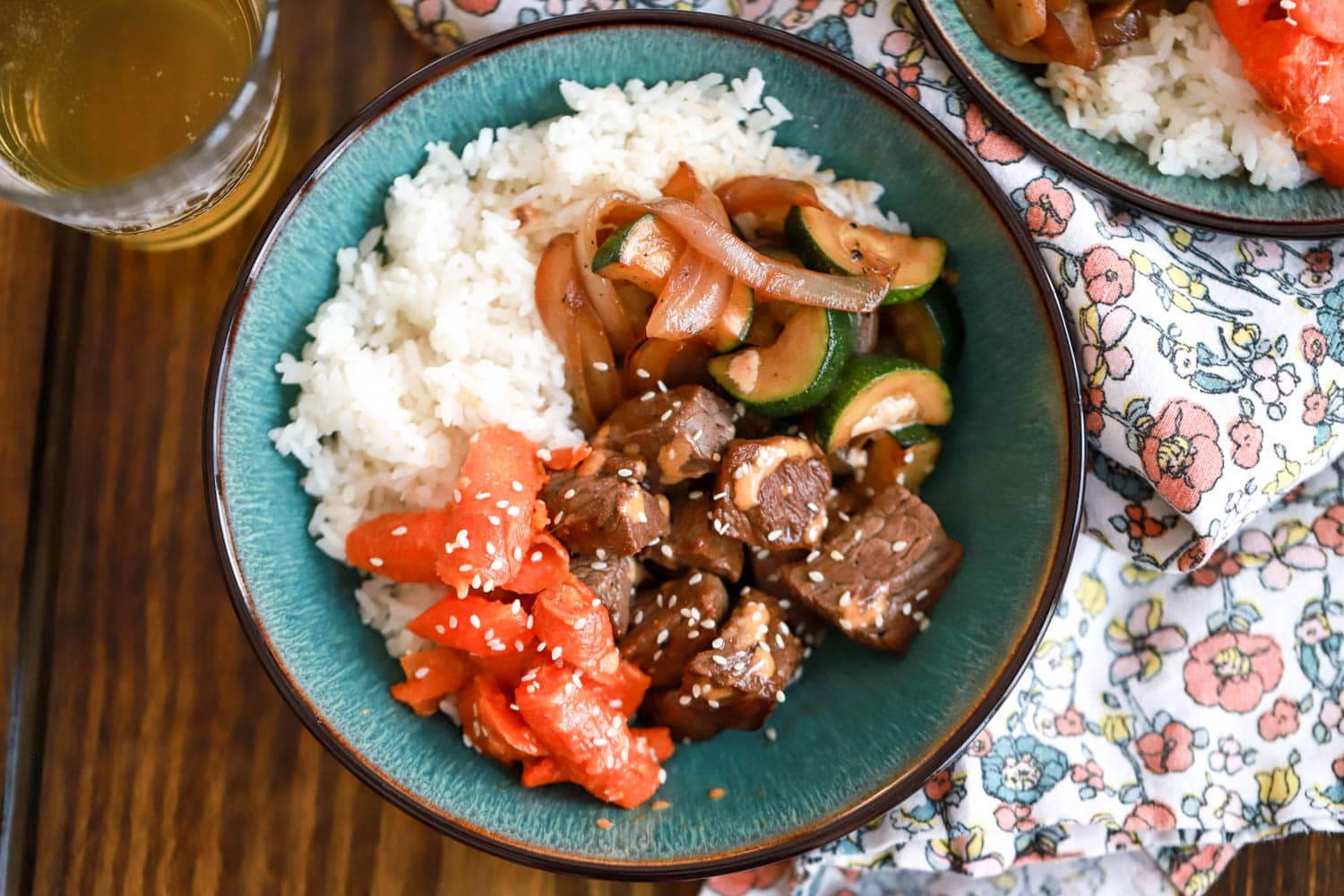 However you serve them, enjoy these hibachi vegetables. They're a favorite of ours!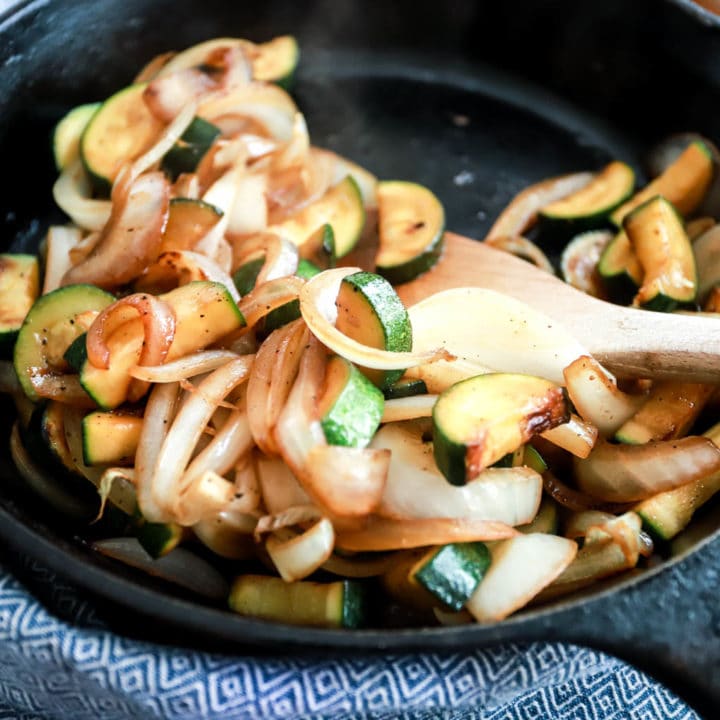 Hibachi Vegetables: Sautéed Zucchini and Onions
Heyyyy quickie side dish, the best homemade hibachi vegetables ever, sauteed zucchini and onions! These are done in just 10 minutes, and the method can be used with any veggies you like!
Ingredients
2

medium zucchini

sliced into thick rounds or half moons

½

large onion

sliced

1

tablespoon

soy sauce

sub tamari for gluten free

salt and pepper

oil for cooking
Instructions
Preheat  a large skillet to medium high heat with a drizzle of oil.

When the skillet is hot, add the veggies and cook for about 3 minutes to brown and soften. Stir once or twice during this time, letting the veggies rest at times to brown on the bottom.

Sprinkle the entire skillet generously with salt and pepper and drizzle the soy sauce over the veggies.

Stir for 1-2 minutes more until the veggies are browned in places and slightly soft but not mushy. Serve!
Notes
The key to get the perfect sear on the veggies without them getting mushy is a super hot pan. I love cast iron for this recipe, but any skillet you like that gets really hot will work well - even a griddle you use for pancakes.
This recipe is vegan as written, sub tamari or coconut aminos for the soy sauce to make this gluten free.
I love this with just sauteed zucchini and onions, but this method also works really well with mushrooms, broccoli, and peppers. Use whatever veggies you have on hand that you love!
Serve with hibachi shrimp, hibachi carrots, and/or hibachi steak with homemade white sauce for a yummy meal!
This post was originally published in January 2012 (!) and has been updated with new text and images. It's been one of the most popular recipes on the site for over 10 years!
More Easy Veggie Side Dishes